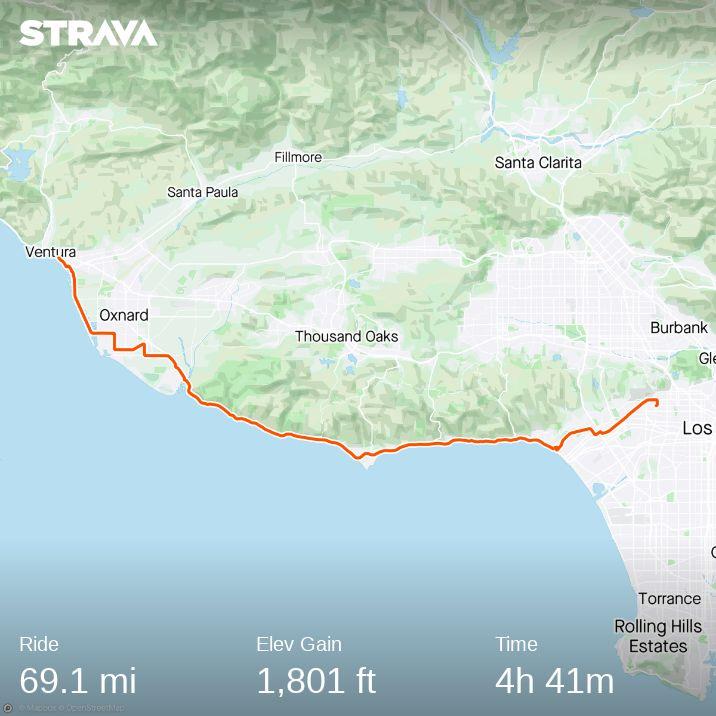 Morning at Camp 6
I woke on the morning of Day 7 cold. I knew I'd be cold since we were by the beach. Instead of changing in my tent, I decided to go change in the shower truck. I saved my rubine red club kit for the final day. This would make it easy for my sister and friends to spot me at the finish line. After changing, I did the usual… brushing my teeth, going to the porta-potty. Then it was back to my tent to finish packing up and taking down the tent for the last time!
Breakfast included scrambled eggs, hashbrown triangles (I love hashbrowns!), donuts, blintzes, and sausage.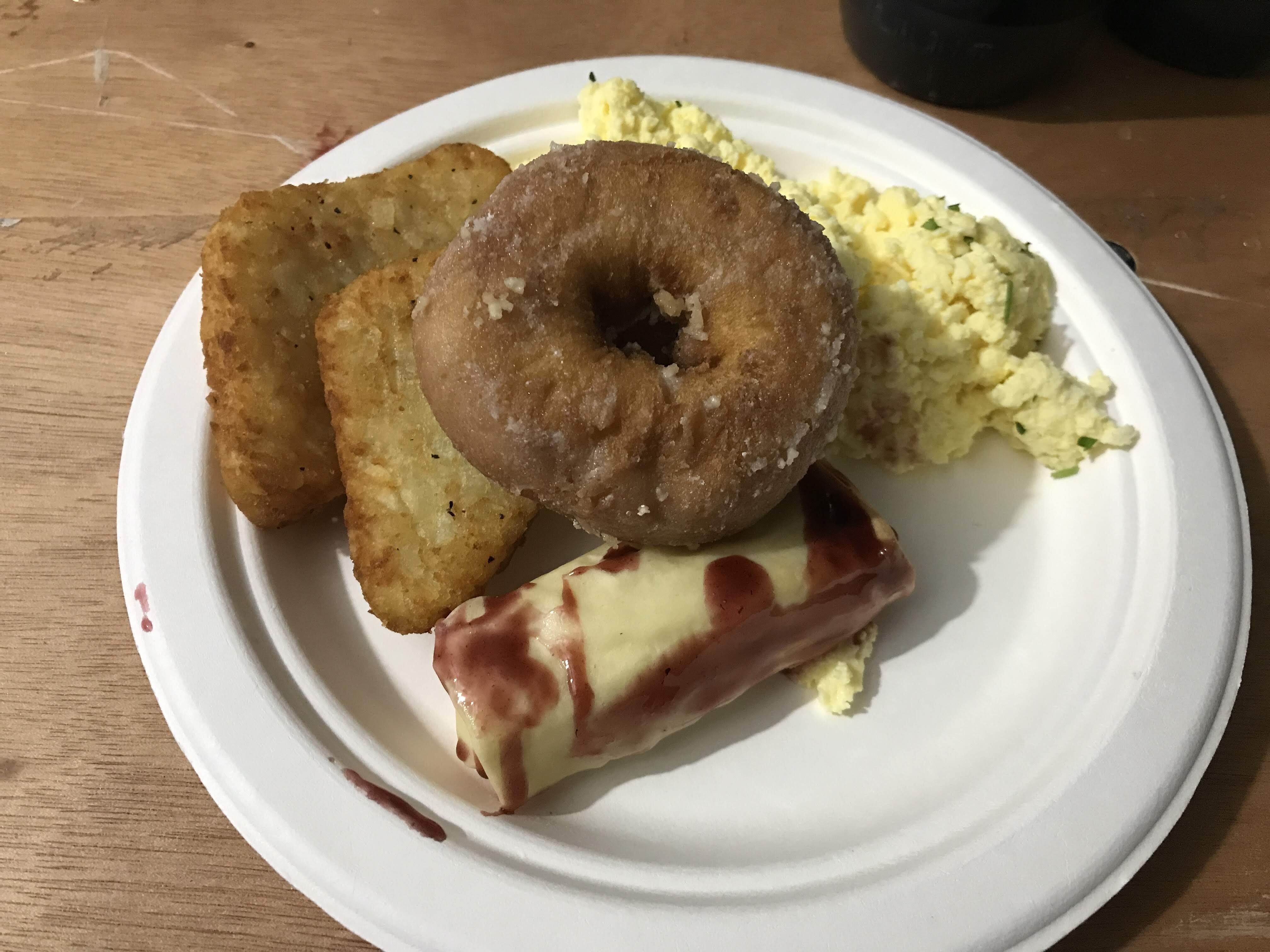 The Ride
The route opened half an hour earlier than the other days at 6:00 am on this last day. I was really eager to get to LA and got to my bike at 5:50 am. The Chicken Lady had left an egg with a Lifesaver candy and a message inside for each cyclist. It said: "Not all heroes wear capes; heroes also wear helmets and ride bikes."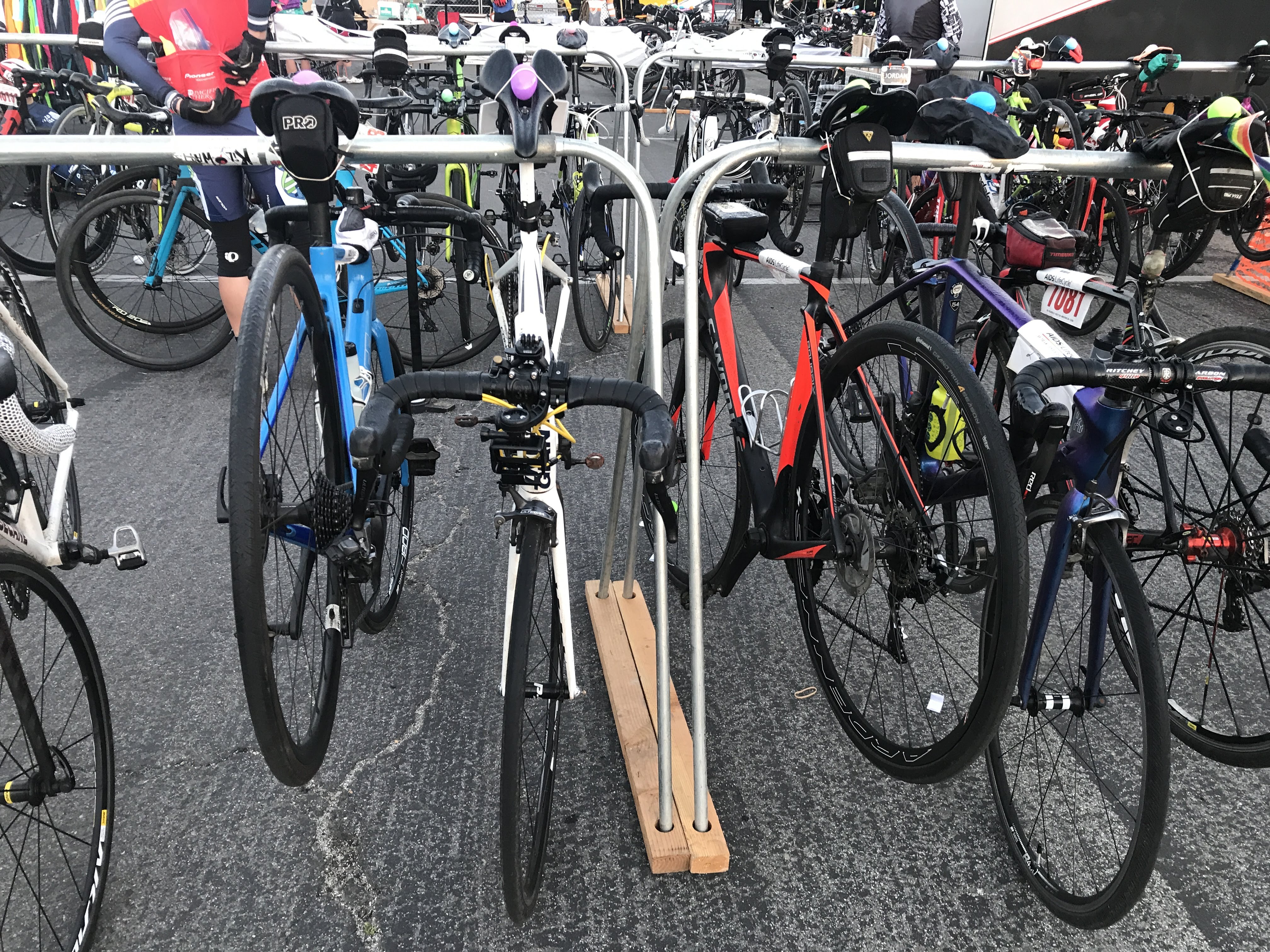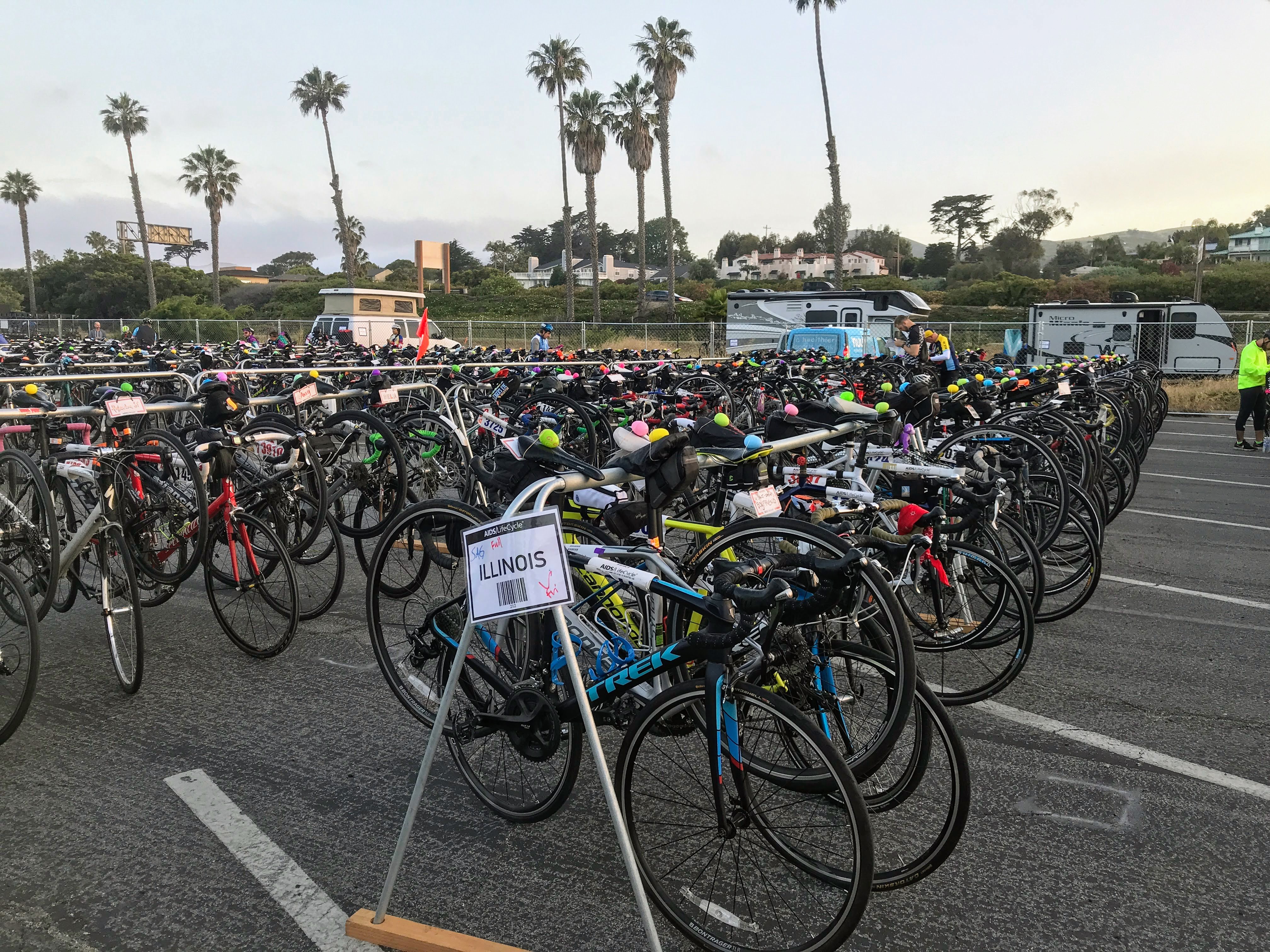 I don't remember much of the actual ride. I rode as fast as I could because I just wanted to get to LA. I was also efficient at rest stops, a quick bathroom, and snack break. I took a selfie in front of the Santa Monica Mountains sign to show my friends and family waiting at the finish line what I wore that day.
I still felt sick and wanted to ride alone. Day 7 didn't have any long climbs, but I had to slow down every time there was a slight incline. I couldn't push myself when I did, I got a headache. I'm a climber and usually pass people on uphills, but not on Day 7, people caught up to and passed me. At least I didn't feel like I couldn't finish the ride. I just had to go slow.
We rode on Hwy 1 through Malibu. It was a Saturday and we were told to watch out for heavy traffic, beachgoers parking their cars, and car doors opening. Fortunately, it was still early in the day, so there weren't many beachgoers yet. There were many weekend cyclists out riding in Malibu. All of them, of course, passed me. They were probably on mile 20 of their ride while I was on mile 520. They were super supportive and congratulated me as they passed. That reminded me of how close I was to the finish line.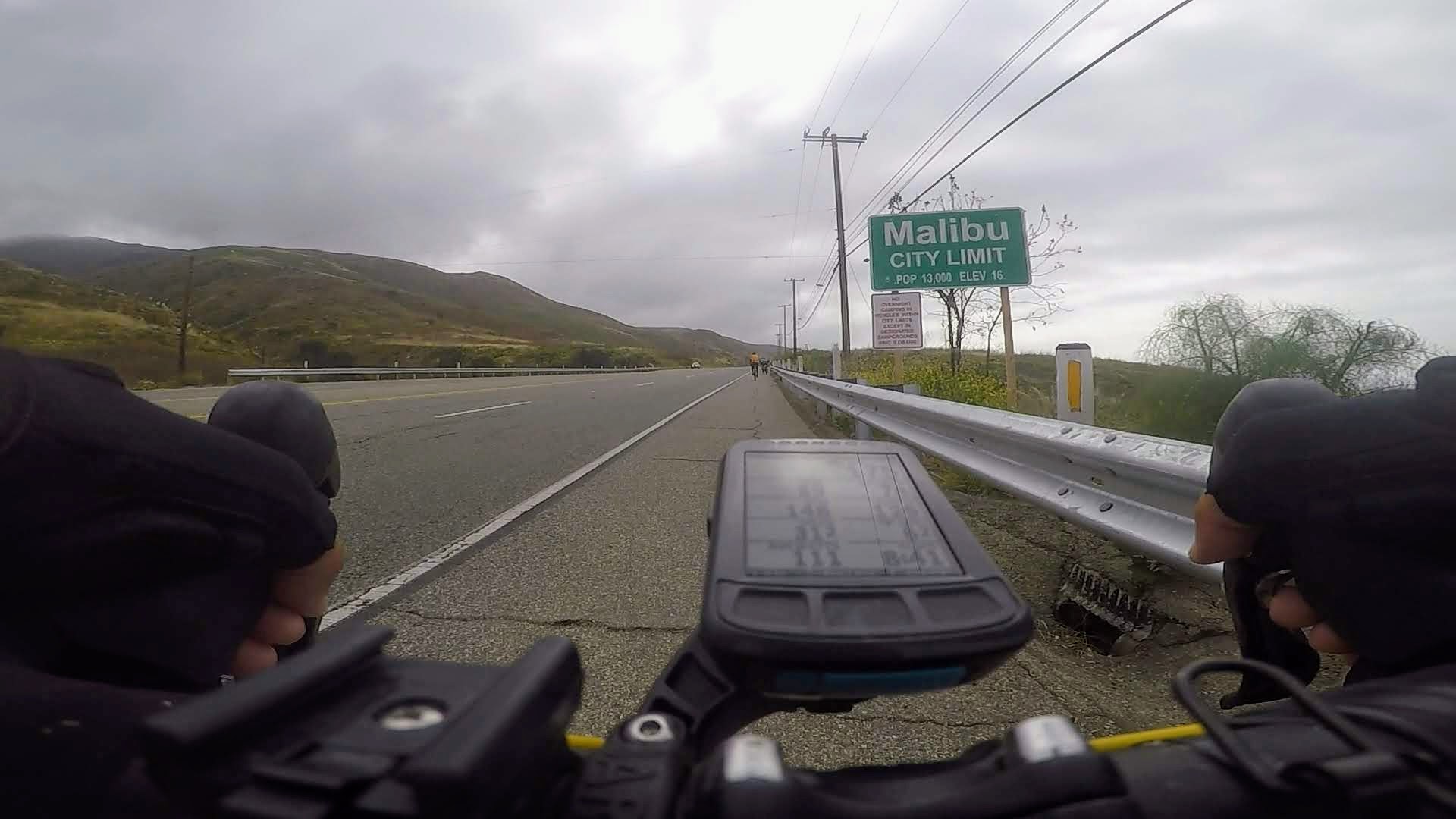 I got to the lunch stop in Malibu, less than 15 miles from the finish line before 10:20 am. I guess it's more like a second breakfast? I wanted to finish lunch quickly and get to LA.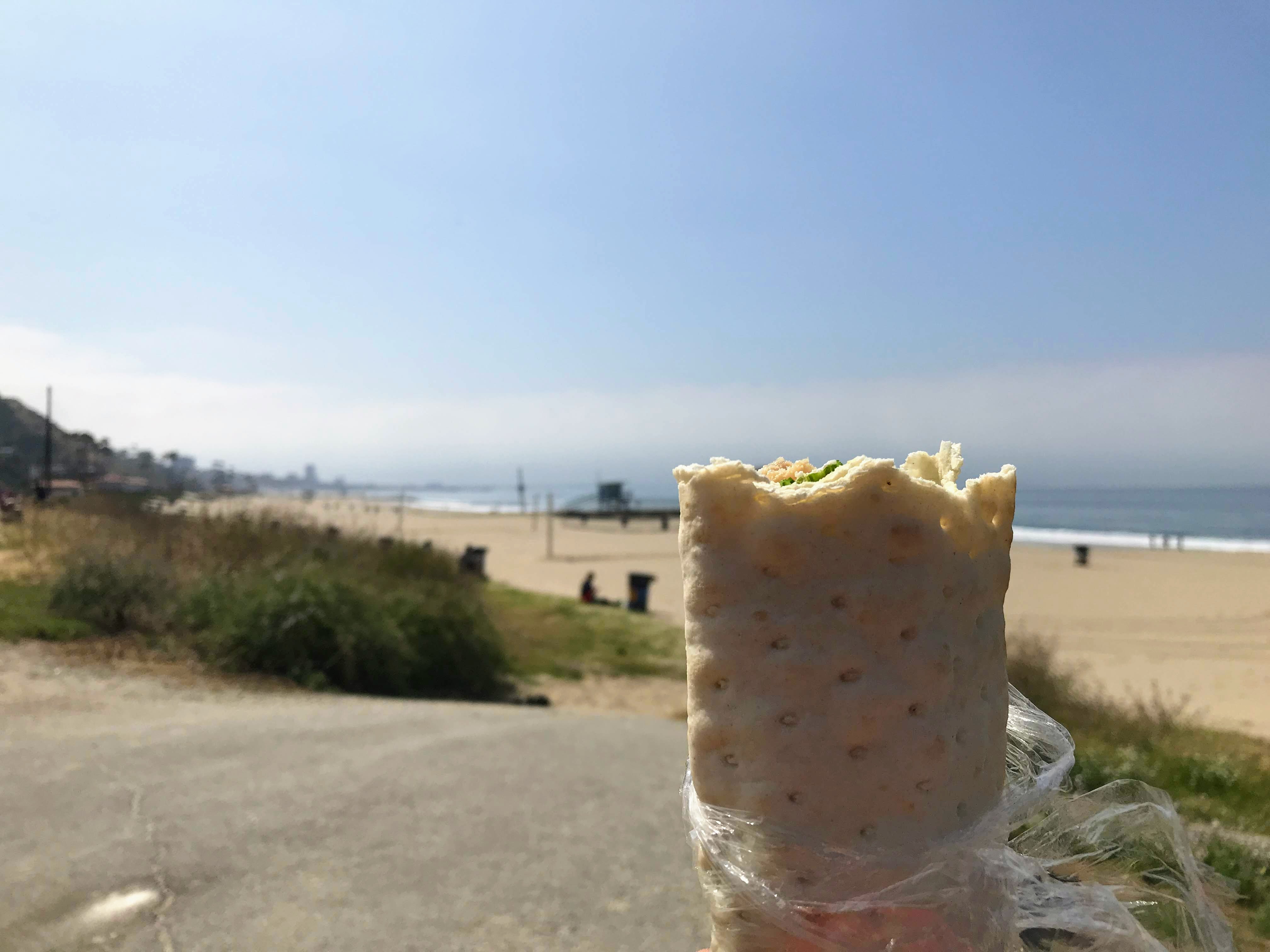 Lunch was a chicken wrap. There was barely any seating at the beach. I found a bench and chatted with a Malibu cyclist a bit while I ate lunch. I told him I was tired and had to slow down on any uphills, and he asked, "What uphills?". Hahaha. Usually, I would've asked the same thing, but today, any incline slowed me down. After he left, a cyclist riding his second ALC sat down next to me. He gave me helpful tips on how to make sure family and friends will spot me at the finish line. Before making the last turn into the finish line, pull over, text them so they know. So, I planned to do that even though my friends and family have two live tracking links on me already: one from my Wahoo bike computer and another from my phone.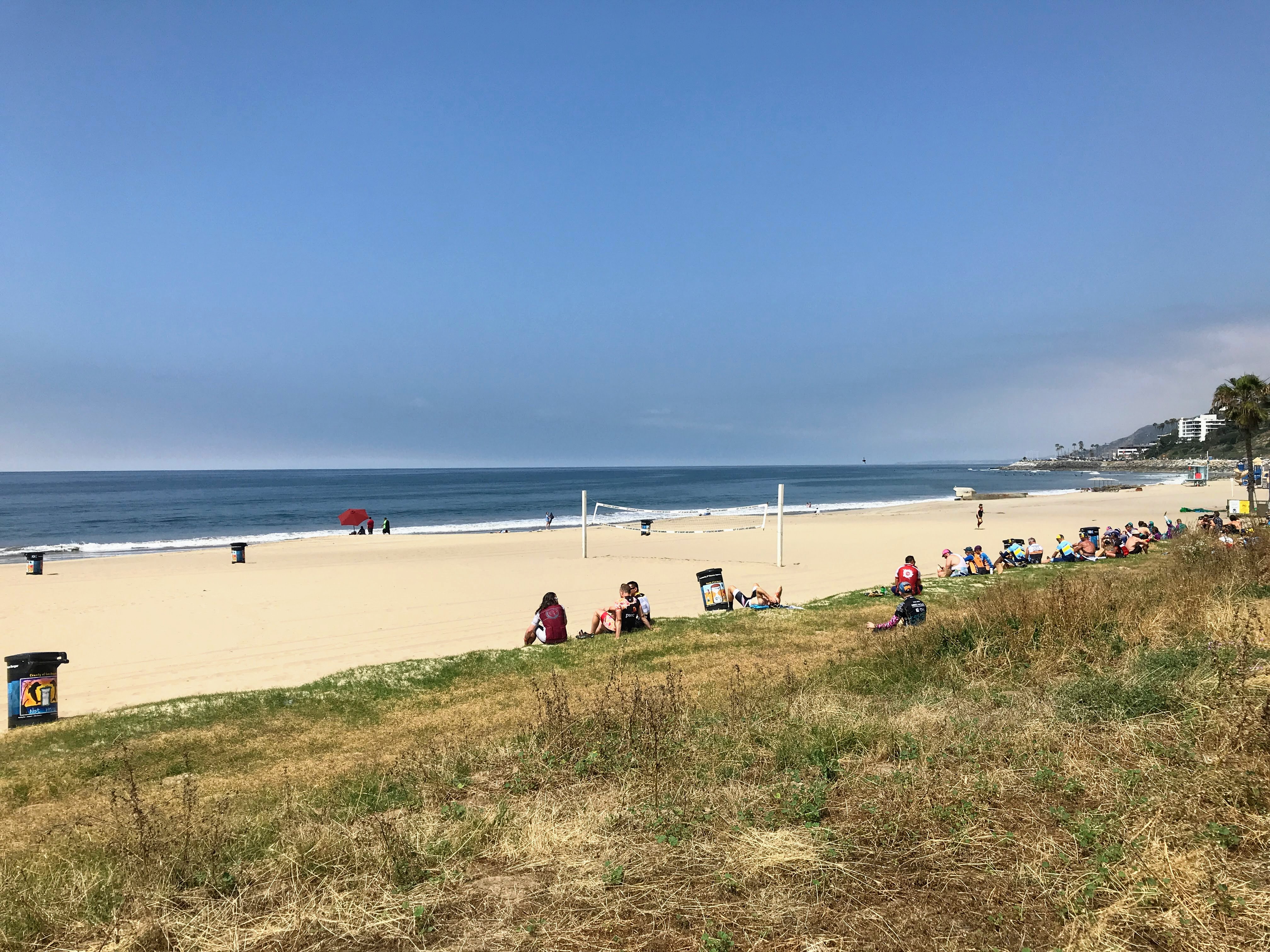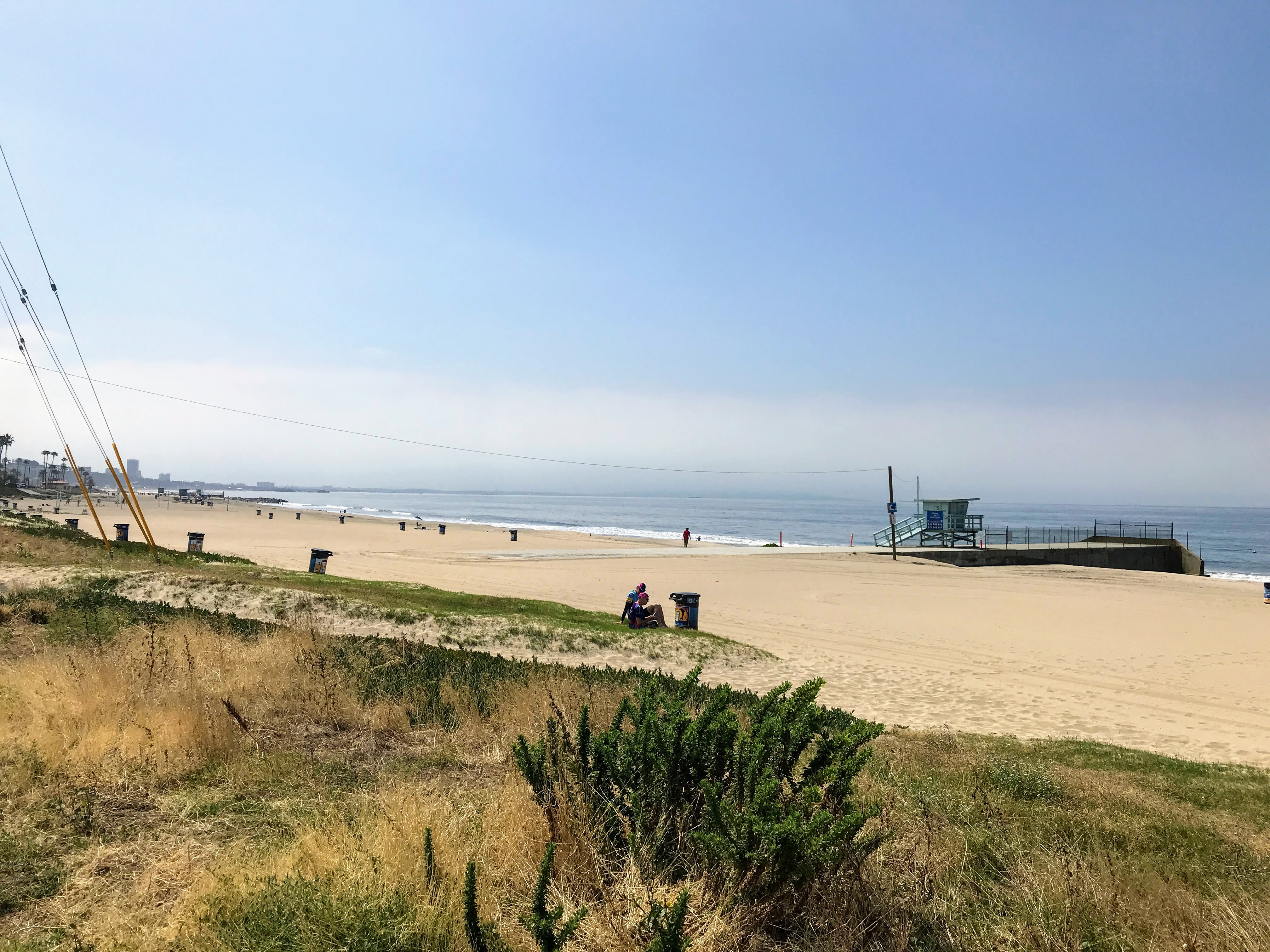 Before I left the lunch stop, I texted my friends to let them know I was about an hour-ish away! My sister was already at the finish line, parked a couple of blocks away, and asked me if she should move the car closer. No need, we don't want to be stuck in traffic when we leave! One of my friends told me she'll get there after I finish. Another one said she was on her way and told me to hang around at the lunch stop a bit more to give her more time. I told her absolutely not! I've been riding for 7 days and just wanted to get to the finish line. I eventually gave in and stayed a bit longer at the beach to enjoy a dessert of mini Keebler Fudge Stripes.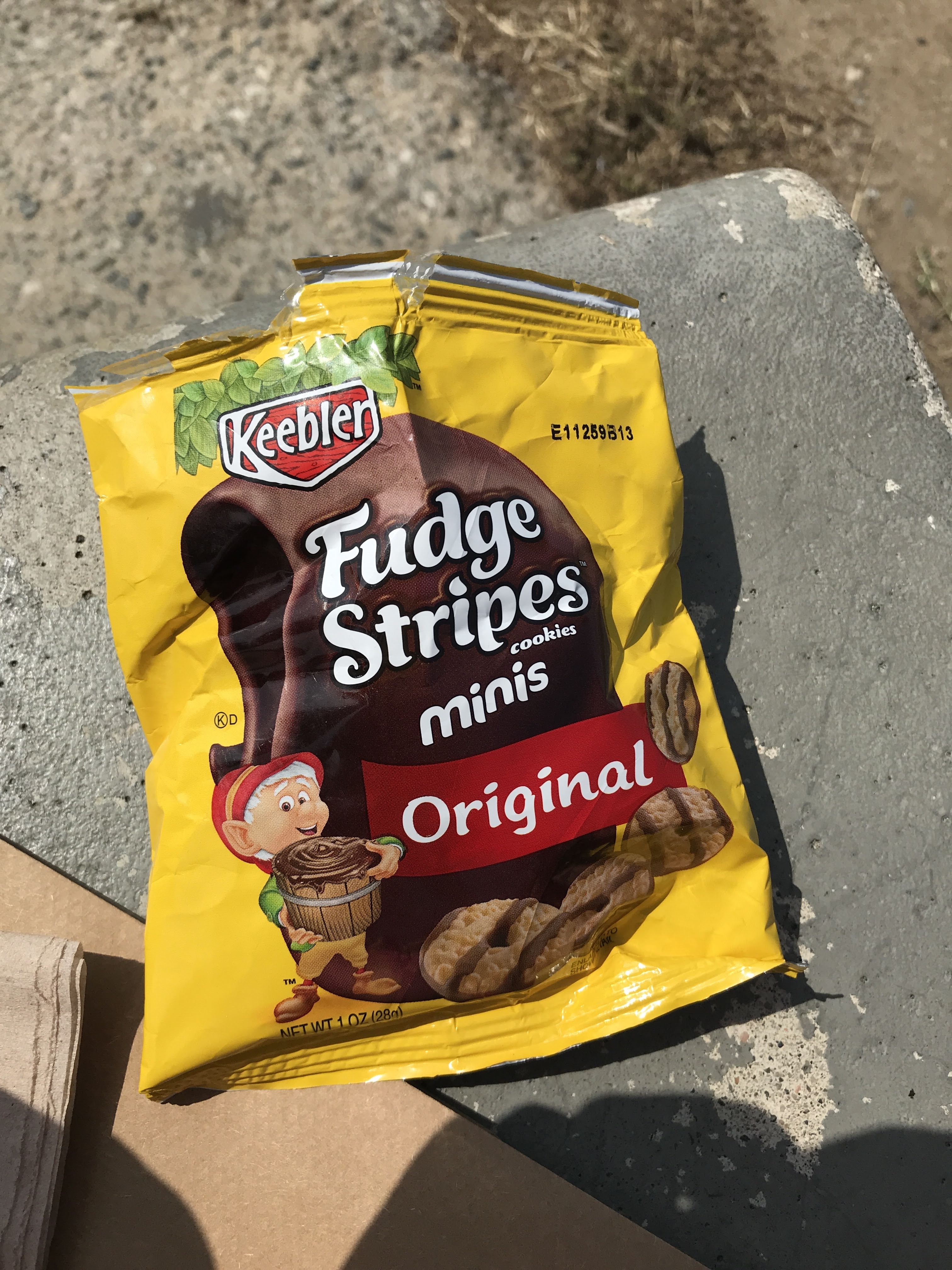 We rode through Santa Monica shortly after lunch and turned away from the beach and towards LA. I've been to LA and surrounding areas many times, but this was my first time by bike. I was excited not only because I was less than 15 miles from the finish line, but I was riding through areas that I recognized!
We soon hit a lot of stop signs, and it was a little annoying. I asked another cyclist if the rest of the way was going to be like that. Fortunately no. We were soon on streets with traffic lights and street names that I actually recognized. I also recognized Century City when we passed.
I used my Apple watch to text my sister my location whenever I hit a red light. Even though she was already standing at the finish line tracking me.
We passed Rodeo Drive and rode through Beverly Hills where one lane of the road was blocked off for us. We were so close to the finish line. After Beverly Hills, we rode through streets that were blocked off for LA Pride. At first, I thought that was the finish line festival, which didn't really make sense. According to my bike computer, we still had a couple more miles to go.
The cyclist who gave me some finish line tips during lunch soon caught up with me. We made many turns riding towards the finish line. He told me that after the last right turn, I'd be able to see the balloons at the finish line. Right before the last one, he told me to go ahead in front of him. I guess he pulled over to text his friends and family. I decided I didn't have to since my friends have live tracking links for me. As soon as we made the last right turn, I saw the balloons a couple of blocks straight ahead. There were some stop signs, but we were waved through them and into the finish line shortly after 12:00 pm.
Finish Line!
As I rode through the finish, I tried to look left and right for my friends and sister. I didn't see them, even though there was barely anyone at the finish at noon. I was careful to not look around so much that I would end up crashing in front of everyone and the photographer. I slowed down a bit to create more space between me and the two cyclists in front of me so the photographer could get a photo just myself. I remember before crossing the finish, I wanted to hold my arm up (we can't have both hands off the handlebars in ALC, else, I would've done that), but I ended up not. I had completely forgotten I wanted to do that at the finish line.
Through the entire week of riding, I really thought I'd cry at the finish line. I almost did on Day 1, but I didn't cry at all. I didn't feel tired. My legs didn't feel like they were going to give out. I was just excited. My friends and sister found me right away by the bike parking. I couldn't pick up my luggage until after 1 pm, so we walked to the finish line festival.
I really wouldn't call the finish line festival a festival. There was really nothing much going on. I picked up my finish line t-shirt and got a tiny sample of coconut water at the Zico tent. I really thought we would at least get an entire bottle after riding for a week! We took some photos at a tent with finish line signs.
We went over to the food trucks to check out the food options. My sister asked me what I wanted. What I really wanted was a wonton noodle soup. I always crave it after a road trip and apparently also after a multi-day ride, which is a road trip! But there were no noodle soup options, so I settled for chicken fries instead.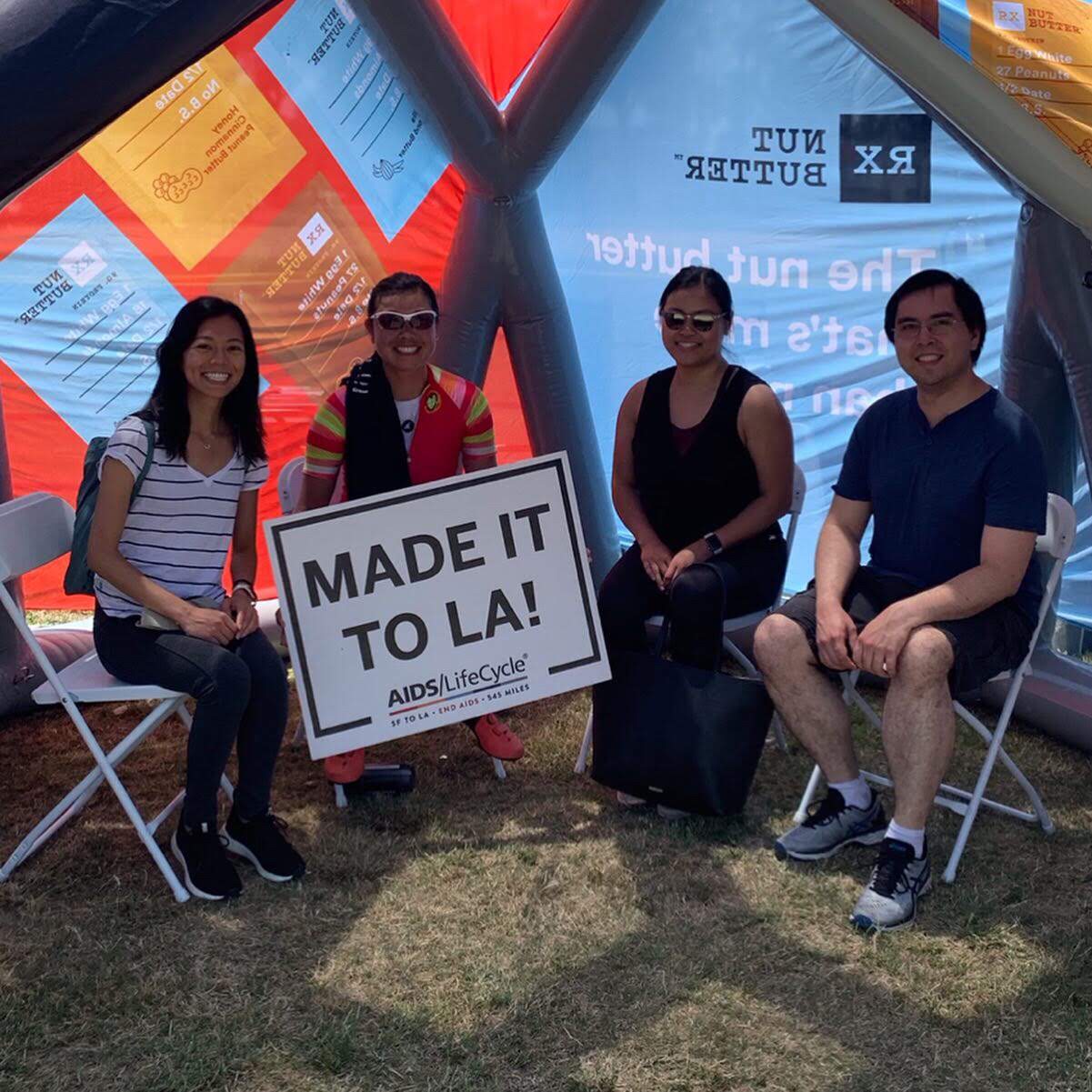 My friends, sister, and I hung out at one of the five tables set up at the festival area and waited for the rest of my team to finish. I was really thirsty and drank a couple bottles of water while waiting. One of my friends was surprised I could still walk myself to fill up the bottle after riding for a week. Drink all the water led to more trips to the porta-potty, which I thought I would be done with once I crossed the finish line.
As more people came into the festival area, we walked back to the finish line to find my friends. There were a lot of cyclists rolling in now that it's well into the afternoon. After the rest of my team finished, we picked up our luggage and took finish line photos in front of the ALC banners. Then it was time to say goodbye to my first ALC. Most of my team members return to the Bay Area right away. I decided to stay in LA for another week to rest and hang out with some friends. The first stop in LA was getting some ice cream.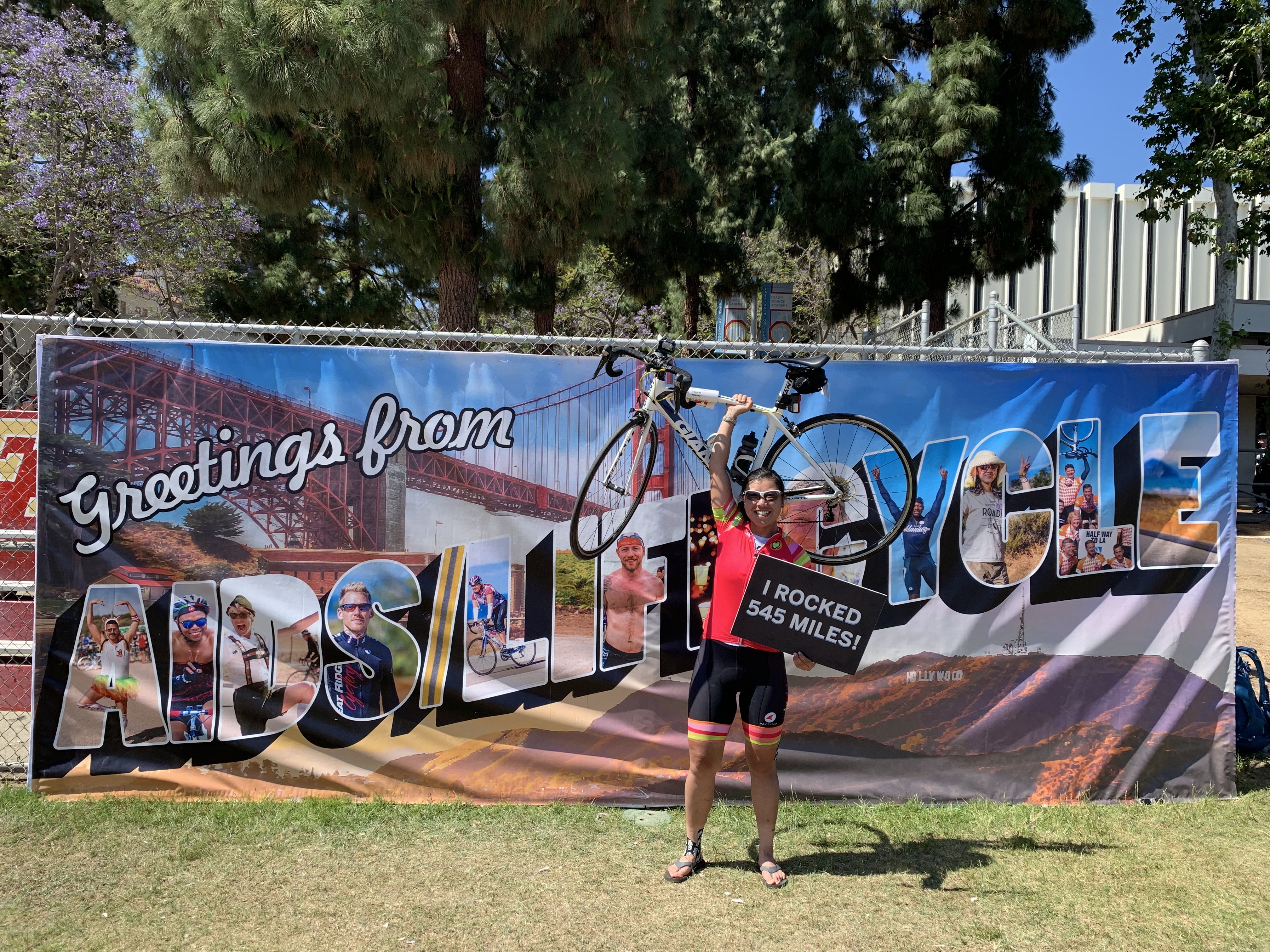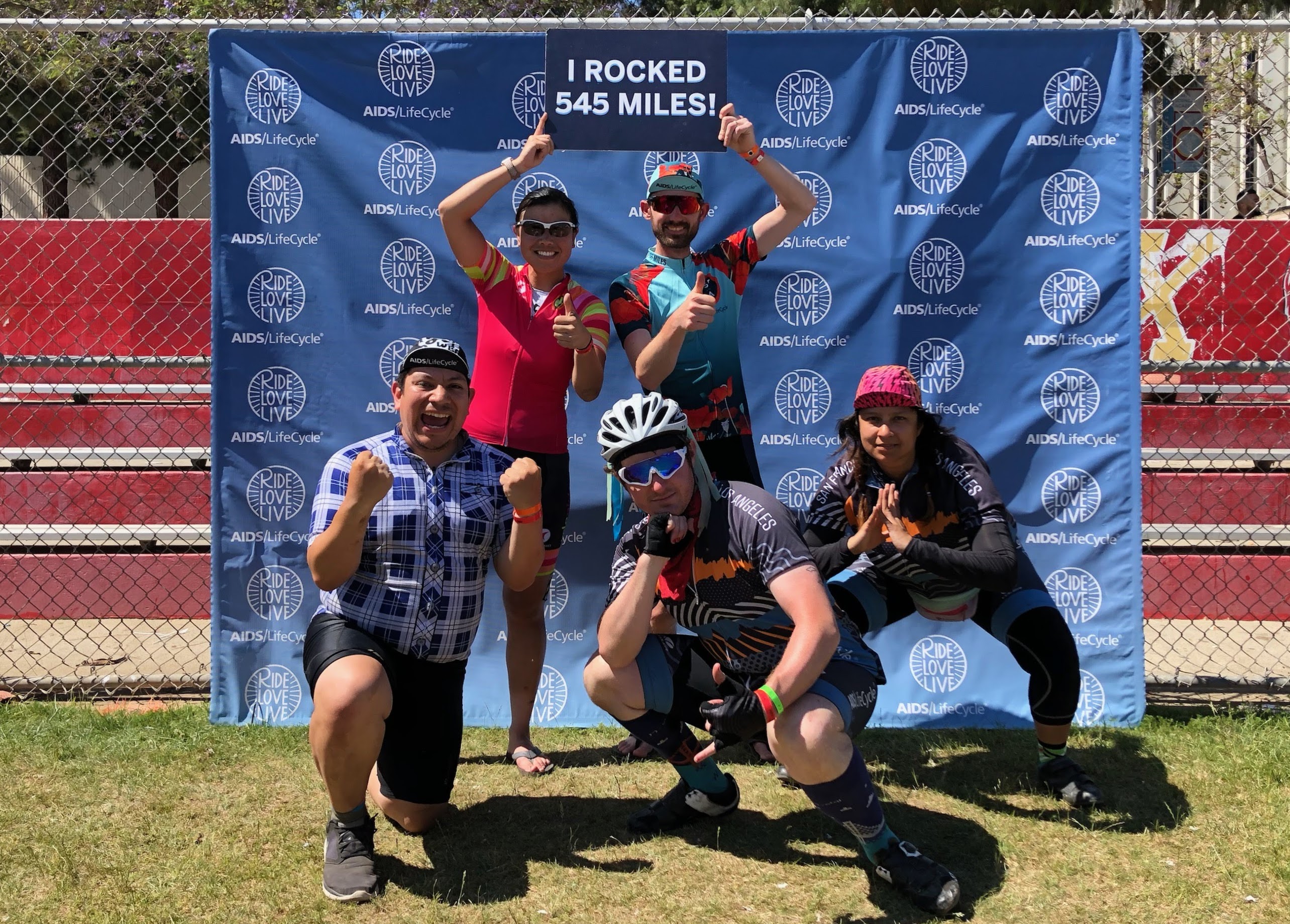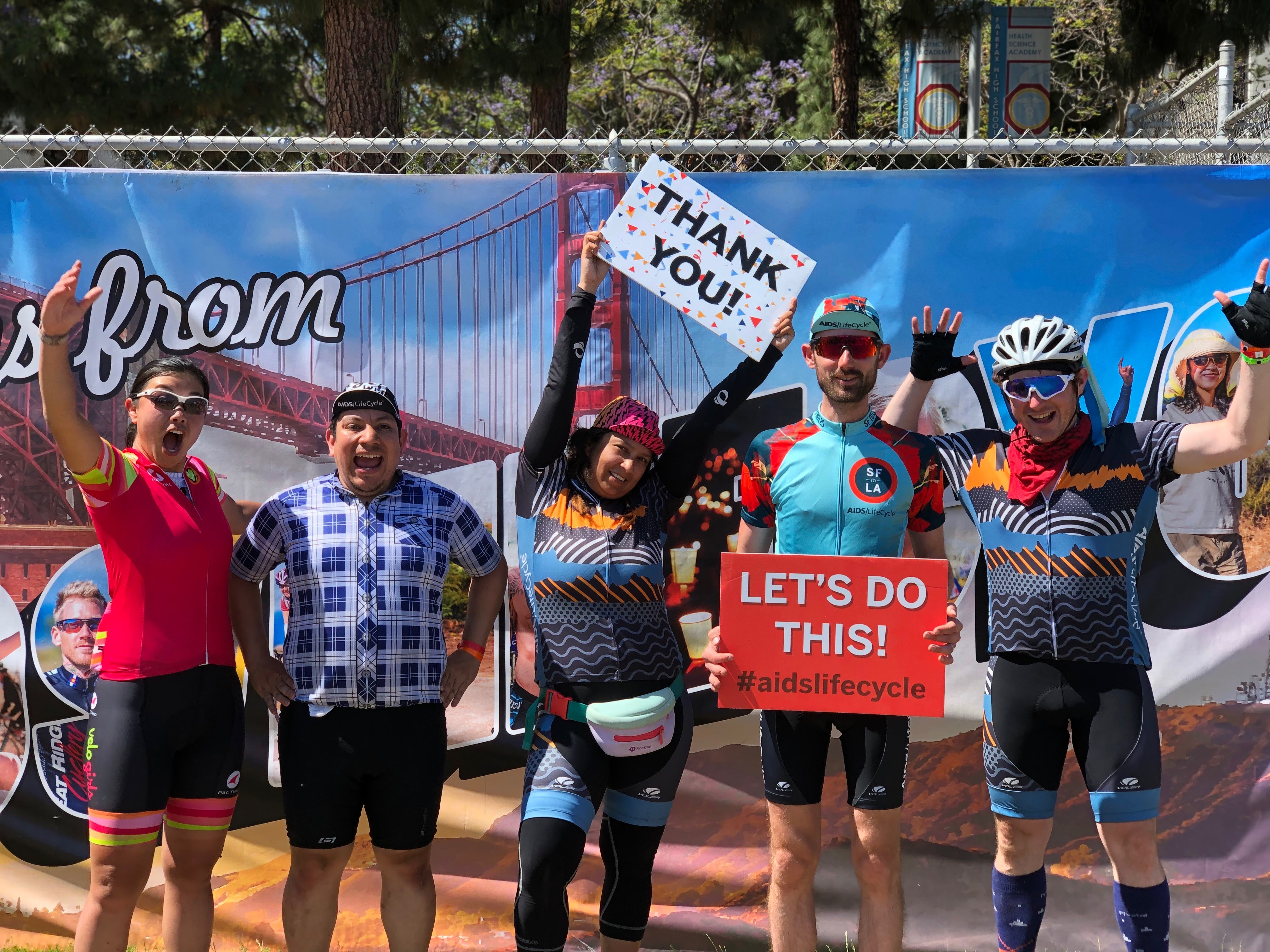 After ALC
I don't think I actually caught a cold during the week, I think I was just dehydrated.
I had a great ALC experience and look forward to another one soon. The ALC Love Bubble extended to all the communities we passed through. People sat and stood outside all day, held signs, and cheered as we rode. As someone who has accepted road rage as part of being a cyclist, I was surprised to not come across any while riding 545 miles. At the beginning of the week when I saw a driver lower her window, I winced thinking she was going to scream at us. But she cheered us on. I felt incredibly safe riding this past week and wish every day is like that.
ALC was my first multi-day ride. Parts of it were not very challenging, a lot of it was but made easier because it was a fully supported ride. The non-challenging part was the route. In my opinion, it wasn't technical and didn't have too much climbing for the number of miles we put in every day. The challenge was 545 miles in a week. I really wasn't sure how if my legs would survive the week. I think I came out of the week still feeling good because ALC is a fully supported ride. I had access to sports med if anything bothered me during the ride. I also didn't have to think about what to eat, where to eat during the week. I was able to focus on riding during the day and stretching and foam rolling at camp. I didn't realize this until the week after ALC when I had to make these decisions again.
Lastly, I'm glad I spent some time in LA after the ride. It took a couple of days afterward when I was walking to run an errand to sink in that I got to LA entirely by bike.
Other random things
I was hungry every 20 minutes the following week and tried really hard not to eat everything in my sister's pantry.
I never want to use another porta-potty again.
I wasn't sick of riding and actually wanted to ride when I was in LA, but it was SO HOT that week. I rested for two days and became restless. So I went to the gym to run short distances on the treadmill.
I obviously got very tanned and sunburnt from riding an entire week. I had a watch and wrist ban tans, bike bibs tans, and a temporary tattoo on the back of my leg. All of these took about a month to fade.
The 5-hour drive back to the Bay Area from LA felt more tiring than riding ALC.
My eyes had trouble adjusting back to the computer screen after focusing at a farther distance when riding.