Morning at Camp 5
On Day 6, it was back to the 4 am alarm clock. I woke up still feeling like I caught a cold. I got a cup of tea at breakfast to make myself feel better.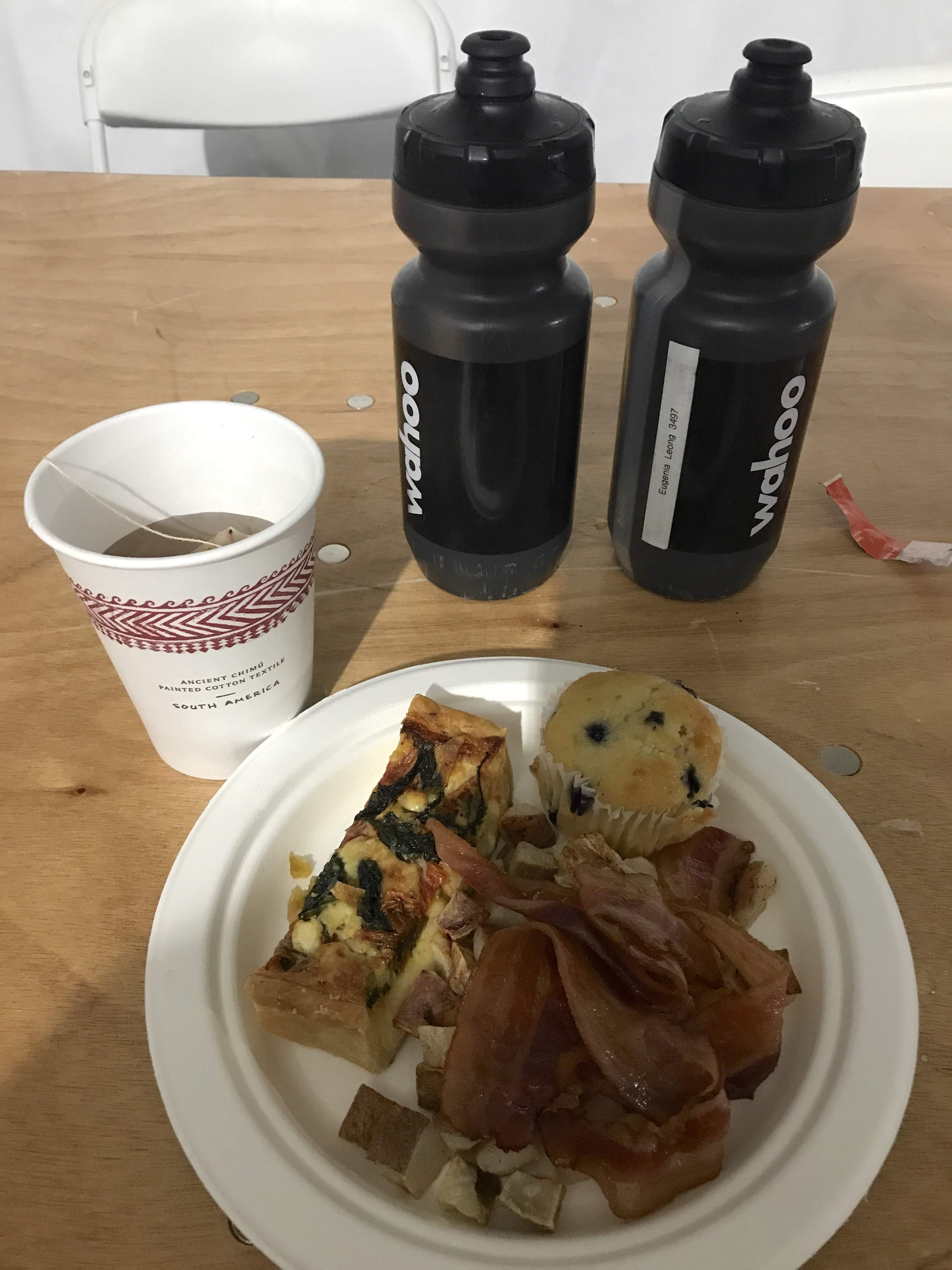 After breakfast, I lined up at the medical tent for more moleskin on my blisters. When the medical tent opened at 6 am, we split into two lines, one for butt medicine and the other for everything else. What is butt medicine? I also asked for some cold medicine at the tent, but they didn't have any. The medical staff advised me to ride part of the route and rest instead since the next day was the finish line. I wouldn't want to miss that! How I interpreted it: Ride the 80+ mile route as fast as I could so I get to camp early to rest.
When I finished at the medical tent, one of my teammates and I got our bikes and stood in line to exit camp. It was cold and I still felt sick. I stood in line and shivered for 45 minutes before we got to the exit. I was sure that was going to make me sicker.
The Ride
Day 6 was also back to a longer distance. At this point in the week, my brain broke the 80+ miles down to four 20 mile rides. The distance was no longer intimidating.
Since I was sick, I felt like riding alone and fast. I wanted to spend as little time as possible at rest stops. In addition to filling up water bottles, going to the porta-potty, snacking, rest stops now included blowing my nose. It wasn't easy to find Kleenex at rest stops. There weren't even napkins to wipe your mouth after eating. I got paper towels from the medical tent.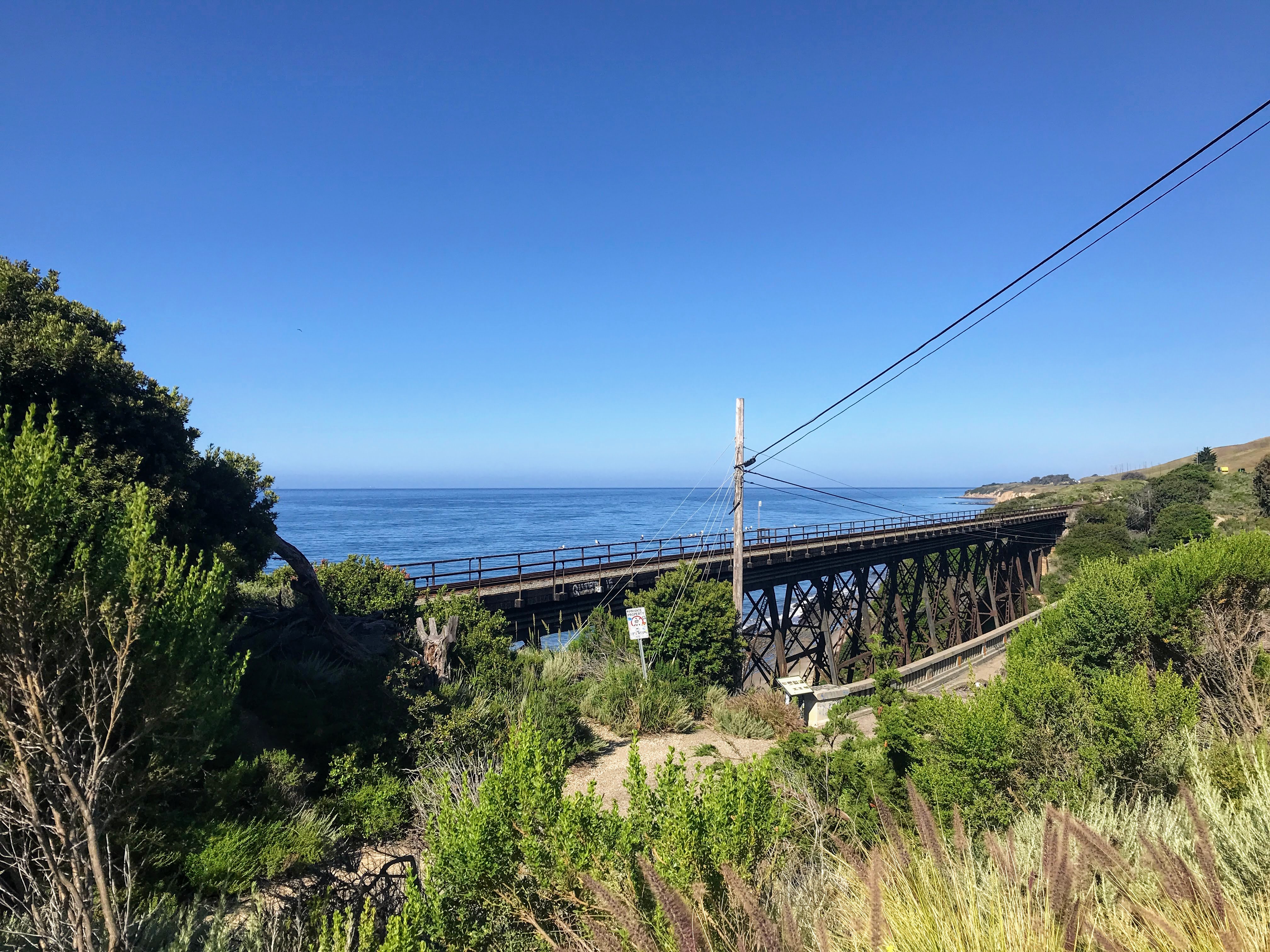 It was about a 30-mile ride on Hwy 1 from Lompoc back towards the coast. Then it was on the 101 the rest of the way. I noticed that by Day 6, a lot of cyclists have learned to ride closer to the right side of the shoulder so others can easily safely on the left part of the shoulder.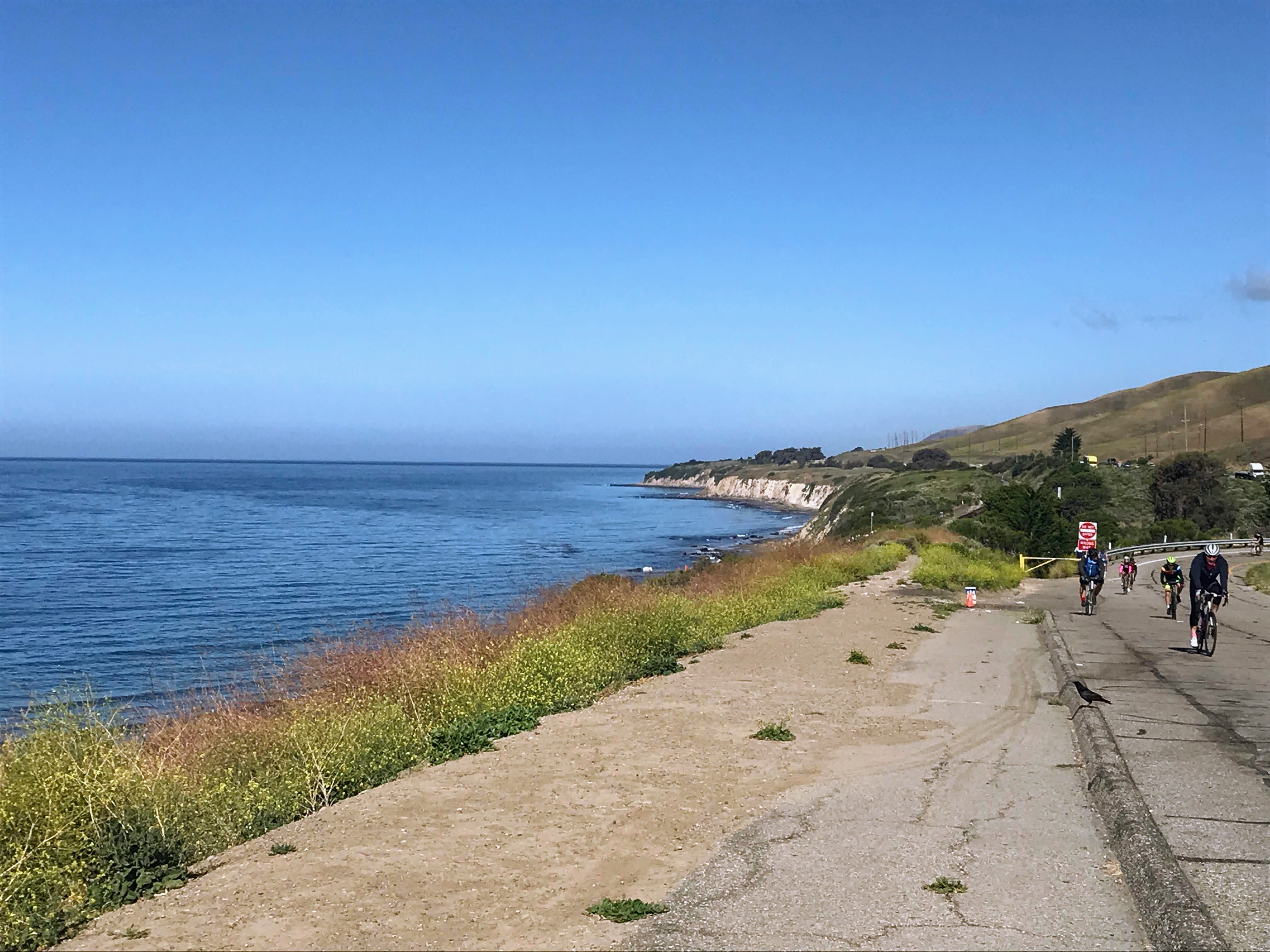 One of the rest stops was at a vista point in Gaviota. We waited in line to get into the rest stop. Waiting to get into a rest stop was really not my plan on a day. I wanted to finish quickly, but I didn't bypass this rest stop because I needed water and to blow my nose. There was a line to get your photo taken by a photographer at this vista point. I obviously didn't wait in the line, but I spent some time taking photos of the incredible views.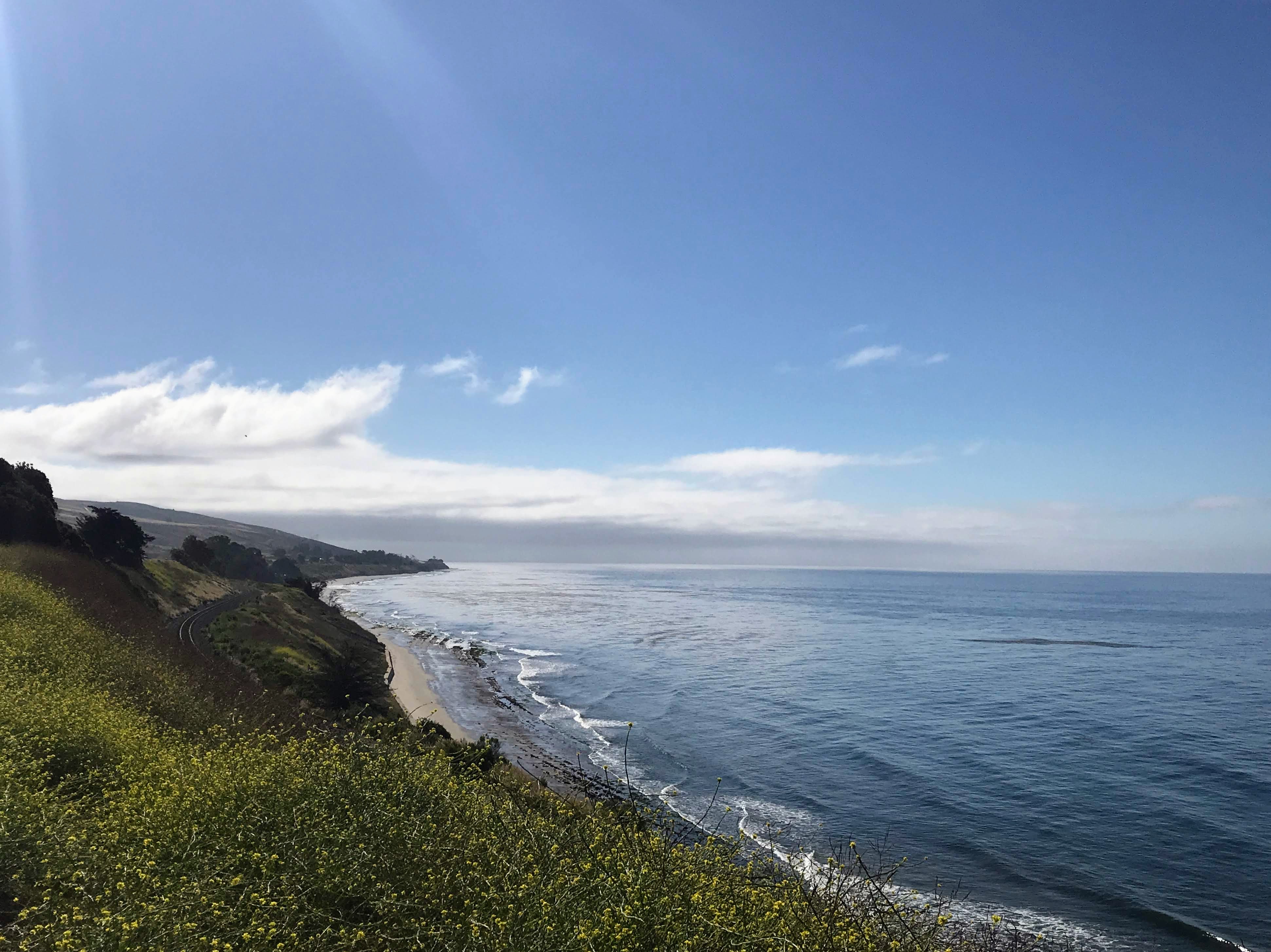 I reached the lunch stop and halfway mark of the day at 10:30 am. I thought of it more like second breakfast. Lunch was a chicken wrap, carrots, and a cookie. Of course, I filled my bottles with Nuun.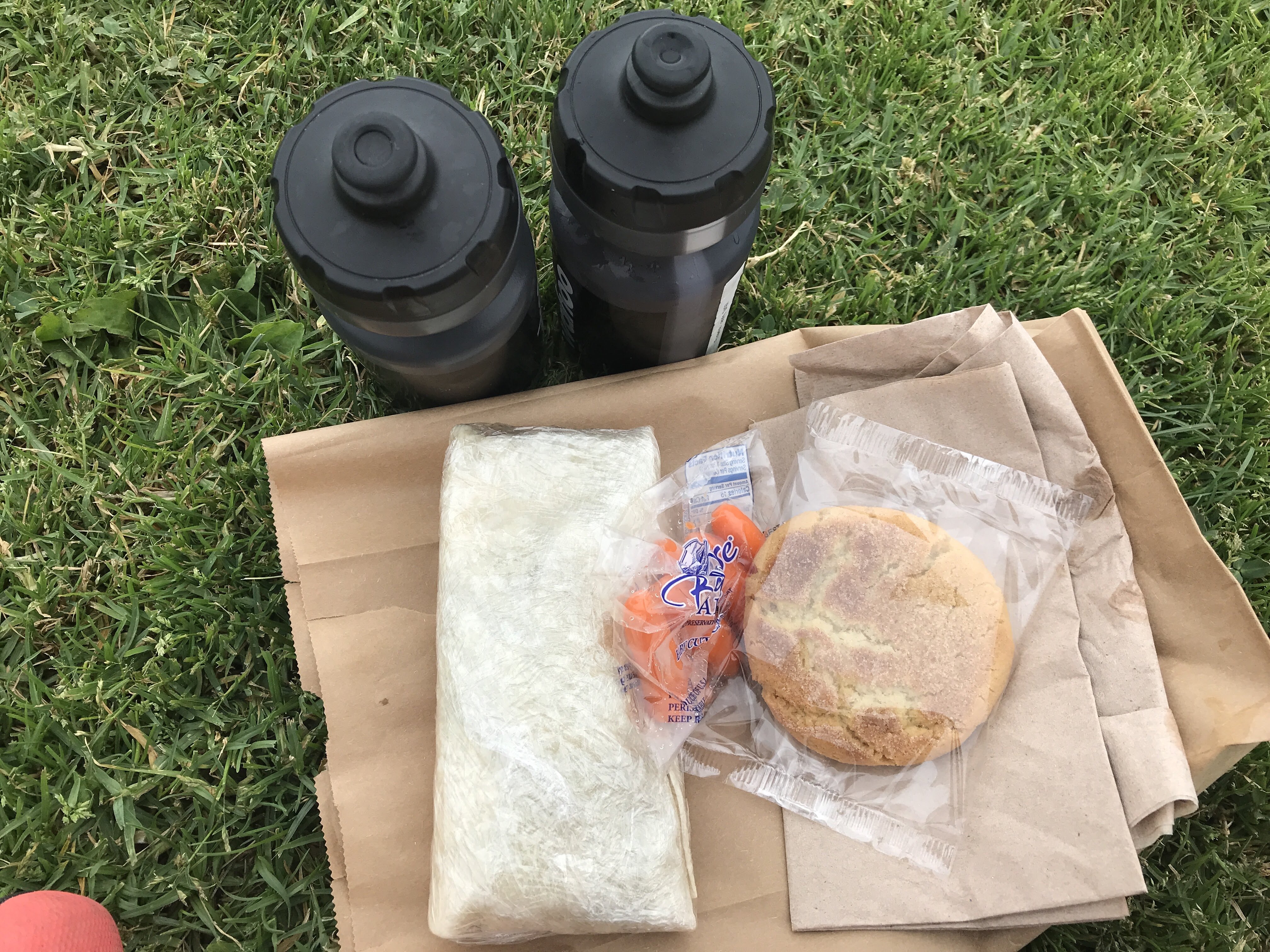 The next rest stop after lunch was in Santa Barbara. I took some selfies to update friends on my whereabouts, especially since Santa Barbara is a well-known city.
Gosh, my upper lip looked gross.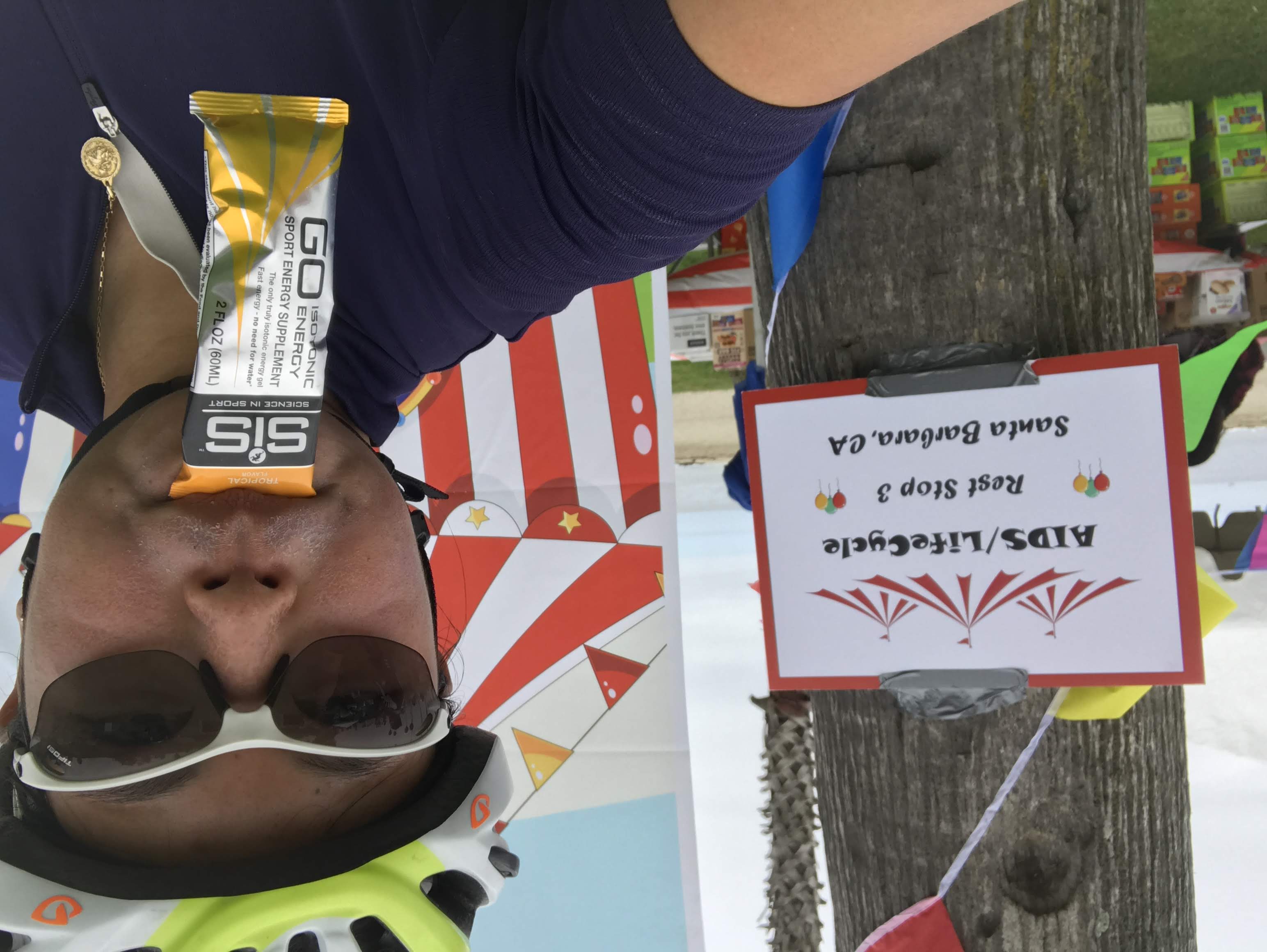 I took some photos of the beach even though I was trying to ride quickly.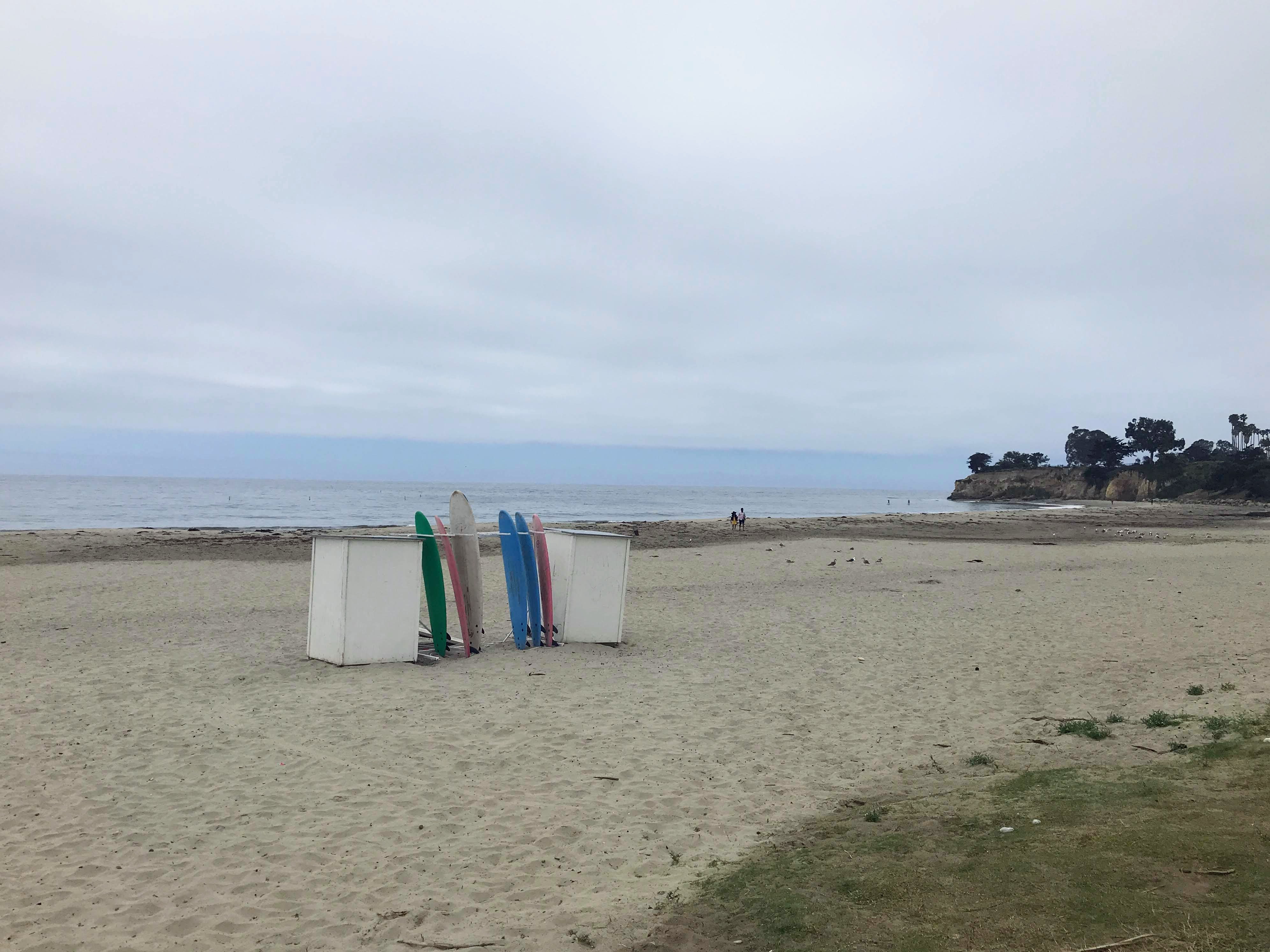 Riding through Santa Barbara was my second favorite part of the day's ride. There's something about riding right next to the beach that makes me feel relaxed and slow down a bit. I convinced myself to stop again shortly after leaving the rest stop to take more photos. Some people walking on the path along the beach cheered for us as we passed.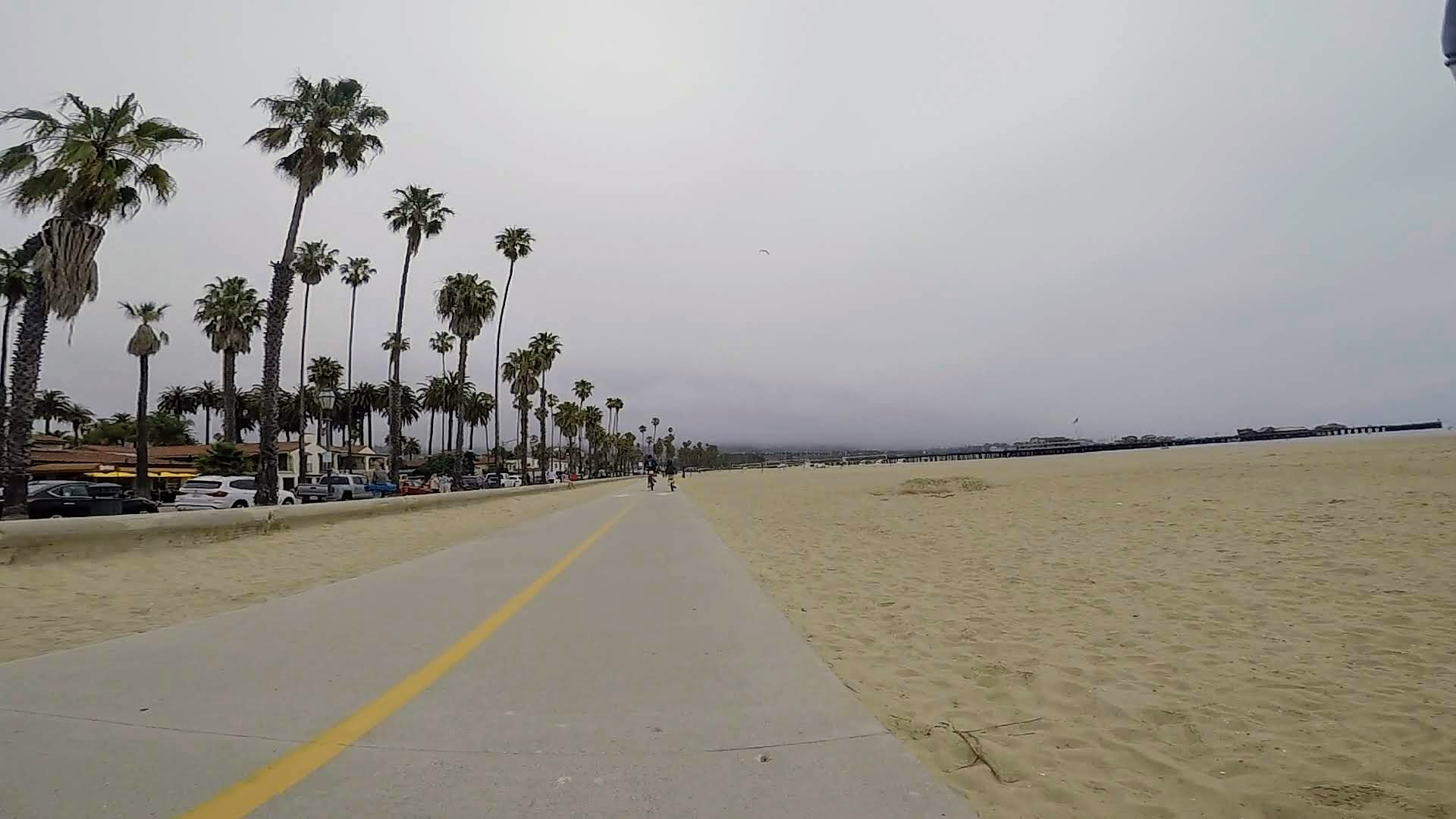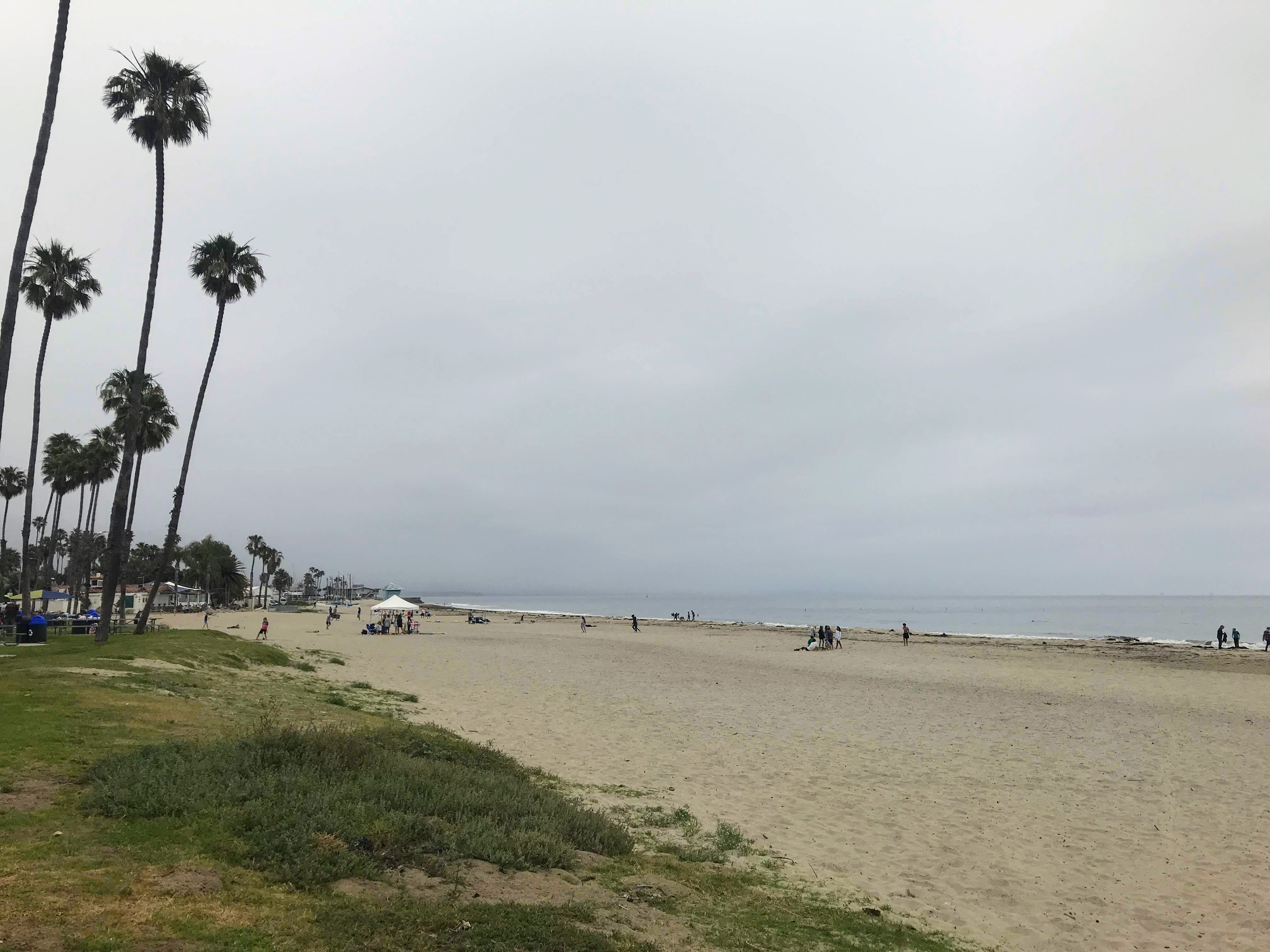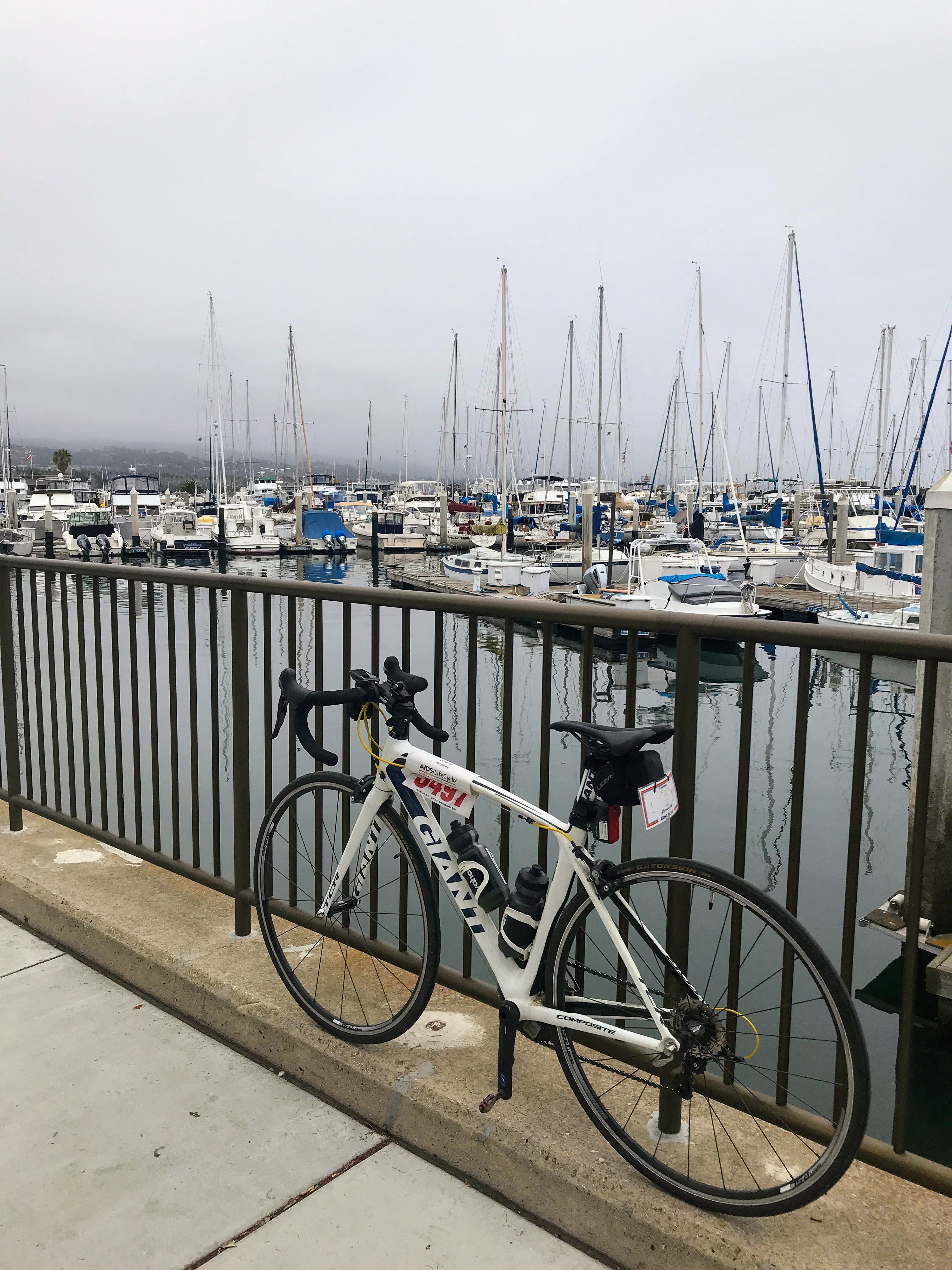 Day 6 also included an unofficial ice cream stop called Paradise Pit organized by the city of Santa Barbara.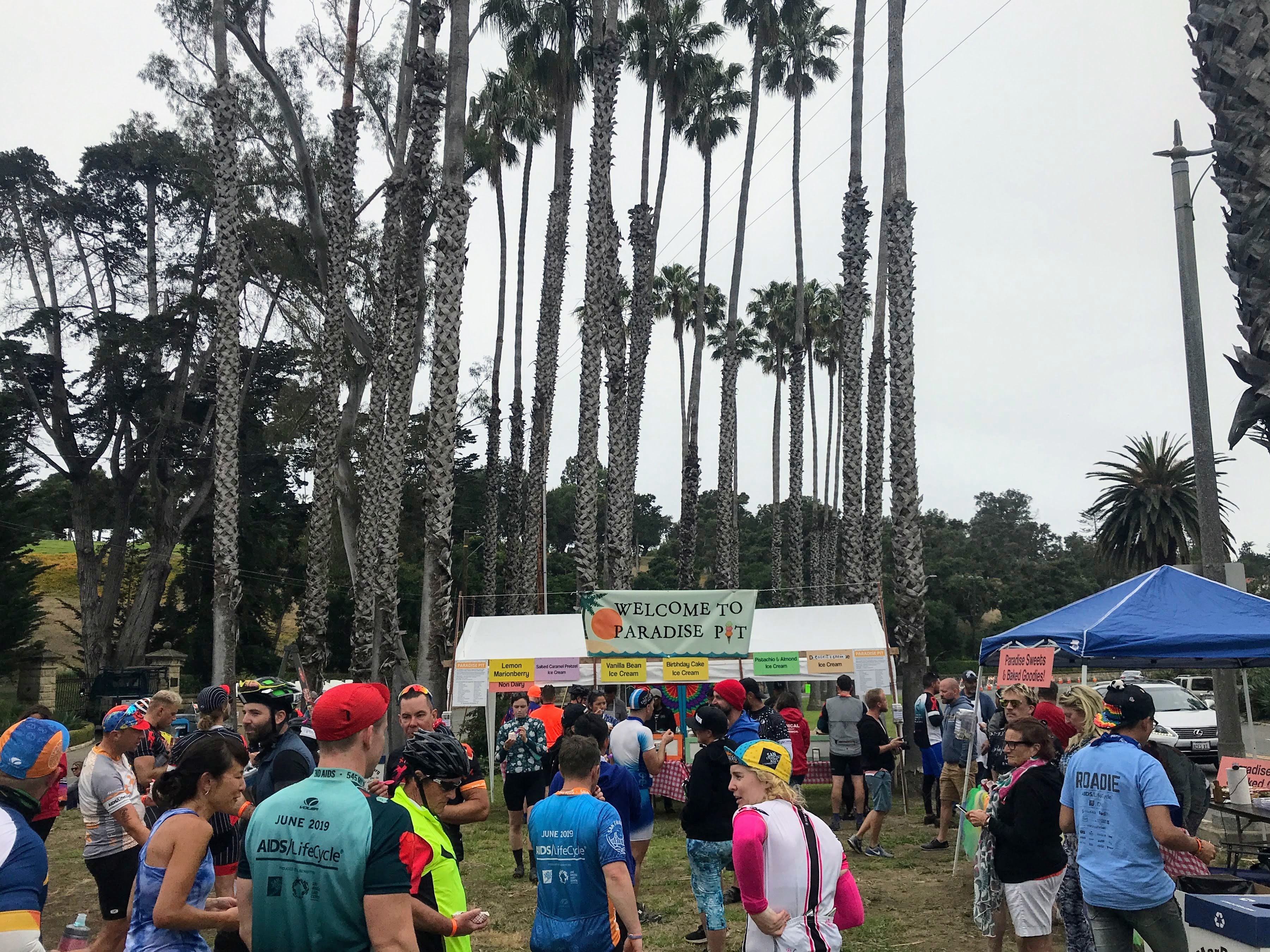 I originally didn't have plans to stop there since I was attempting to go dairy-free the entire week. But someone told me they have fruit also, so I made the extra stop. Turns out they also had one dairy-free ice cream flavor that was really yummy.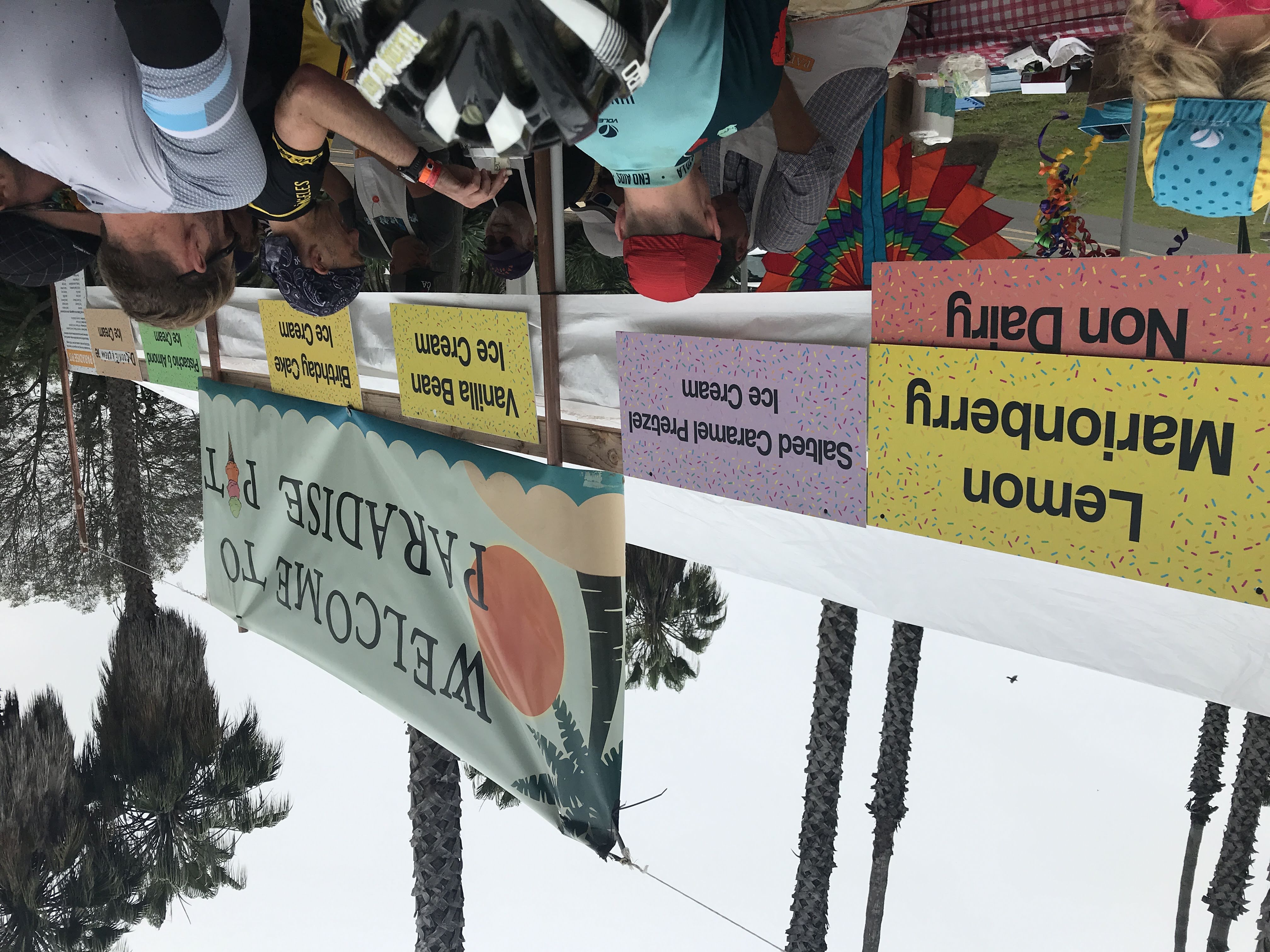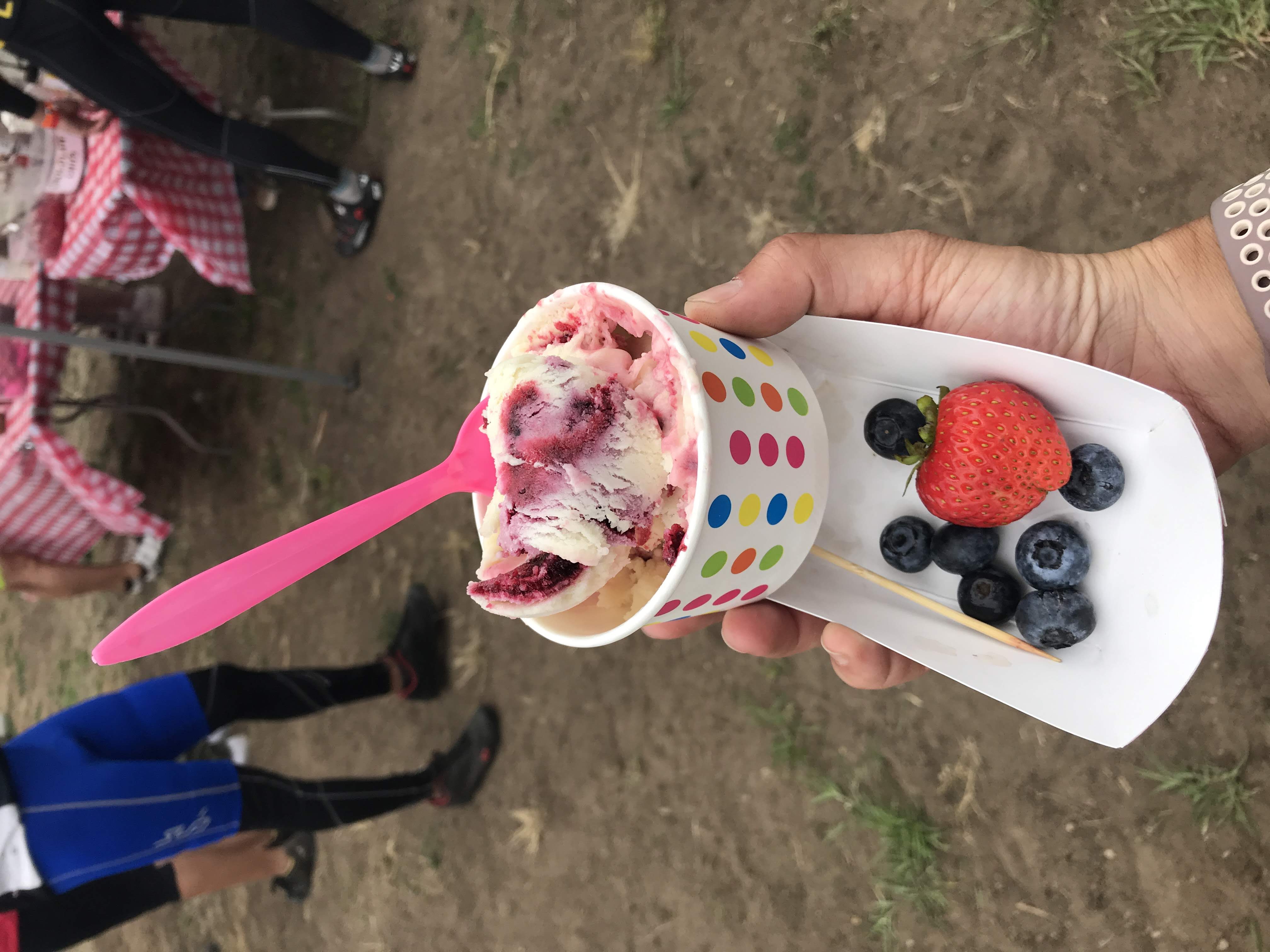 I didn't stop and mostly rode alone with no other cyclists in sight the last 20 miles of the ride. I was really eager to get to camp. An earlier finish meant more rest time! I saw an Amtrak for the second time of the week and jokingly thought about hopping on the train.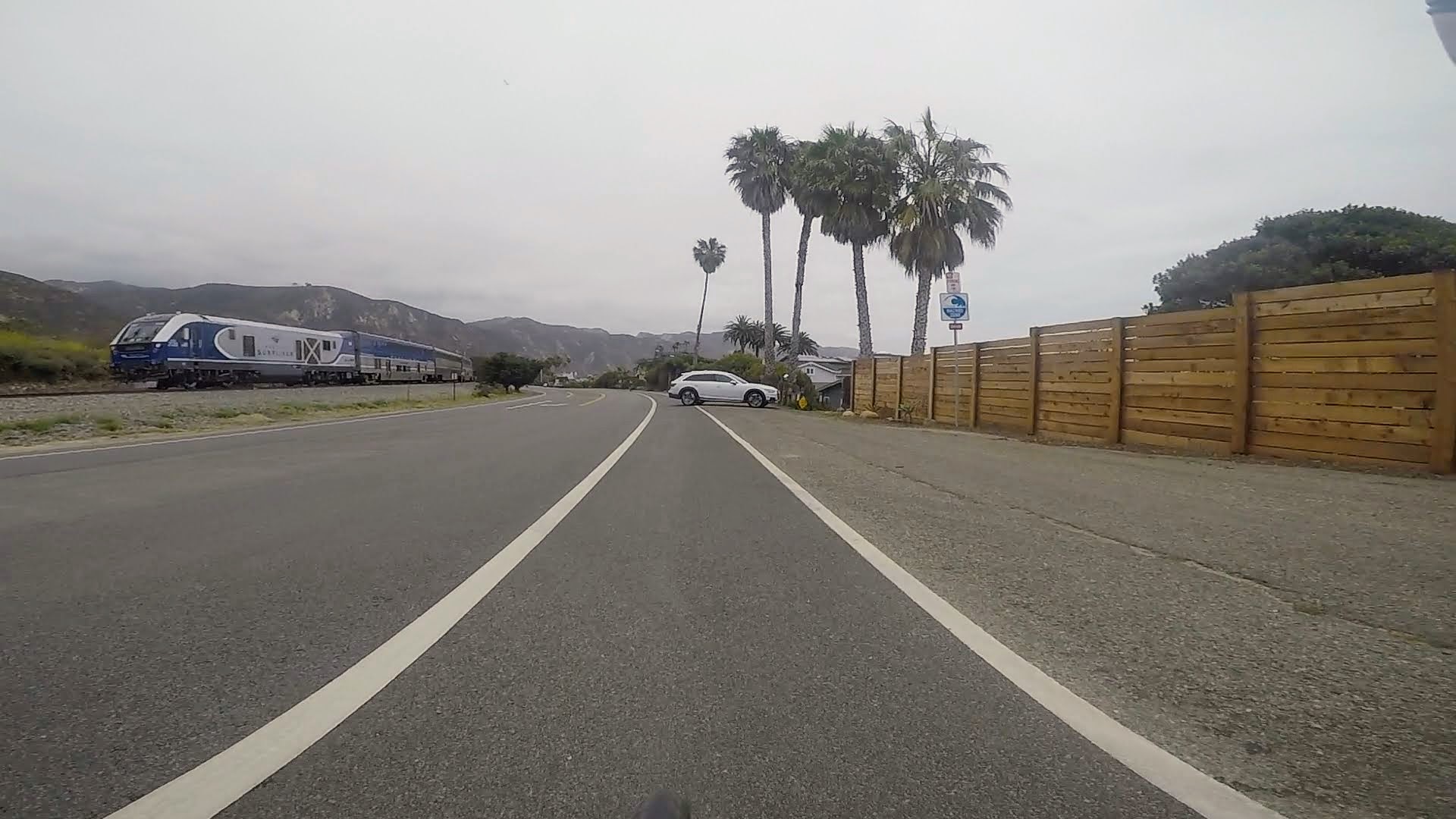 Ok, I stopped once again briefly before arriving at camp. It took a couple of miles to convince myself to take a photo of the ocean view. I don't ride next to the ocean a lot and I don't ride in Ventura ever, so I better stop for a minute to take a photo!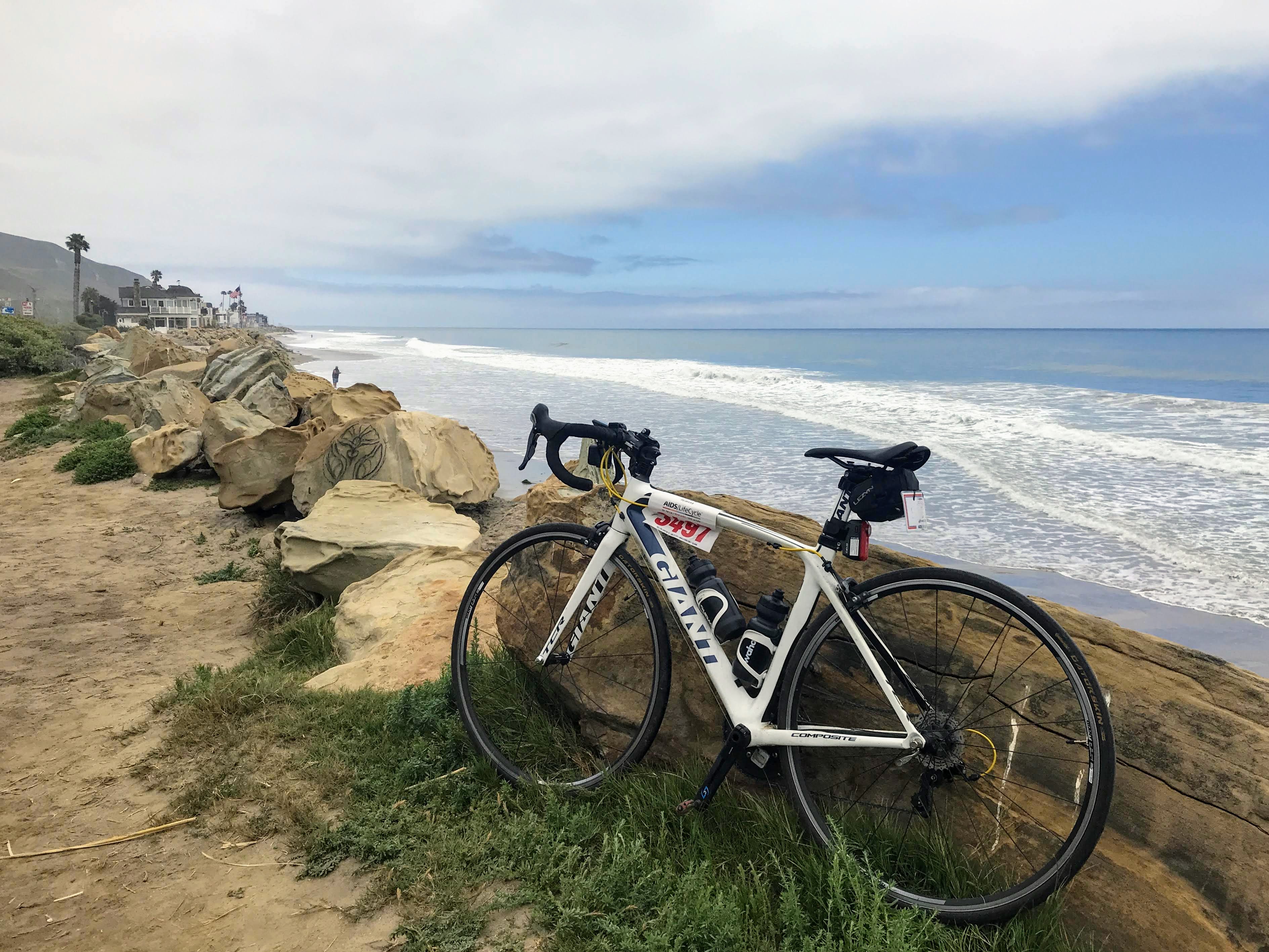 I was incredibly excited as I rode towards San Buenaventura State Beach. This was my favorite part of the day. Not only was I very close to the finish line, but I also have good memories from hanging out with friends there a couple of years before. I recognized the train tracks by the bridge where we had stopped on our rented surrey bike.
We also got a warm welcome into Ventura. There are a lot more people who know and care about ALC than I realize. Their support definitely motivated me to keep riding and even participate in the ride again in the future.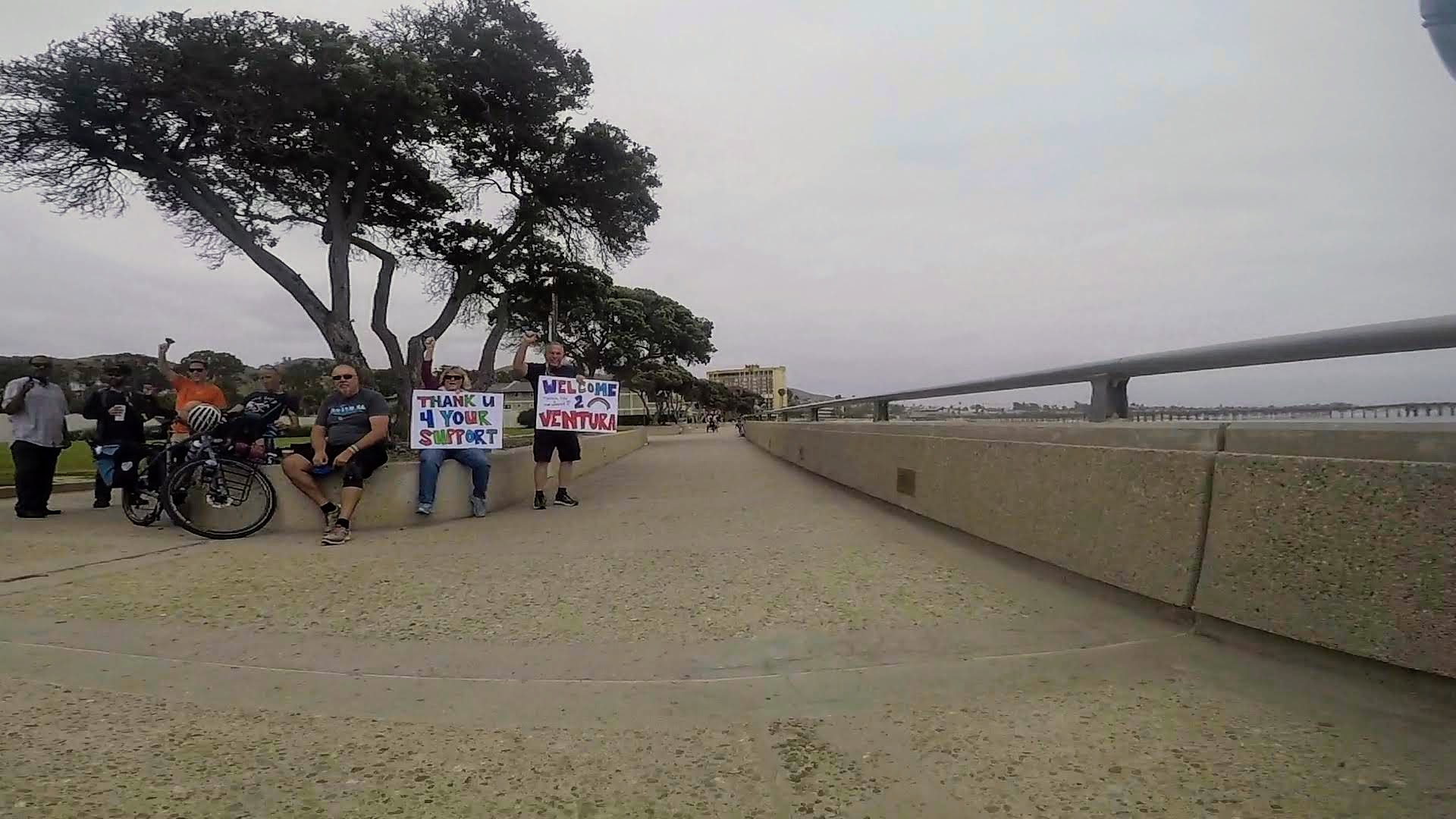 Day 6 Camp
I arrived at camp just before 2:30 pm. That was the earliest I finished so far, with the exception of the day before of course, since that was a short day. There were barely any bikes in bike parking and I felt like I had the entire camp to myself.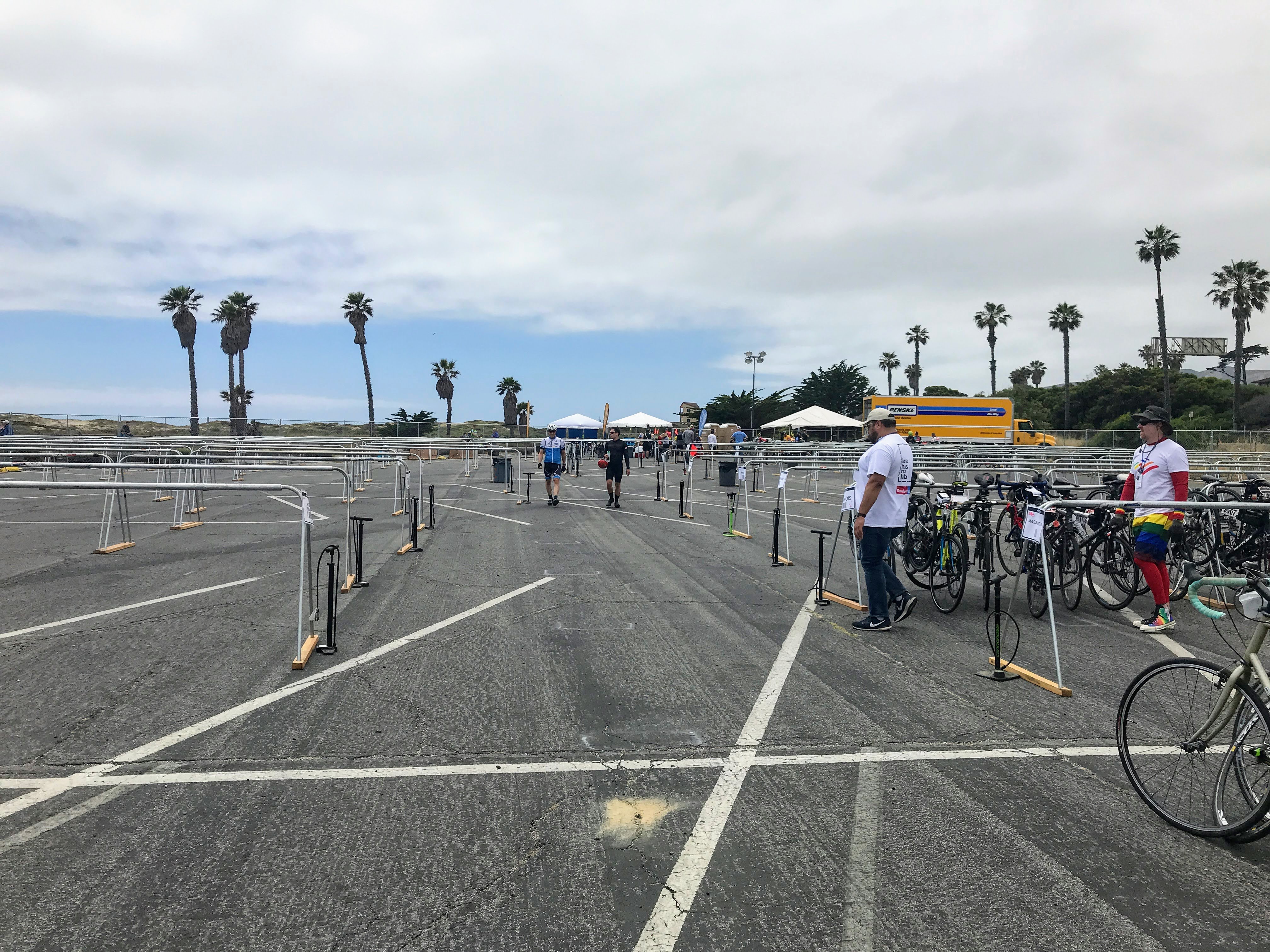 Even on Day 6, I still found the sight of all the luggage fascinating. I found my luggage with no problems, it was at the end of an aisle this time. I think the Roadies group the luggage by color.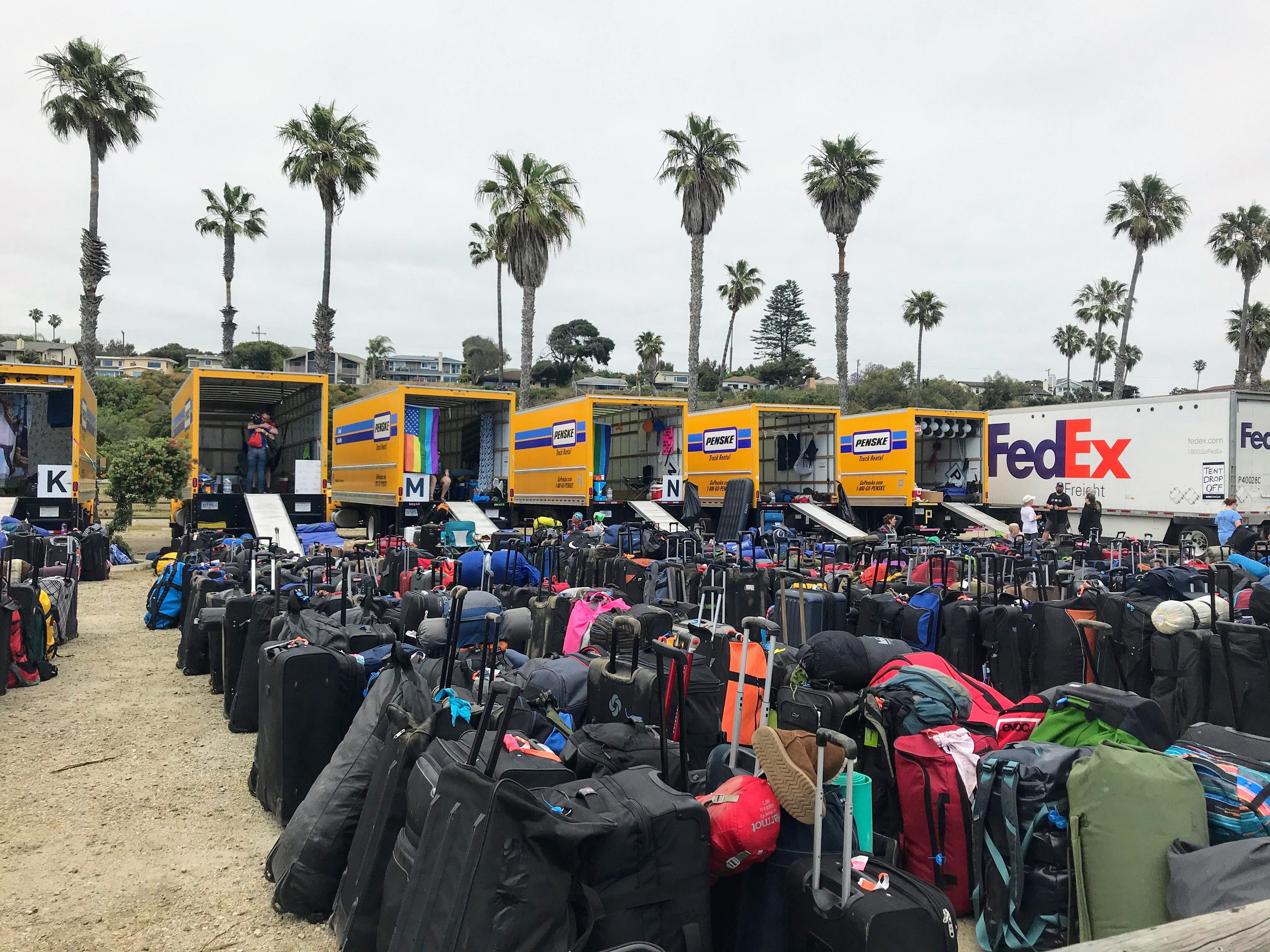 I went to take a shower after I picked up my luggage and set up my tent. There weren't a lot of people around, but by Day 6, I easily set up the tent by myself.
I got the entire shower truck to myself since I got to camp super early.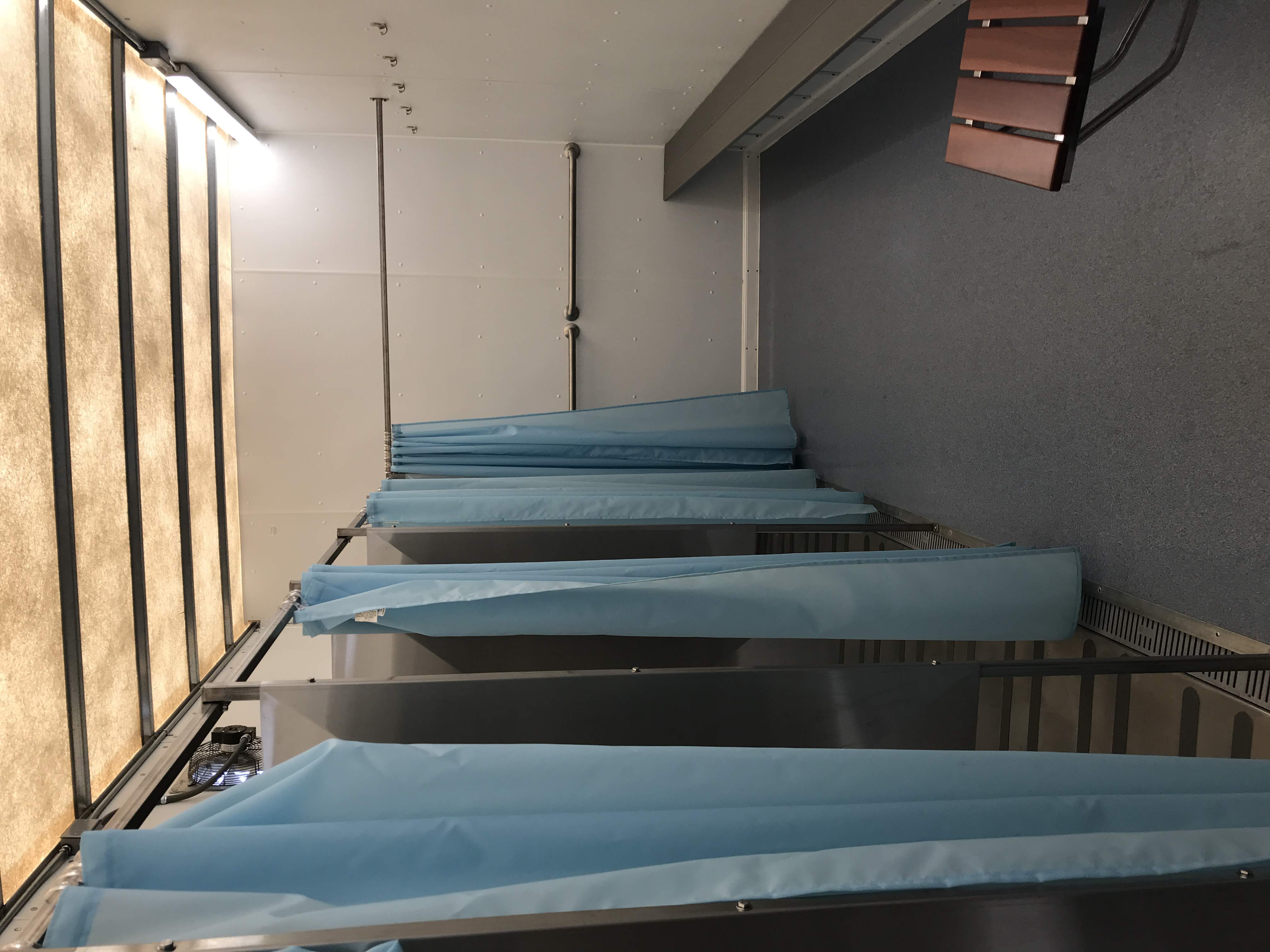 I came back from my shower to find the wind had blown my tent to its side. I fixed it by tossing more stuff from my luggage in every corner of the tent. Dinner wasn't even served until 4 pm, so I hung out at a picnic table near my tent. I had originally planned on going to the beach when I got to Ventura, but I didn't think it was a good idea considering I had a cold and it was windy.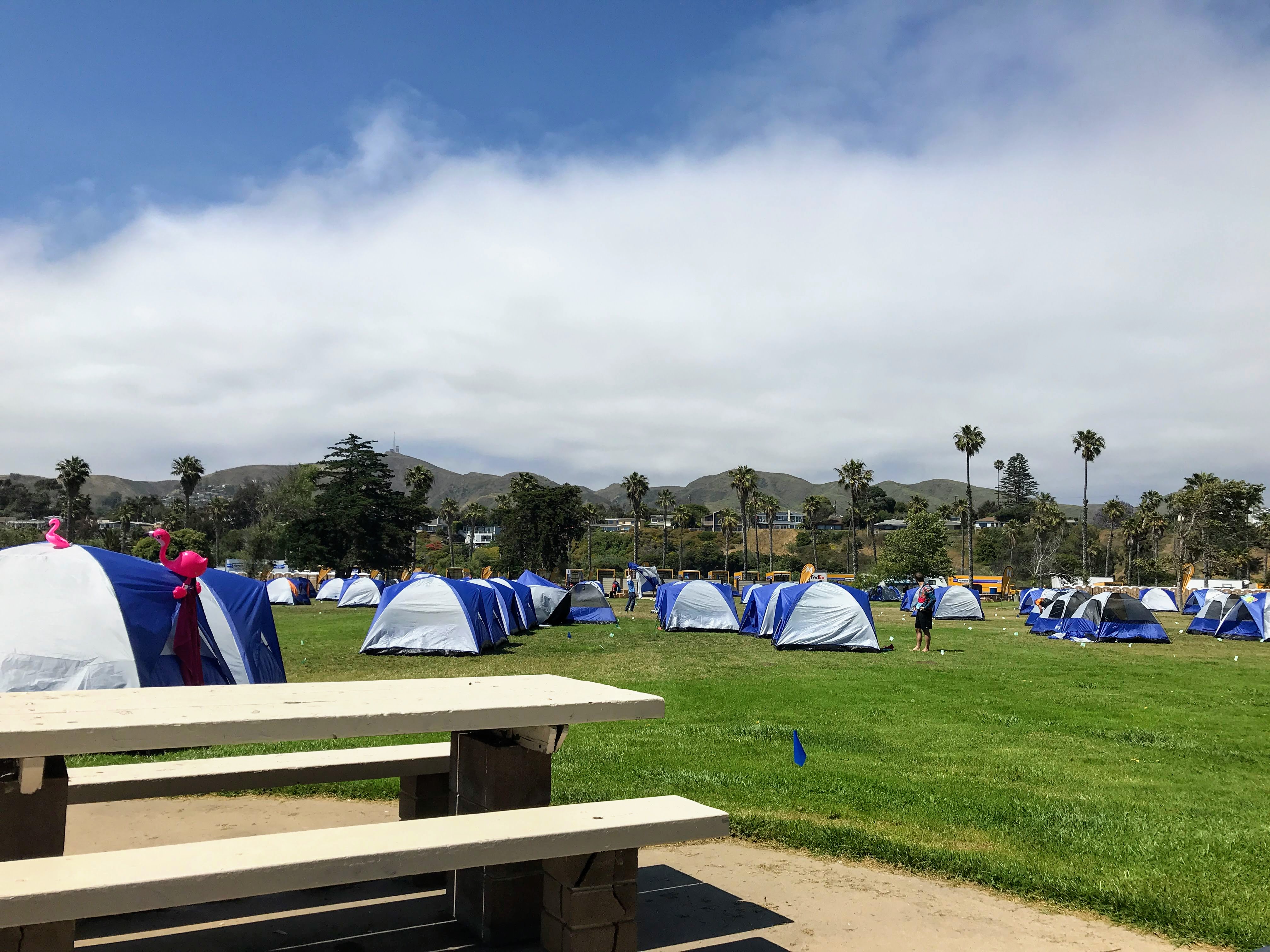 At 4 pm, I went to get dinner. It was a celebration dinner, and I realized this was the last dinner of ALC! There were mac and cheese again, and carrot cake! So much for going dairy-free. I couldn't say no to mac and cheese.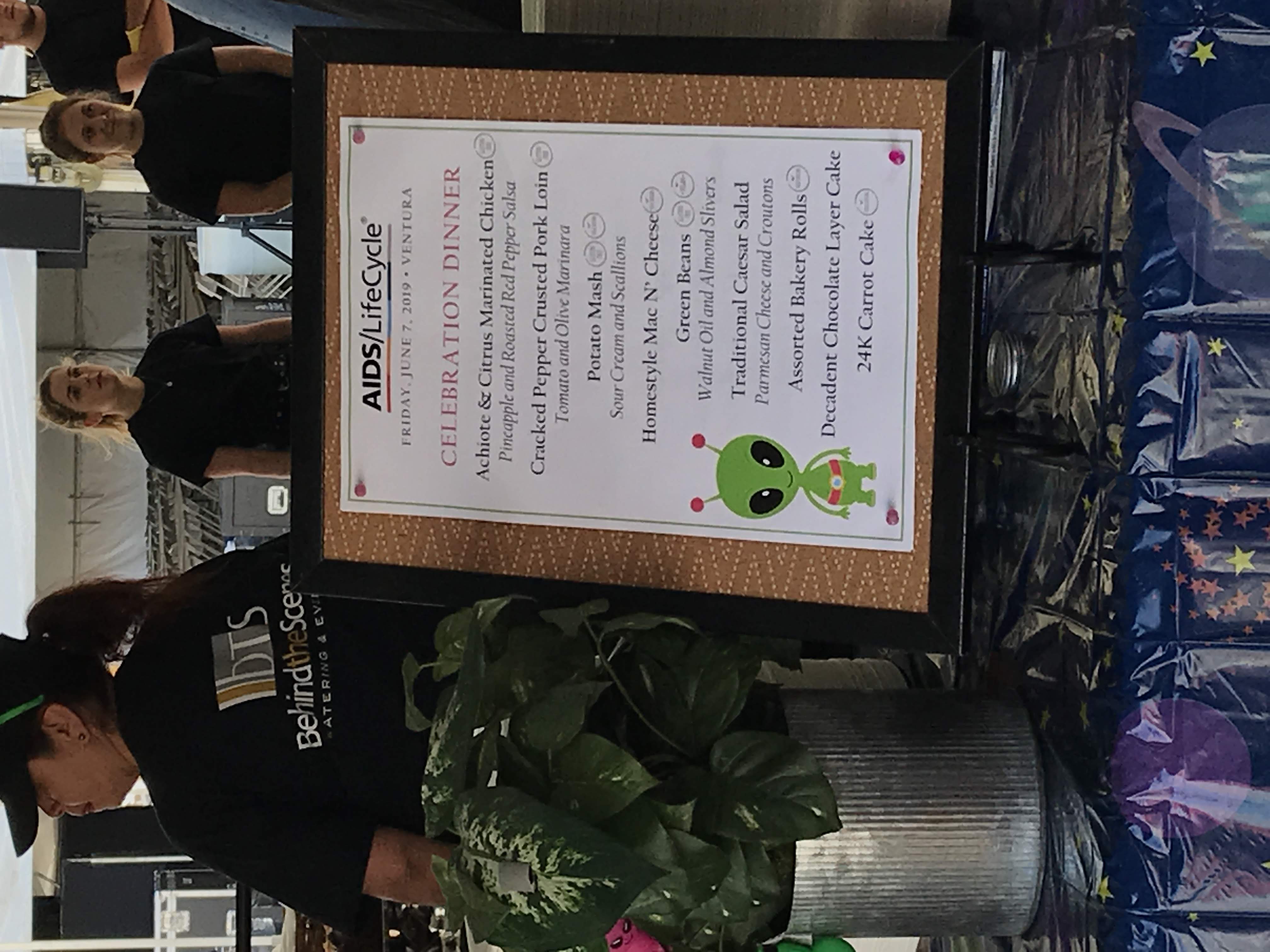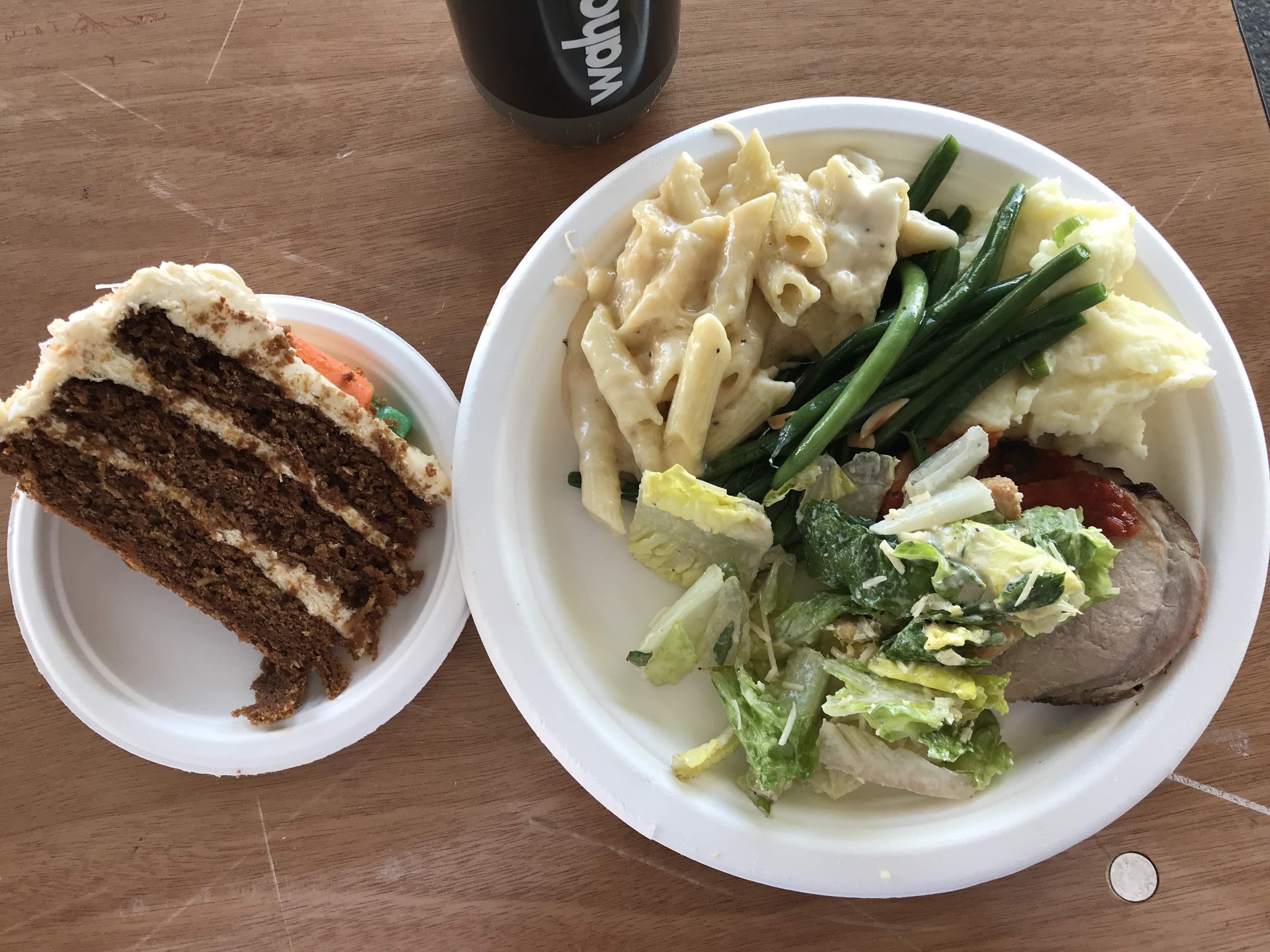 I felt like my cold was kicking in again as I was eating. So after dinner, I walked with a friend across the street to her hotel room to pick up some cold medicine. The Marriott across the street was filled with cyclists. I saw jerseys hanging out by hotel room windows to dry and cycling shoes in the patios.
I walked back to my tent to stretch and foam roll. Then I took the cold medicine, put on an extra jacket since we were sleeping by the beach that night. I probably fell asleep on this last day of camp even before the sunset and missed the candlelight vigil to honor those who lost the fight against AIDS.