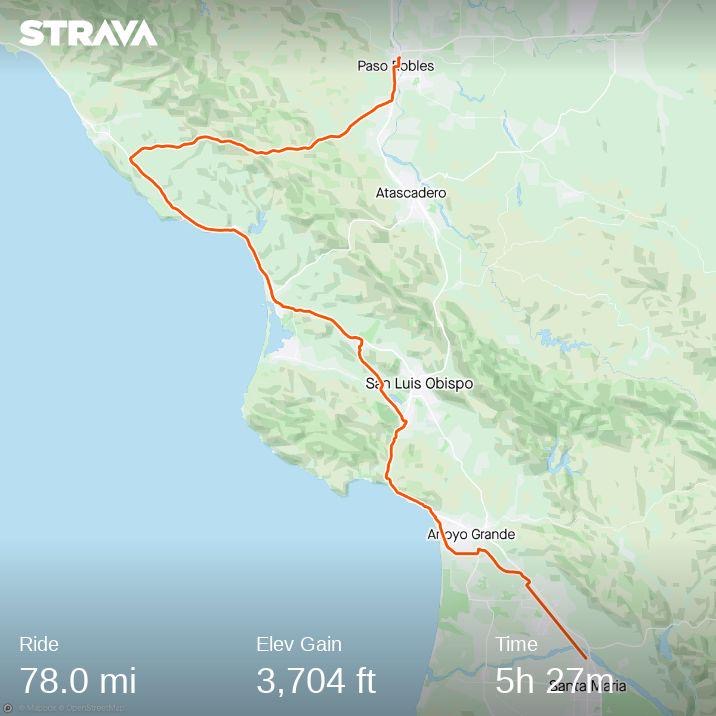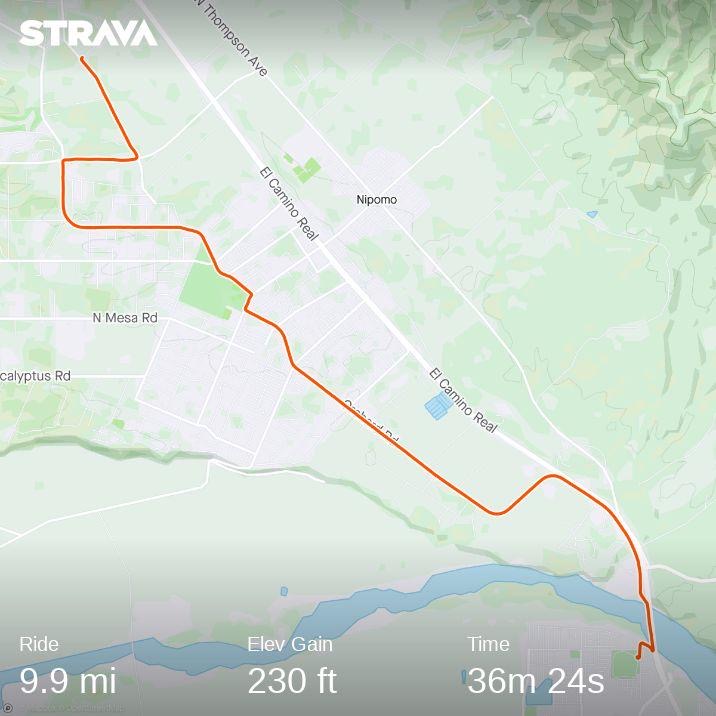 My bike computer ran out of battery 10 miles before the finish. I continued recording on my phone.
Morning at Camp 3
Once again, breakfast at around 5:30 am. I got the usual eggs, potatoes, and bacon. There were also French toast sticks, mini donuts, and bagels that morning. I wasn't sure why I got both the donut and bagel. How can a bagel even taste or sound good next to a donut? Obviously, I didn't finish the entire bagel, even a mini one.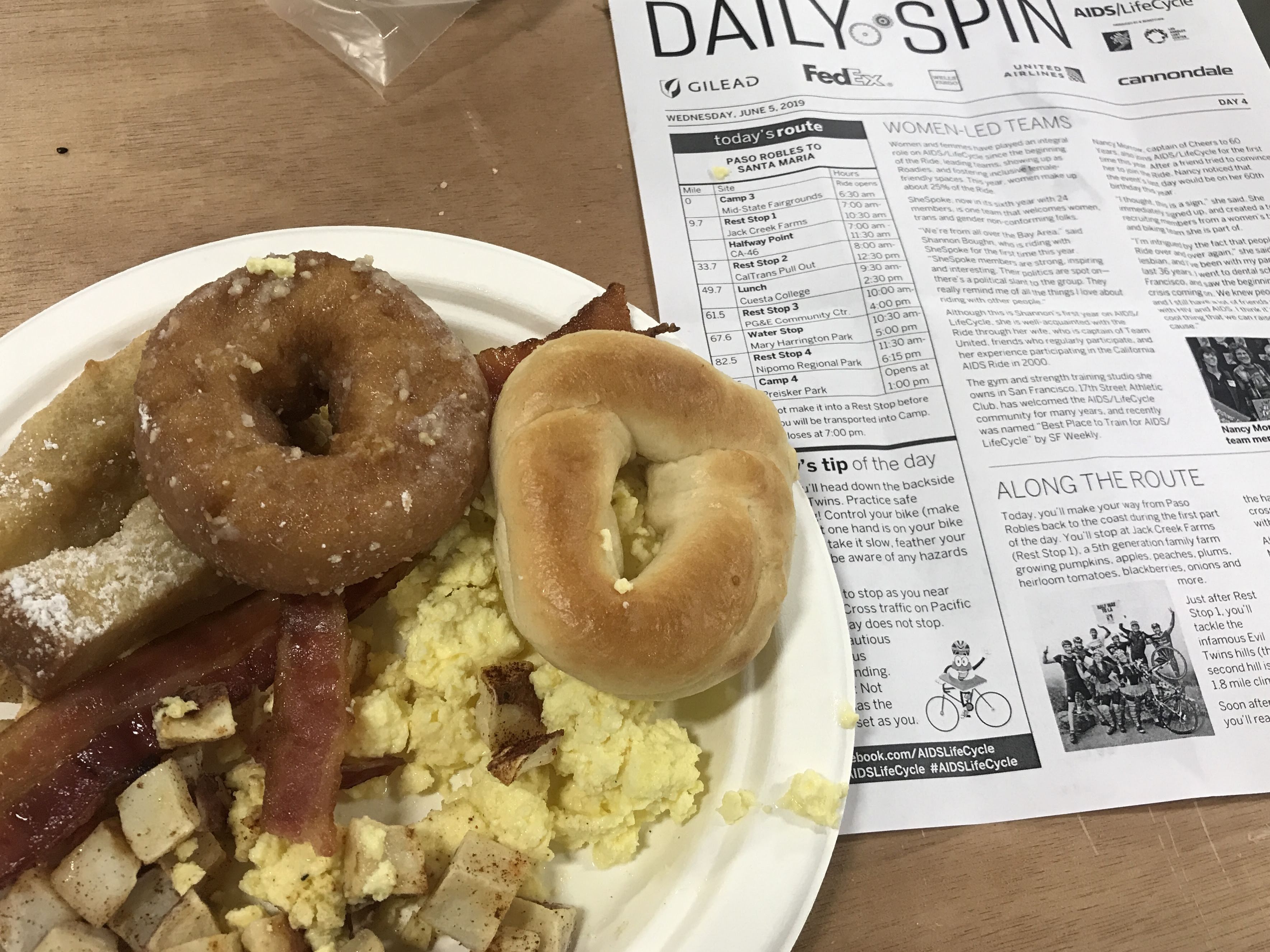 After breakfast, I went to foam roll on the lawn in front of the sports med and chiro tents. At around 6:15 am, I got my bike at the bike parking and waited for the rest of my team to roll out together. I usually rolled out with my team, but since we ride at different speeds, we were usually separated within the first couple of miles.
We passed by some of the gear trucks while we were in line to start riding that morning. There was an ALC roadie wearing a wedding dress on one of the trucks.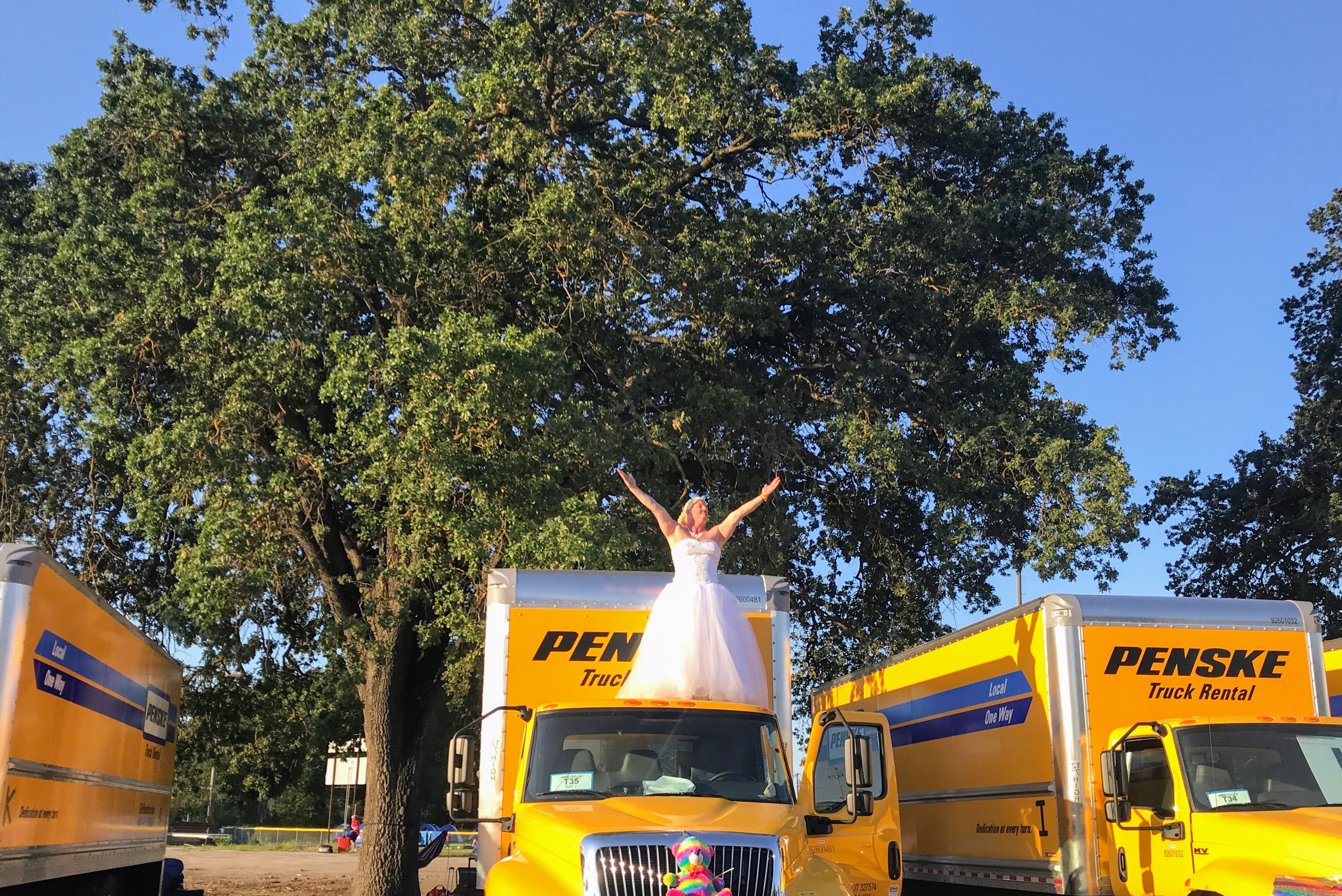 The ride
Day 4 was halfway to LA day! Yay! I was also excited to head back towards the coast after the scorching day we had the day before. I heard we should get to the halfway mark early so we didn't have to wait too long to get our photos taken. I was surprised the halfway point was early in the day. I somehow thought halfway point should be at the halfway mark of the route. Anyways, we had 88 miles to ride and I was already stressed about the possibility of having a long day due to the long photo lines I had heard about.
The first rest stop of the day was only 10 miles in, at Jack Creek Farms. I didn't want to stop, since it was only 10 miles in, but the next stop wasn't until mile 33. So, I stopped to fill up my water bottles and ate a snack. I was quick at the stop, so I could be back on the road quickly. I bumped into a friend while filling bottles and we decided to meet by the entrance of the rest stop to ride together. Except I waited for about 5 minutes and didn't see him. So I kept riding after I cleaned all the dirt out of my Speedplay cleats.
The climbs of the day were the Evil Twins. I heard good things about the climbs, they weren't difficult, just two long steady climbs. I wasn't worried about the distances of the climbs, since I've done climbs a lot longer than that before. But I heard the descend was scary, so I was a bit worried about that. Descending is not my strength.
The first Evil Twin came just a quarter of a mile after the rest stop, and I loved it. The second twin came at the 14.5-mile mark, also lovely and the temperature was nice. At the top of the climb was the halfway to LA mark! I liked getting to the halfway to LA mark at the beginning of the day. It was 8:45 am and I was half done with the 545 miles. Also, I didn't have to stress out thinking about a possibly long wait at the photo lines the rest of the day.
The halfway mark photos were taken at a scenic lookout located on the left side of the road and Roadies were on both sides of the road to control the rider traffic. I waited for my turn to cross the road and went into one of the five photo lines. I guessed I waited around fifteen minutes when my friend showed up. I went to the back of the line to wait with him since we wanted photos together.
Every rider took photos standing on a rock, and I really wasn't sure how I was going to stand on this rock with my cycling shoes holding my bike… Thankfully, there were Roadies at each photo line handing us our bikes and the halfway signs if we wanted to hold it. Thank you Roadies! Also for helping us take these photos!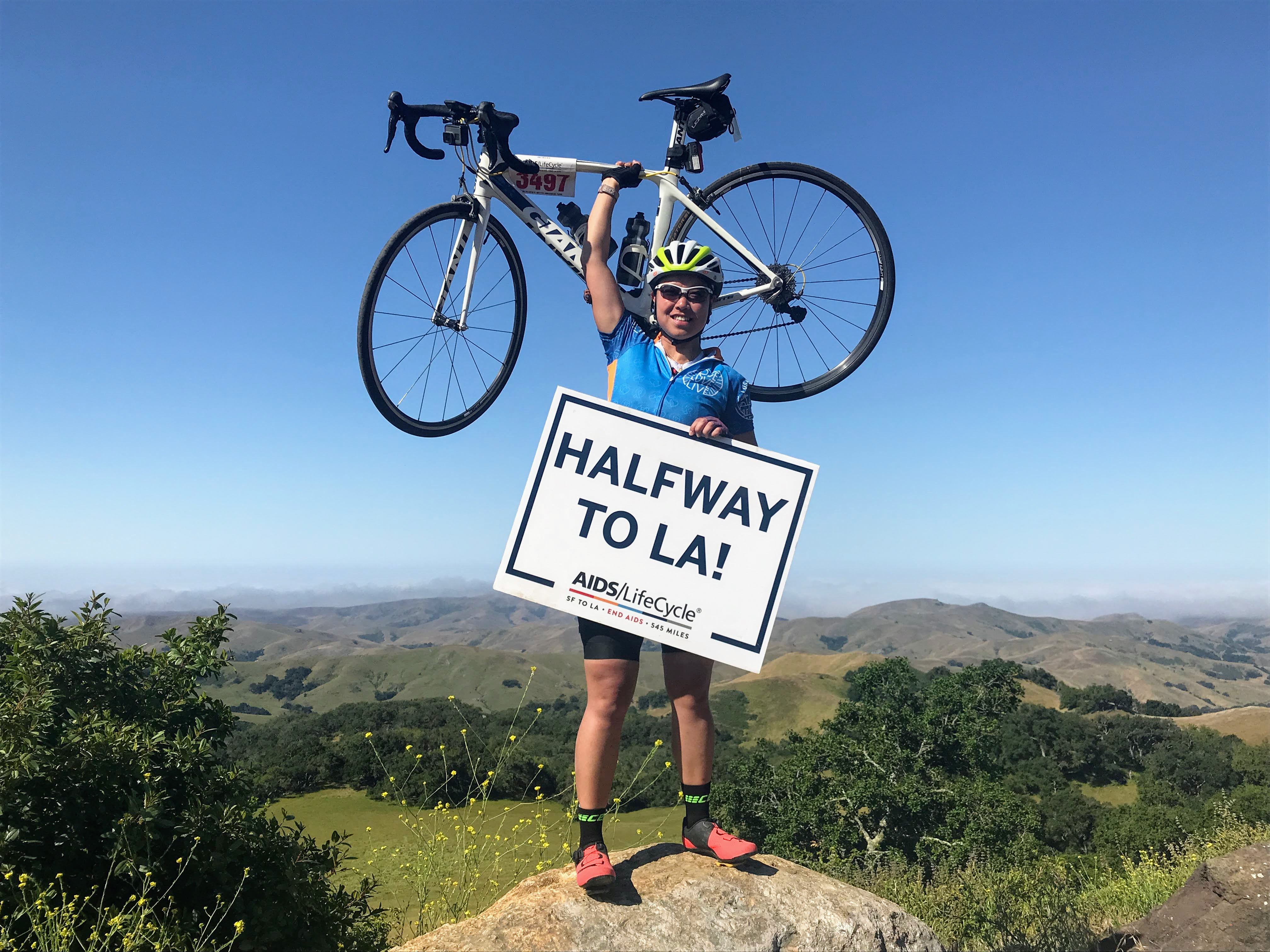 After we took photos, my friend had to wait for his team for a team photo. I got into the line to exit the scenic lookout. Roadies let ten riders go at a time, but I didn't really have to wait very long. The descend was fun! It wasn't anything I heard, not steep or scary at all. It felt easy for me since it was mostly straight. Nothing winding like some of the descends I usually did. My speed pretty much maxed out at 30 mph. I realized the route on this ride can't be too difficult because it has to be doable for riders of all skill levels and safe for a large group of riders. So I wasn't worried about anything about the route the rest of the week.
The second rest stop was just after the descend. I got chocolate chip cookies and the usual energy gel. One of my friends following my live tracking link texted me, "You're almost to the coast!"
I just noticed looking at the photo below that my fingers were so dirty!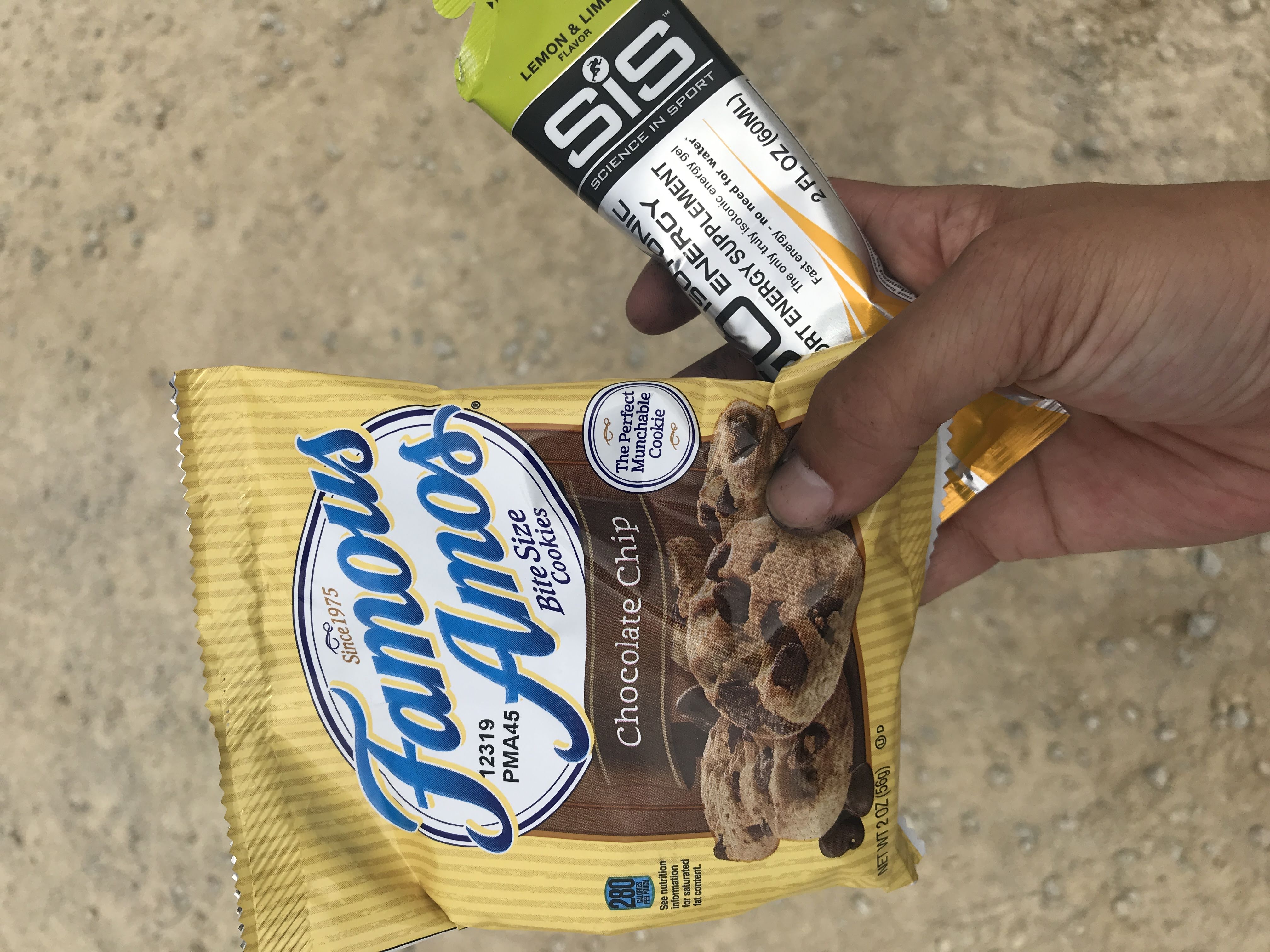 After the rest stop, the route went through Morro Bay. There were no other riders around me at that point. All the riders were probably very separated on the road since they let ten of us go down the backside of Evil Twins at a time. Plus, some riders had stopped at the Brown Butter Cookie Company. I didn't stop there… for reasons I forget, probably because I wanted to finish the route at a reasonable time. I had a hard time convincing myself to stop once I got on the bike in the morning. 88 miles still sounded a bit overwhelming even on Day 4. Anyway, there were no riders around me, and I wasn't sure if I was on the right track. Maybe I had missed an arrow and went the wrong way? No GPS routes were provided for any of the days so I didn't have the route loaded onto my bike computer. I pulled over to look at my route sheet when I saw a couple riders coming down the road. Good, I was on the right track. I kept riding through Morro Bay. It was a bit gloomy, but I was glad to be back by the ocean in cooler temperatures.
Just before rolling into San Luis Obispo, I saw two riders taking photos on the side of the road. They were taking pictures with two llamas! I passed the llamas so quickly I didn't have time to stop. I kept telling myself to turn around to take photos with them… but I didn't. It was another one of those times I had a hard convincing myself to stop and take photos during the ride.
Lunch was at a community college in San Luis Obispo. I parked my bike and filled a bottle up with Nuun and another with water. They only have Nuun at lunch and I always looked forward to it. I got pretty much everything for lunch and then put my name down on the sports med list. I did something to my left hamstring somewhere back in Morro Bay when I stood up on my bike to stretch my legs out.
I had lunch with a couple riders I haven't met before and didn't hear sports med call my name at all. Oops. I had forgotten that my name was on the list until after lunch when. Fortunately, they had only called me once, so that means they were still able to see me. After sports med, a friend and I rode out together.
We went pretty fast and skipped a water stop including an unofficial stop for cinnamon rolls at Pismo Beach. Both of us just wanted to get to camp quickly. Also, I had many chocolate chip cookies that day already and didn't feel like having a cinnamon roll. We stopped at a rest stop a couple miles after lunch, because the tape on my hamstring started peeling in the wind. Rest stops don't have sports med, so no one was there to help me re-tape. A Roadie from the medical tent cut off the excess tape so it didn't keep flapping in the wind when I rode.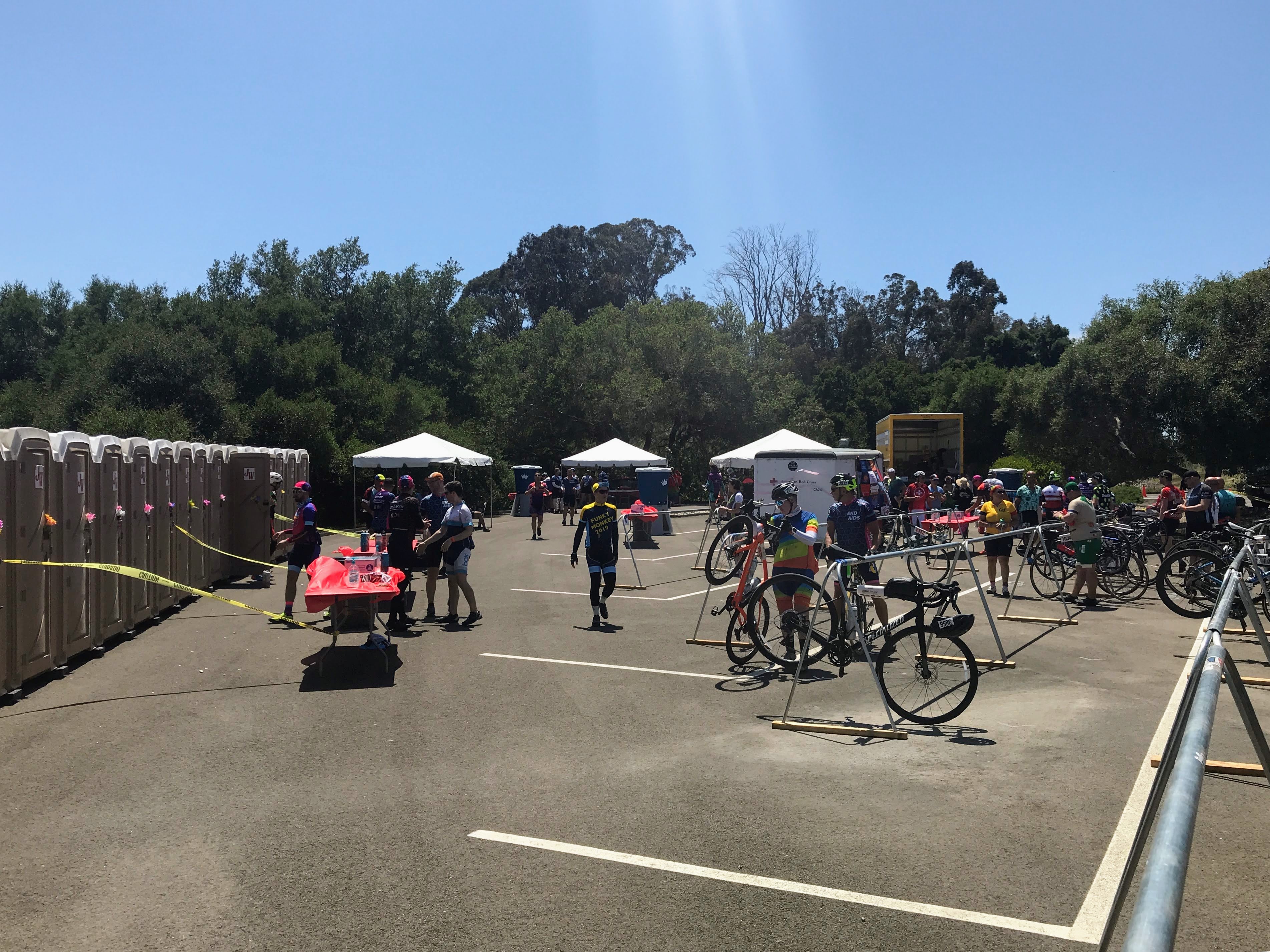 We saw a ton of RV's, some for sale along the road as we rode through Pismo Beach. We just kept pedaling and pedaling, in a hurry to get to camp. We stopped a bit when my friend got a flat, but we got back on the road quickly.
About tens miles before arriving at camp in Santa Maria, we came across a couple of people in lawn chairs cheering for us and holding "Welcome to SoCal" signs. Oh, I guess I never thought about where NorCal ends and SoCal starts. Somewhere between Pismo Beach and Santa Maria, I guess. So not only was Day 4 the halfway to LA day but also when we arrive in Southern California!! I wish I got a photo of the people and the signs. I didn't have my GoPro on at the moment. And this was also one of those times I couldn't convince myself to stop and turn around and take a photo.
I smelled strawberries as we got closer to Santa Maria! Ah, it smelled good, and I remembered reading in the Daily Spin that morning the city's Chamber of Commerce were providing strawberries at camp! We rode across a bridge over the Santa Maria River and into camp looking forward to strawberries.
Day 4 Camp
No strawberries to be found. There were the usual cartons of chocolate milk, but too bad I can't drink milk. We did however got something extra. An elementary school teacher gave each of us a letter written by her students.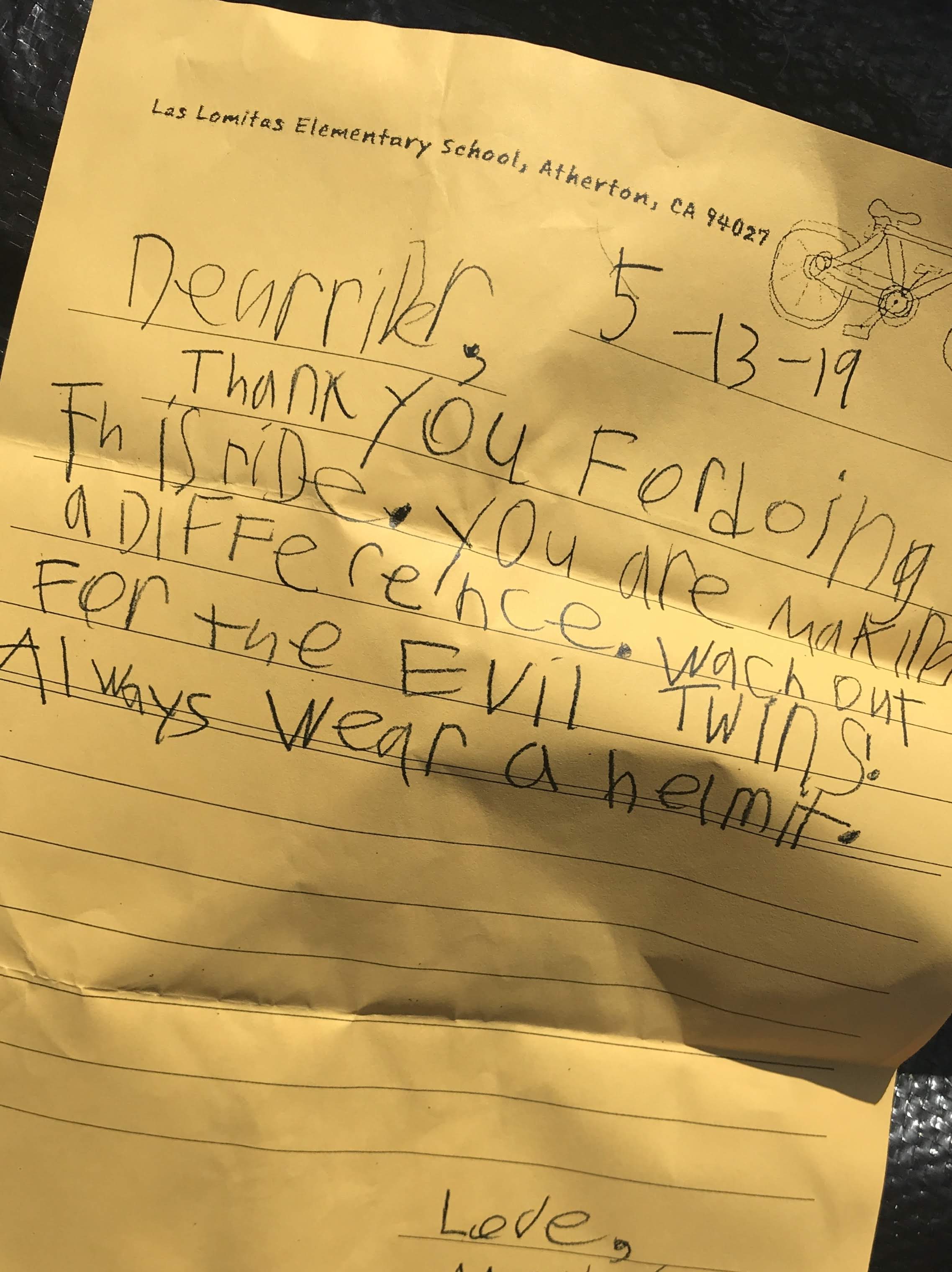 I read the letter after I set up my tent, but I actually didn't notice it was written by a student from an elementary school in the Bay Area until I unpacked after ALC!
After parking my bike, I followed the usual signs to find the luggage trucks and tent grid. I set up the tent, hiked to the bathroom, and showers… same as the past three days…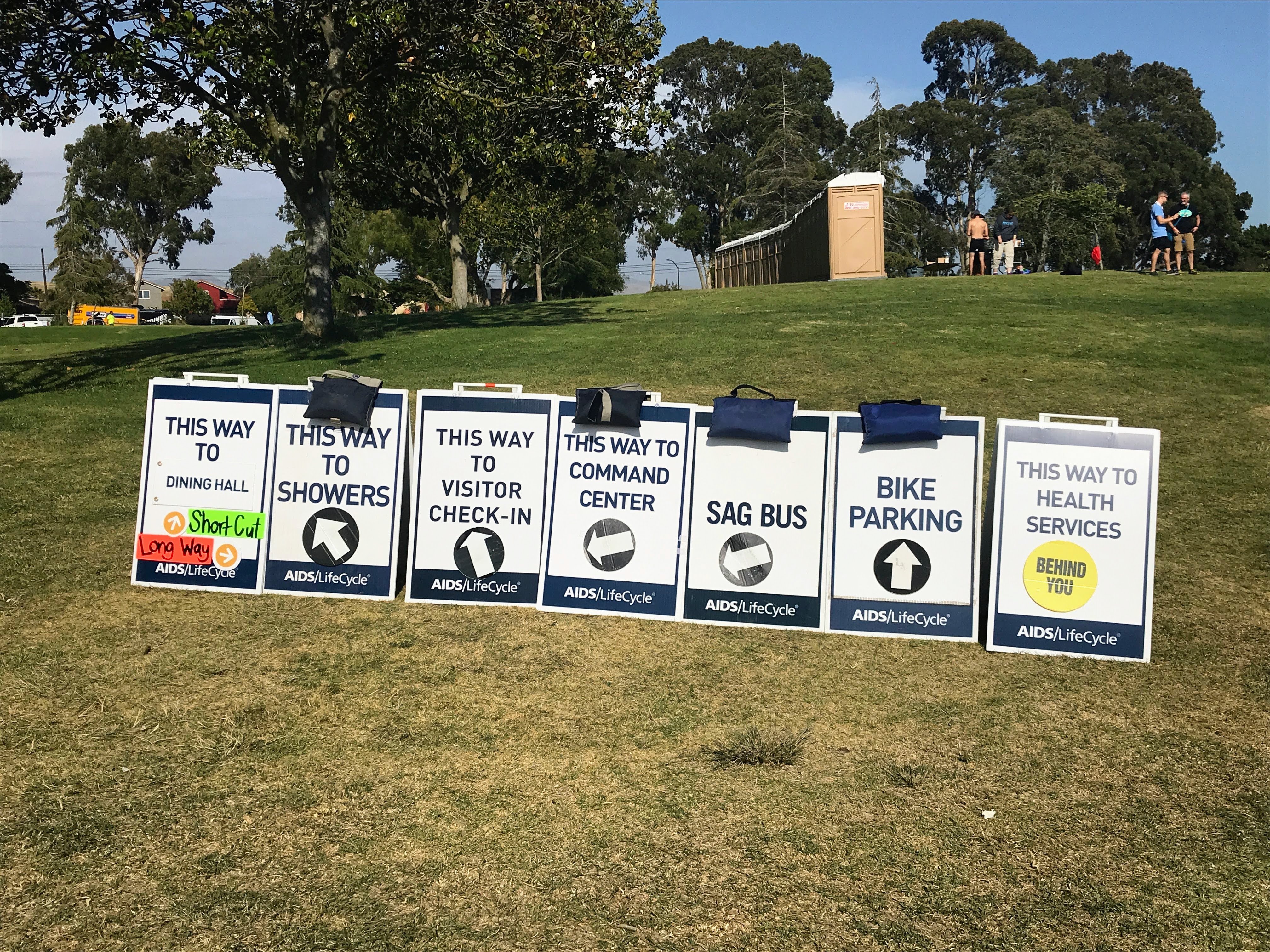 The camp for Day 4 was at a park. Sometimes I didn't even know where I was and had to look at Google Maps to find out. I just followed the route and stopped riding when I hit that day's camp. I enjoyed walking around the park. There was also a pirate ship in front of the dining tent.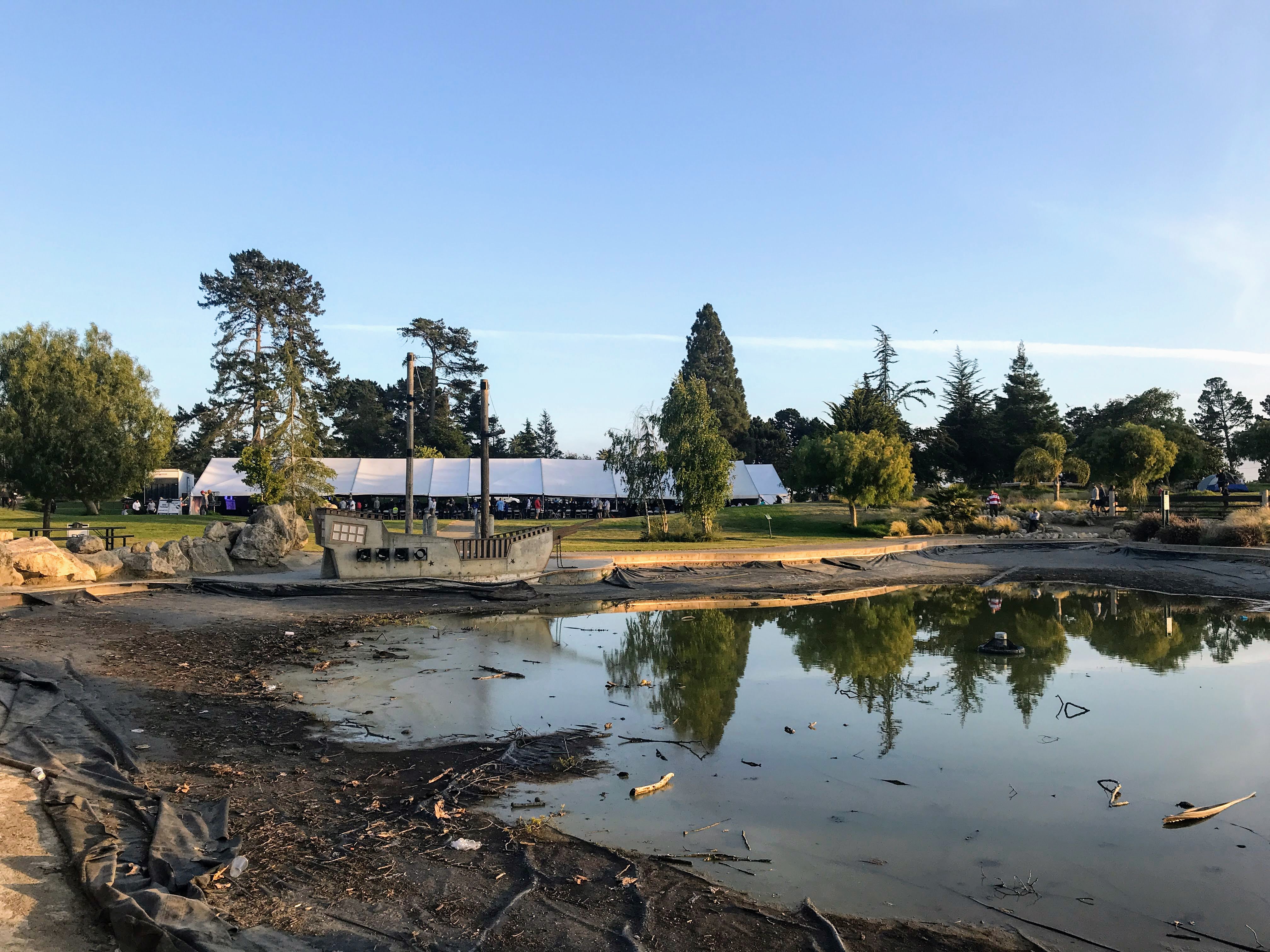 I got dinner with apple pie!! That's my favorite pie! Afterward, I foam rolled in the tent until one of my friends came back from a shower. Then, I led him to the dining tent, but only after we took some photos of the Chicken Lady's decoration and the Halfway to LA signs.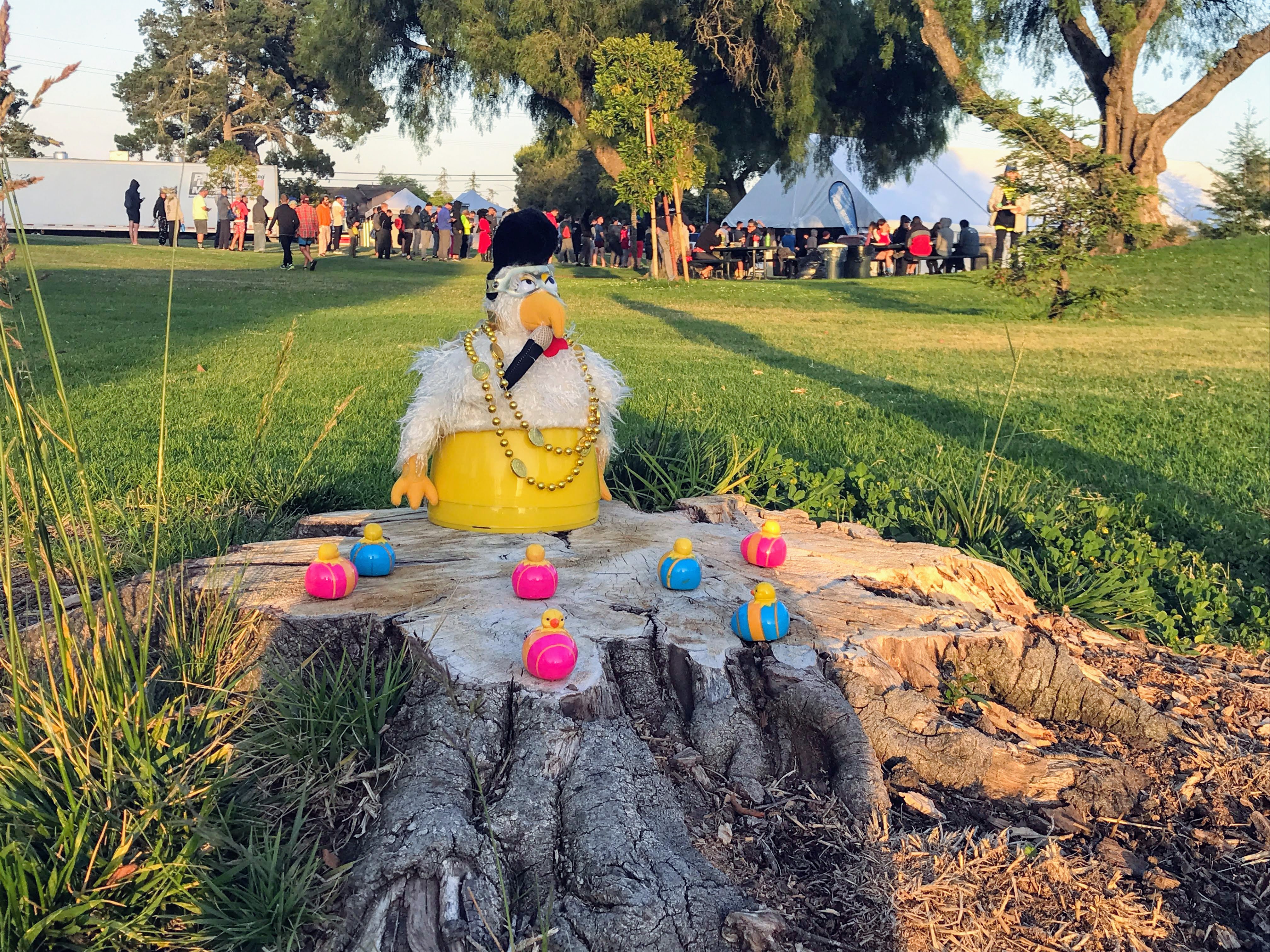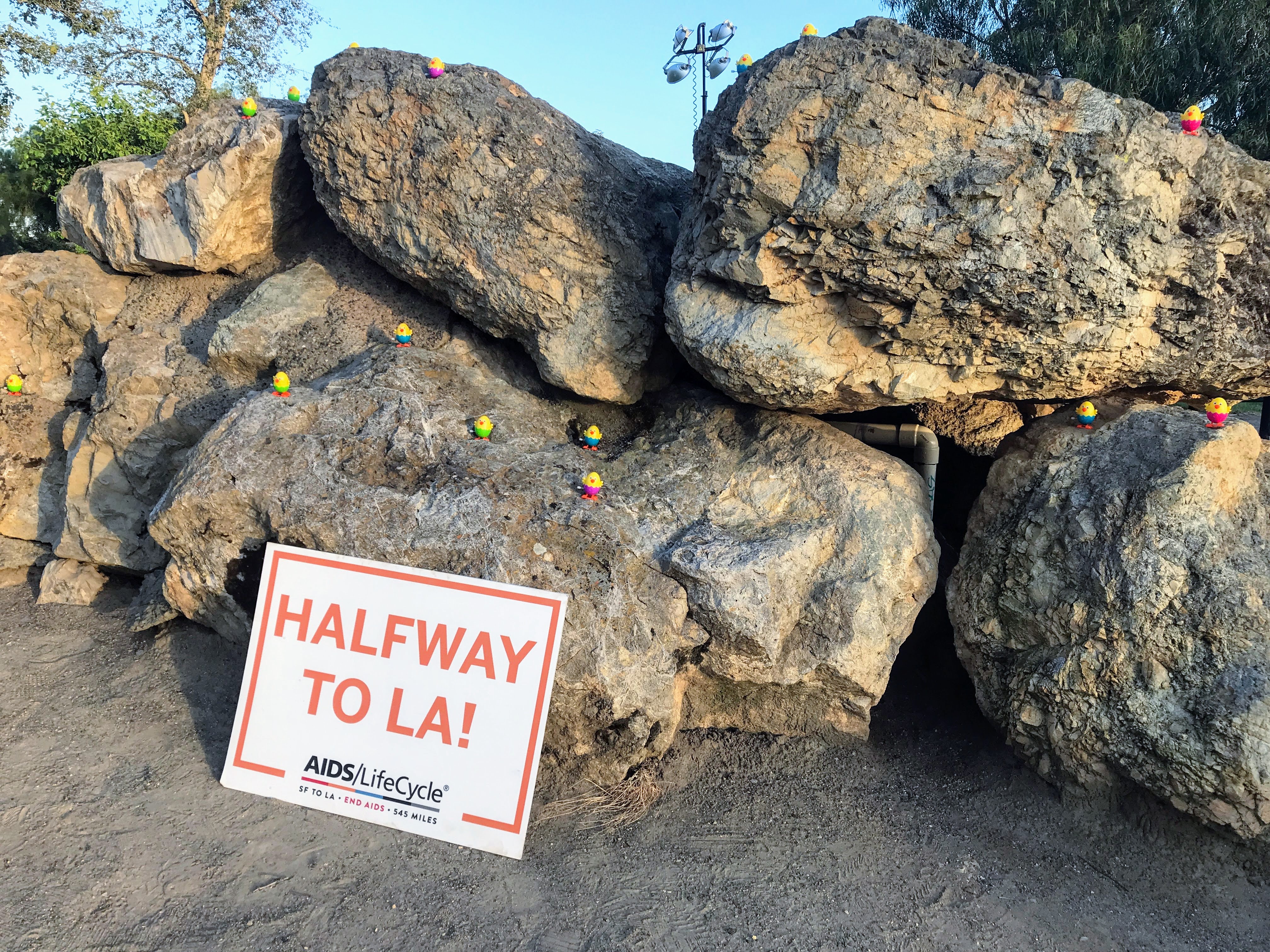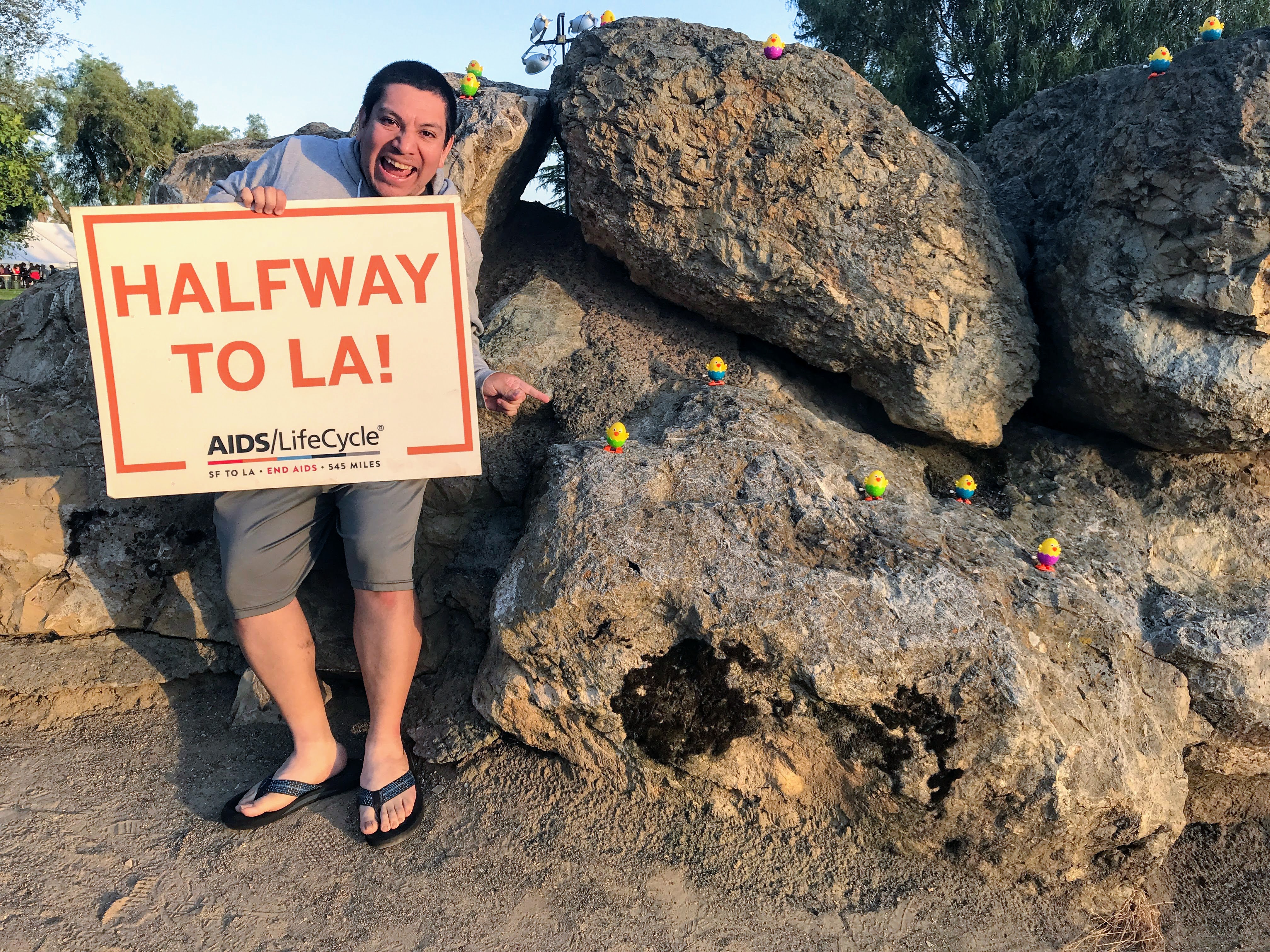 I debated for an hour if I wanted to go to sports med again, but I decided to just keep foam rolling and stretching. By the time I decided to stop by sports med or chiro, they were closed.
A friend and I wandered around the camp a bit to check out the camp store and camp lounge. There was an elevated part of the lawn, and it provided a nice view of the tent grid during sunset. See the luggage trucks to the right of the photo. This was one of the days when the luggage trucks were super close to the tent grid. Each truck was parked directly in front of each tent aisle.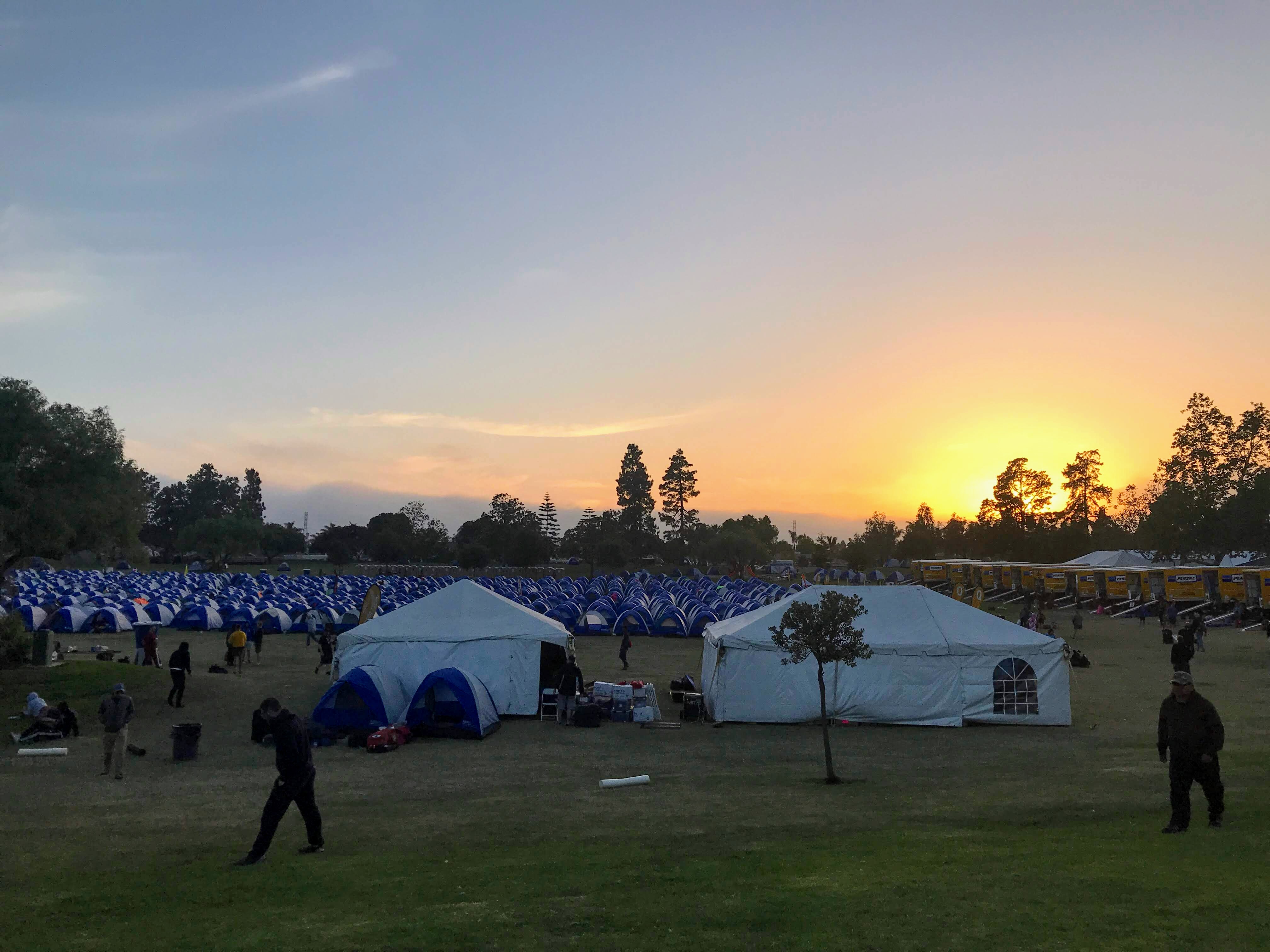 The following day was going to be a short day, so instead of setting our alarms for the usual 4am, we set them for 5am! With that, four days down, three more to go! 64% of the miles ridden!
Oh, the Roadies scan the bikes every evening and the ALC app reminds you where your bike was parked. Sometimes it didn't work, but it did that night.