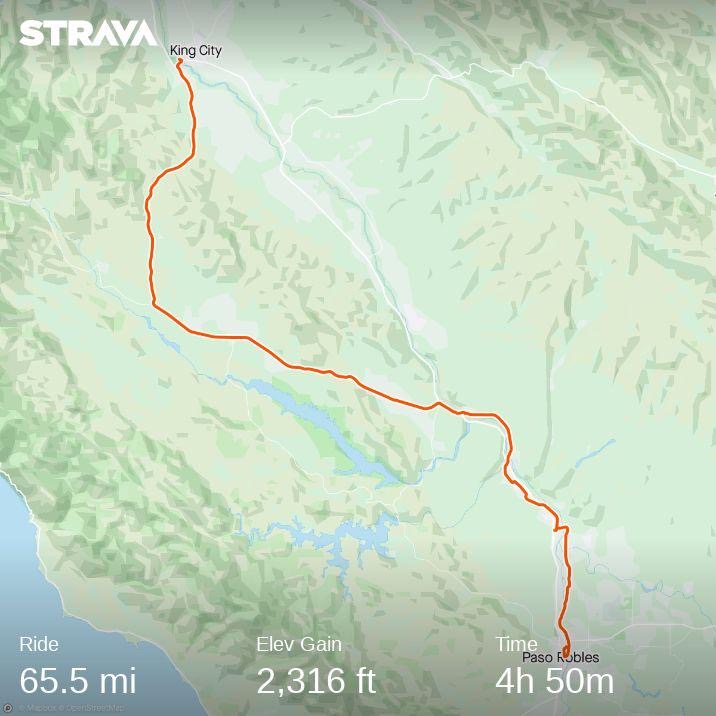 Morning at Camp 2
Alarm off at 4am, changed into kit, brushed teeth, trip to porta-potty…my morning was the same as the day before. I got a breakfast of quiche, hashbrown triangles (I love hashbrowns!), croissant and pastry and ate it with the "morning paper".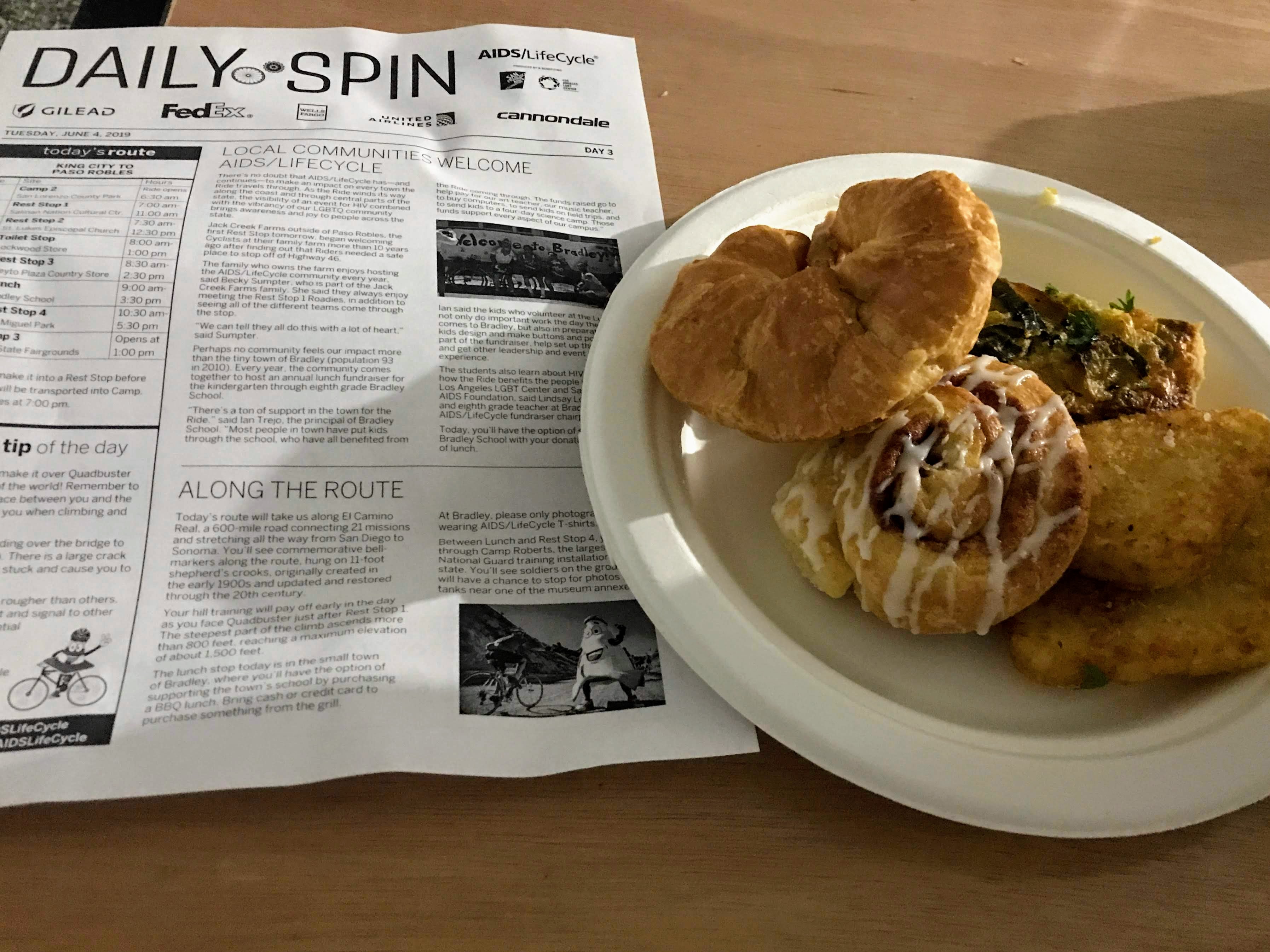 I finished breakfast at around 5:45 am and I needed to visit sports med to tape my ankle again since I had to remove it when I showered the day before. Sports med didn't open until 6 am, so I went to foam roll and got into the already long line when it opened. There was usually a long line in the morning, but the wait wasn't very long since most people go just for taping.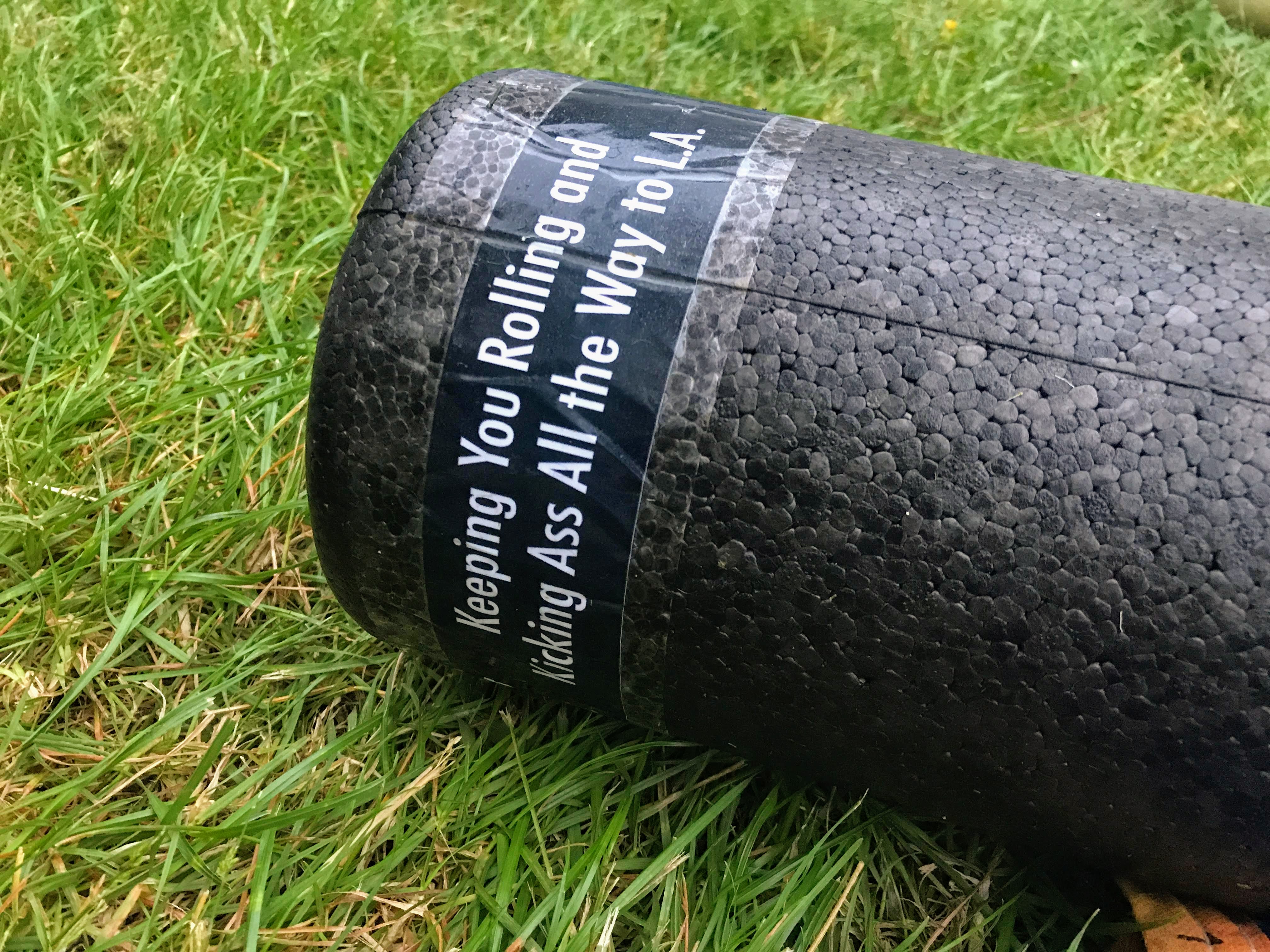 A lot of people mentioned that King City was gloomier than in previous years that morning.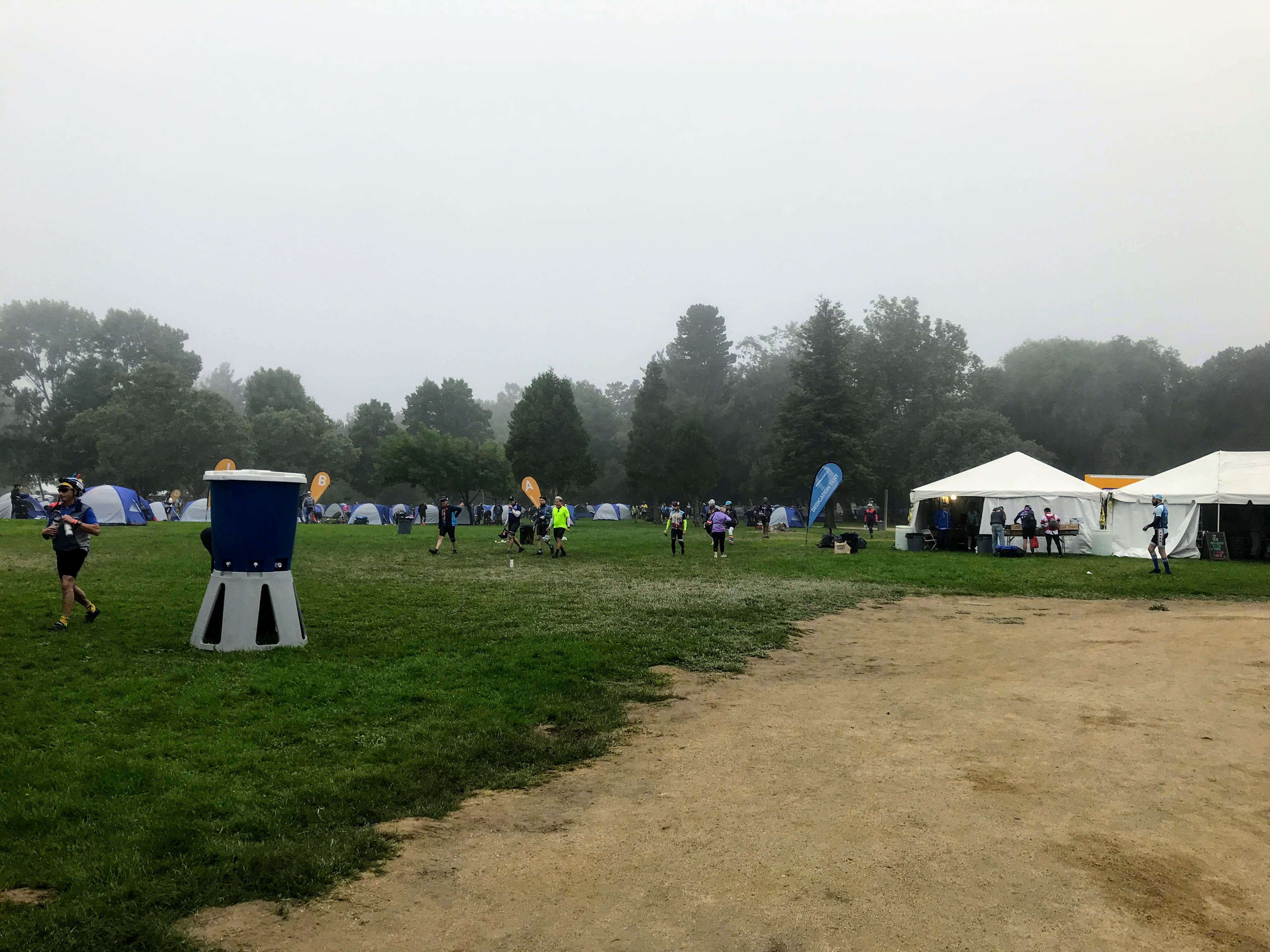 After one last porta-potty trip, I went to the bike parking to get my bike. I saw a huge line of riders with their bikes snaking through bike parking. There was a long wait just to roll out that morning.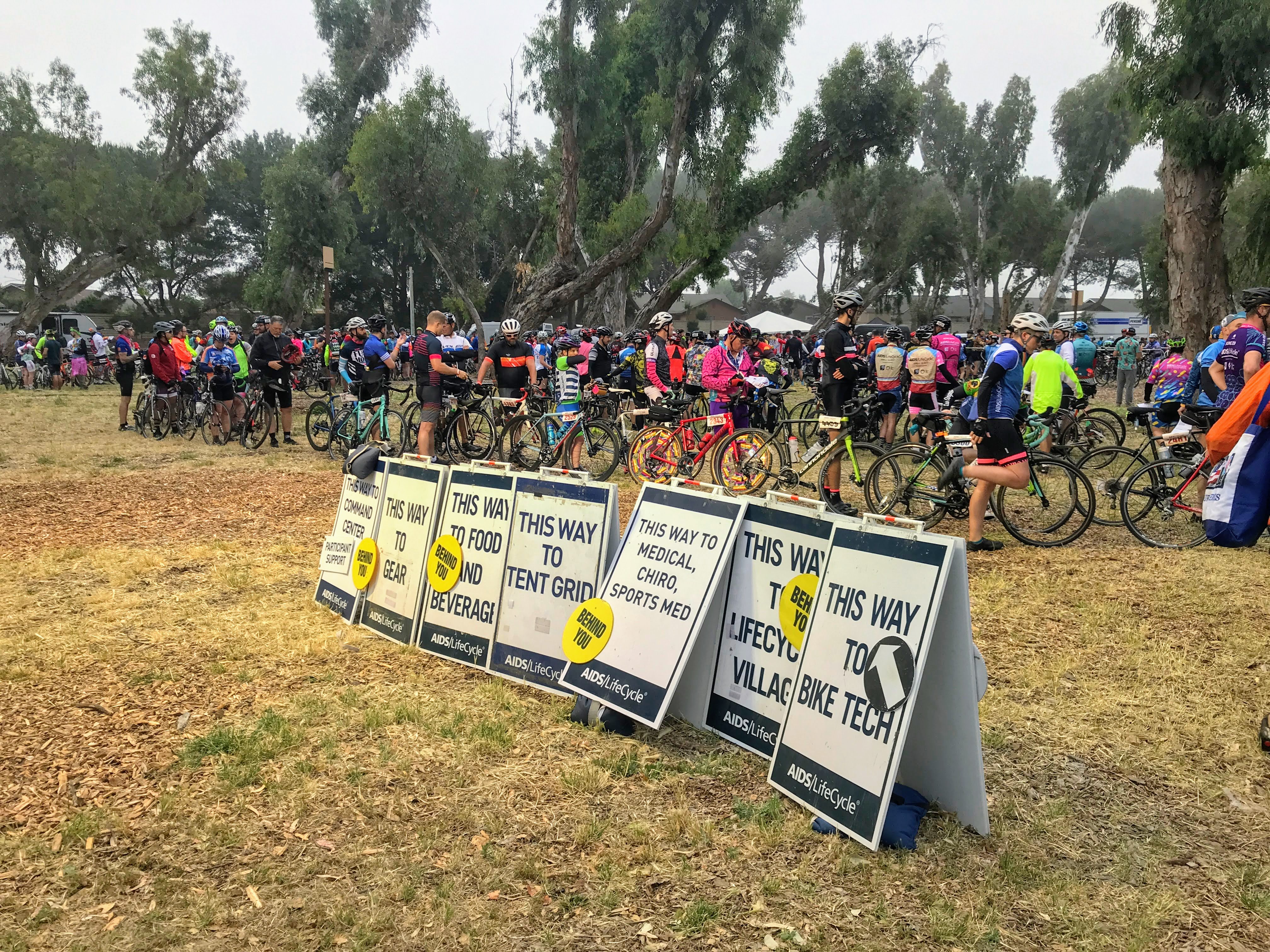 The ride
Did I wait in line for 30 minutes? 40 minutes? I lost track of time. When I got to the exit, I couldn't clip in. My cleats were caked with dirt and gravel from walking around the rest stops and the camp the two days before. I didn't wear my cycling shoes around camp, but there was usually a long walk from bike parking to the luggage trucks after I arrived at camp that day. I used half of one of my water bottles to clean out my cleats before I was able to clip in.
Coney greeted us as we rolled out.
About a quarter of a mile into the ride, we slowed to a complete stop. We were on the bike path we used the previous day to get to camp to exit the camp. It was narrow and covered with gravel and sand. This was the reason for the long line out of camp also. 2,000+ riders and their bikes walking over a patch of sand.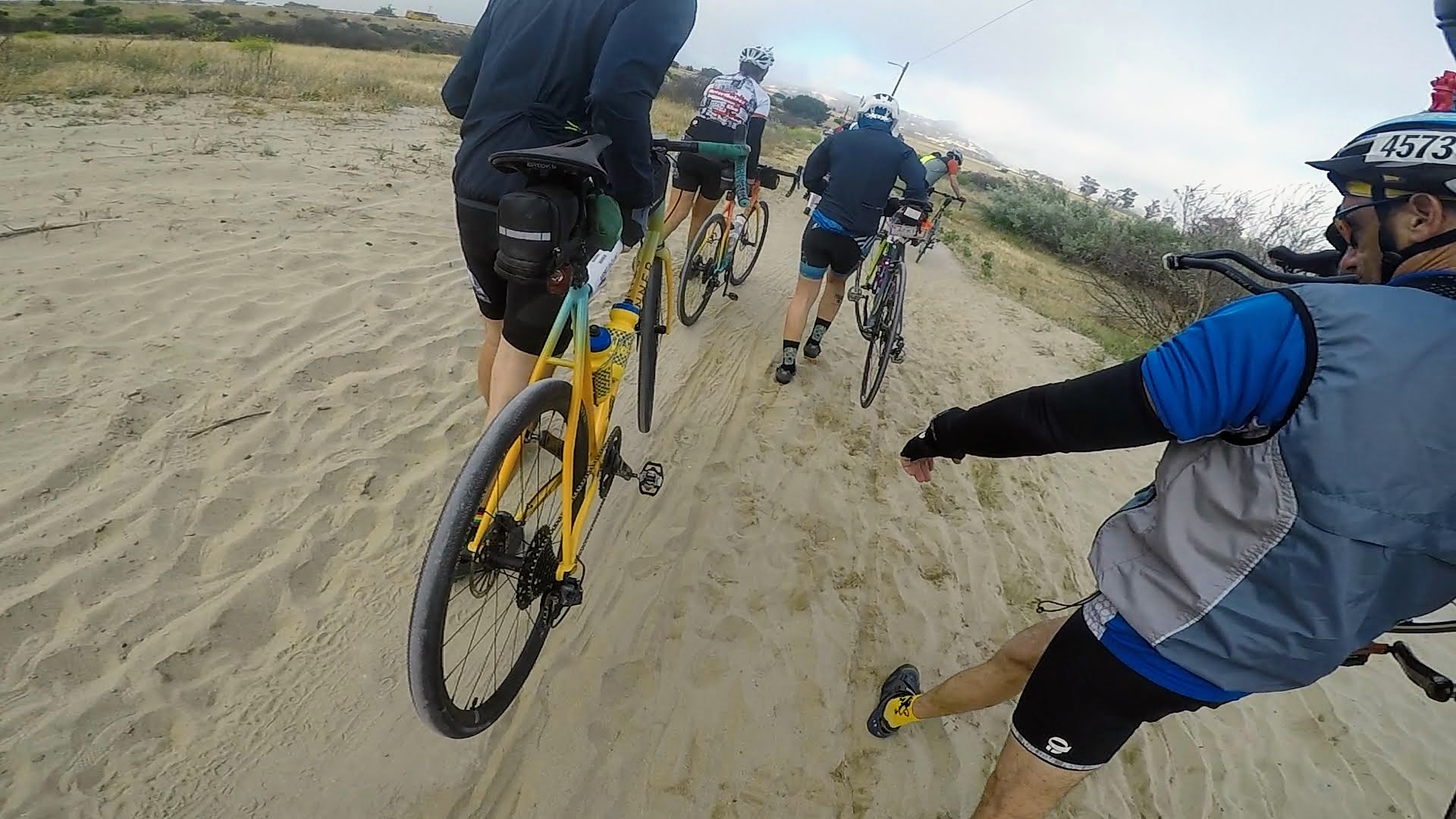 Great… I was walking on gravel and sand on my cleats again. I managed to clip in after getting onto the road but wasn't able to clip out. So, I pulled over to clean my cleats again with the rest of my water. I wasn't planning on stopping at the first rest stop since it was only 7.5 miles from the start, but I was already out of water and the Quadbuster was coming up.
The Quadbuster is an infamous climb early in the route on Day 3. Before the ride, I heard that it was difficult and horrible, but I also heard it wasn't that bad… I had climbed Mt. Diablo during one of my training rides, so I felt like I could take on the Quadbuster.
The weather warmed up during the 7.5 miles from the start to the first rest stop. I stopped to refill my water bottles, pull off my arm warmers, and clean my cleats out again. Don't use your Speedplay pedal system for ALC! Or I guess bring those coffee shop cleat covers with you! I was eager to experience the Quadbuster.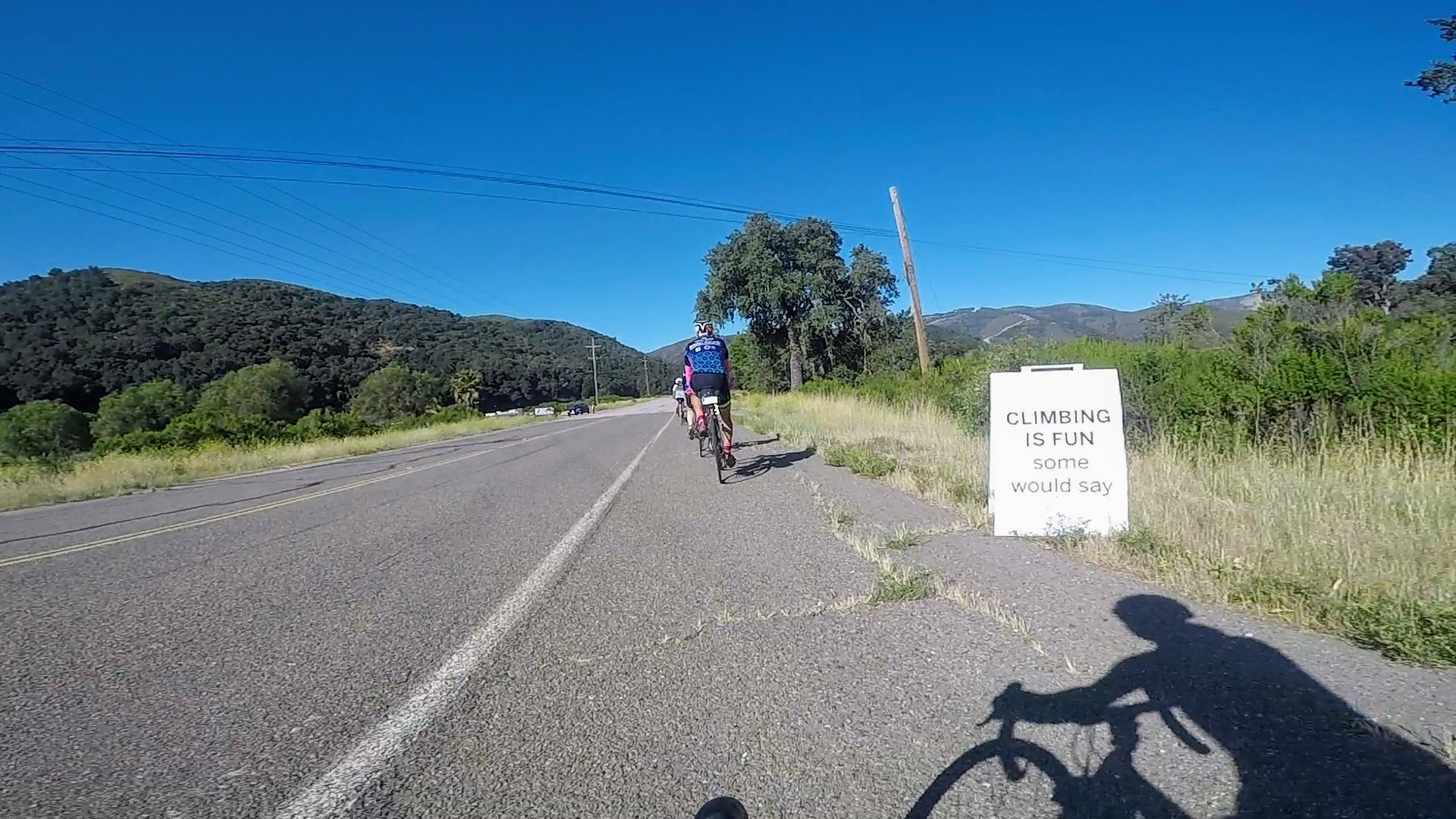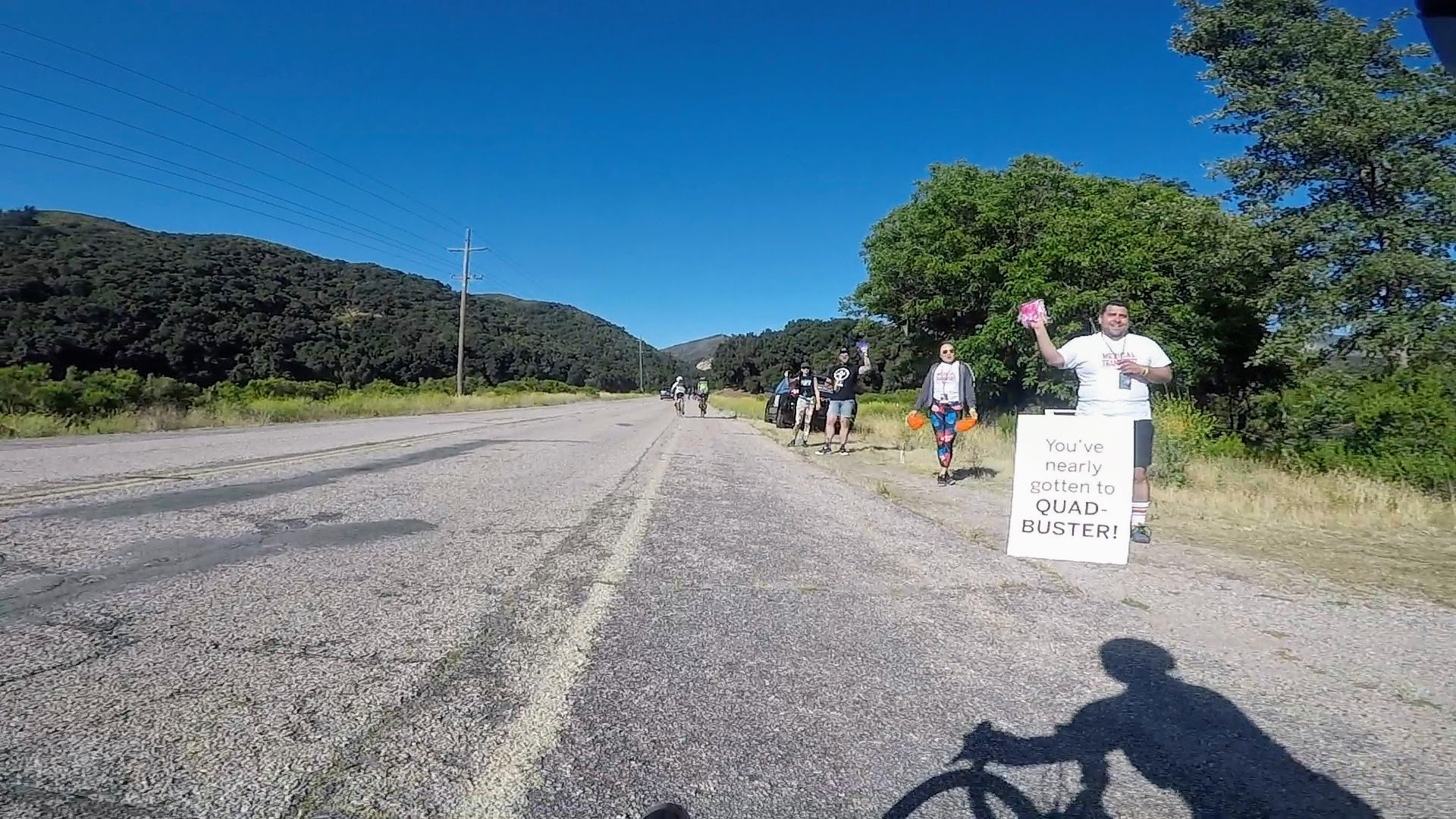 Except I hated the Quadbuster. It was around 8 am and getting hot already. My hip was tightening up with every pedal stroke. I wanted badly to stop. Some riders had gotten off their bikes and were pushing them up. I told myself to keep going, but it seemed like there was such a long way to go. Finally, I got to the mid point of the climb where a lot of people had pulled over on the side of the road and I did too. I stopped for a brief moment to stretch out, took a drink of water, and got going again.
As I neared the top, Coney was there to greet us again. How did he get up the Quadbuster so fast?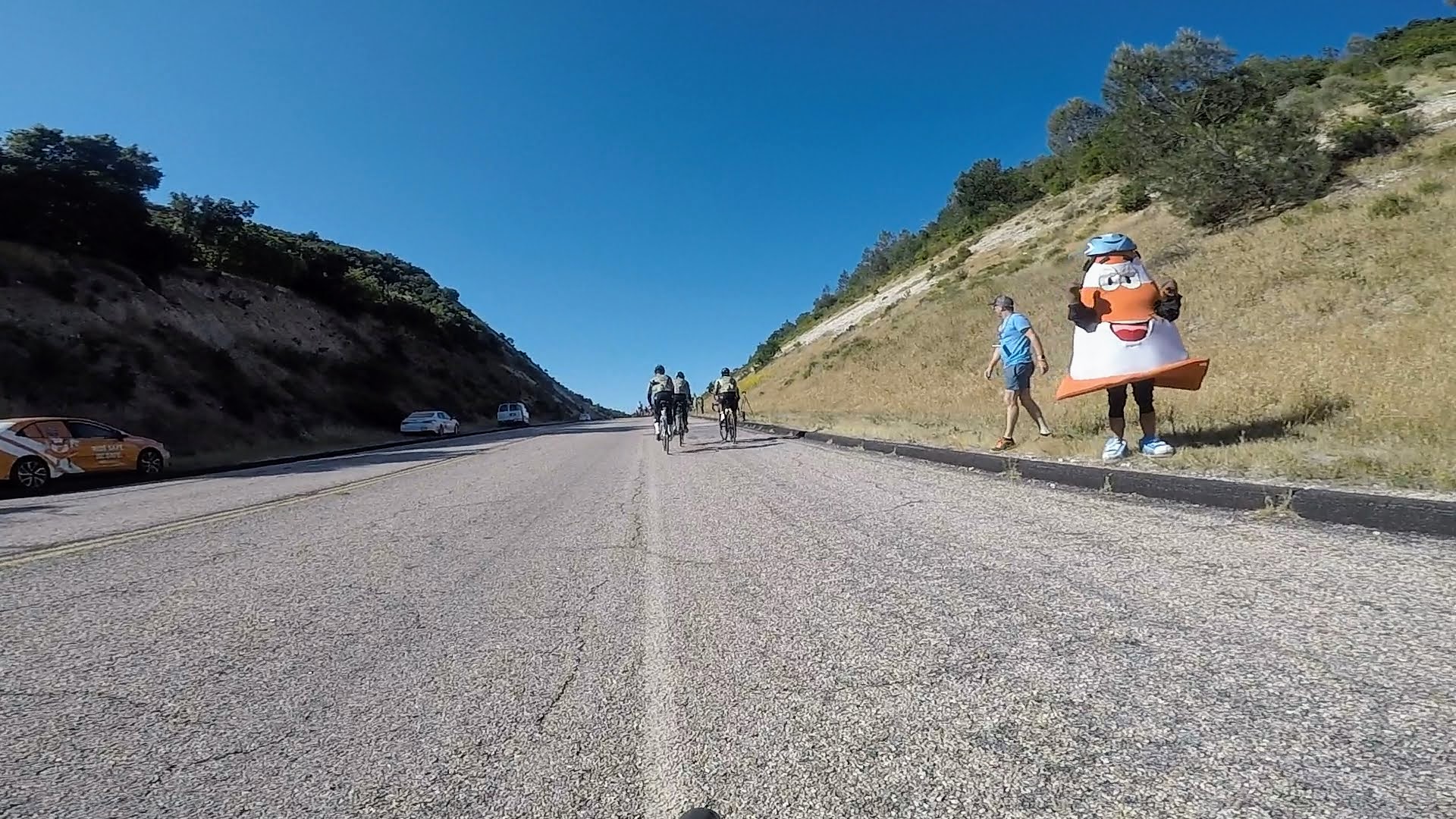 You know it's hot when someone has to stand at the top to squirt riders with cold water. I gladly rode into the squirt zone.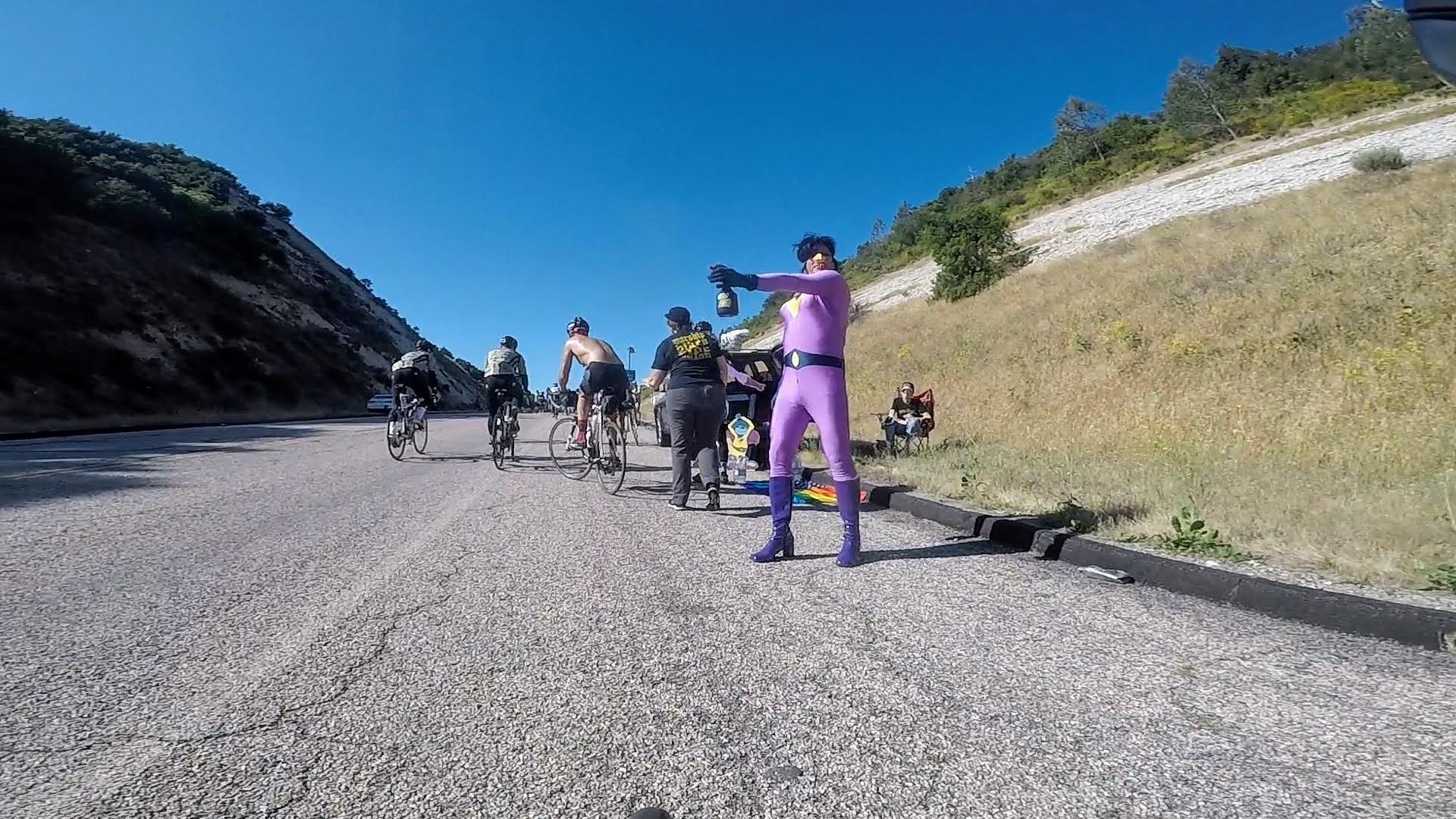 A lot of riders who already made it up the Quadbuster had stopped to cheer on other riders. I did the same but didn't see any of my friends coming up the hill. I thought that maybe they had stopped in a different spot after making it up the hill. I got onto my bike for the descend. The descend was lovely, just a straight downhill and no switchbacks. My face started to hurt from the sun and the wind. I rode with another rider and we leapfrogged a couple times before arriving at the rest stop.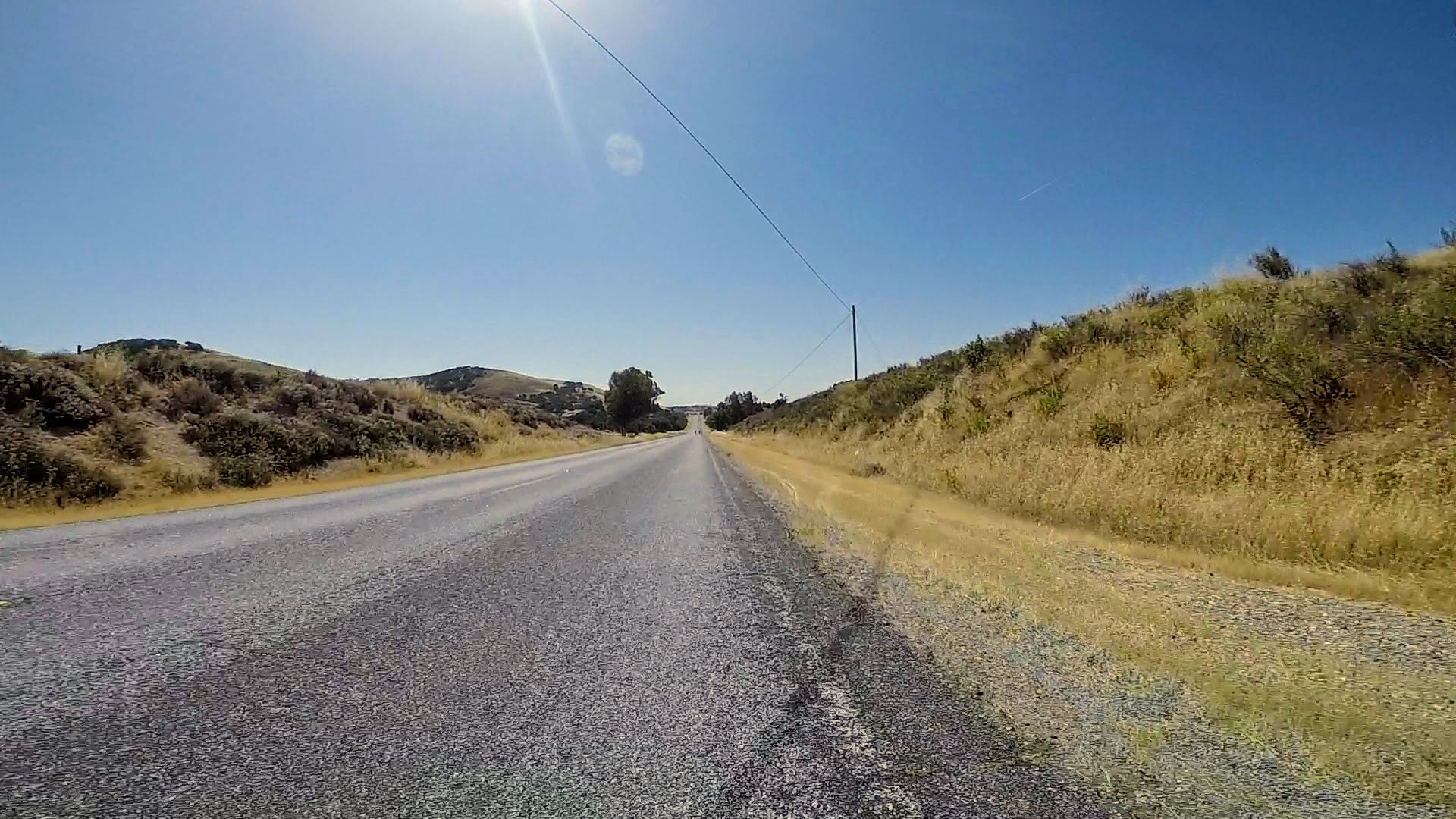 The next rest stop was at a church in Jolon.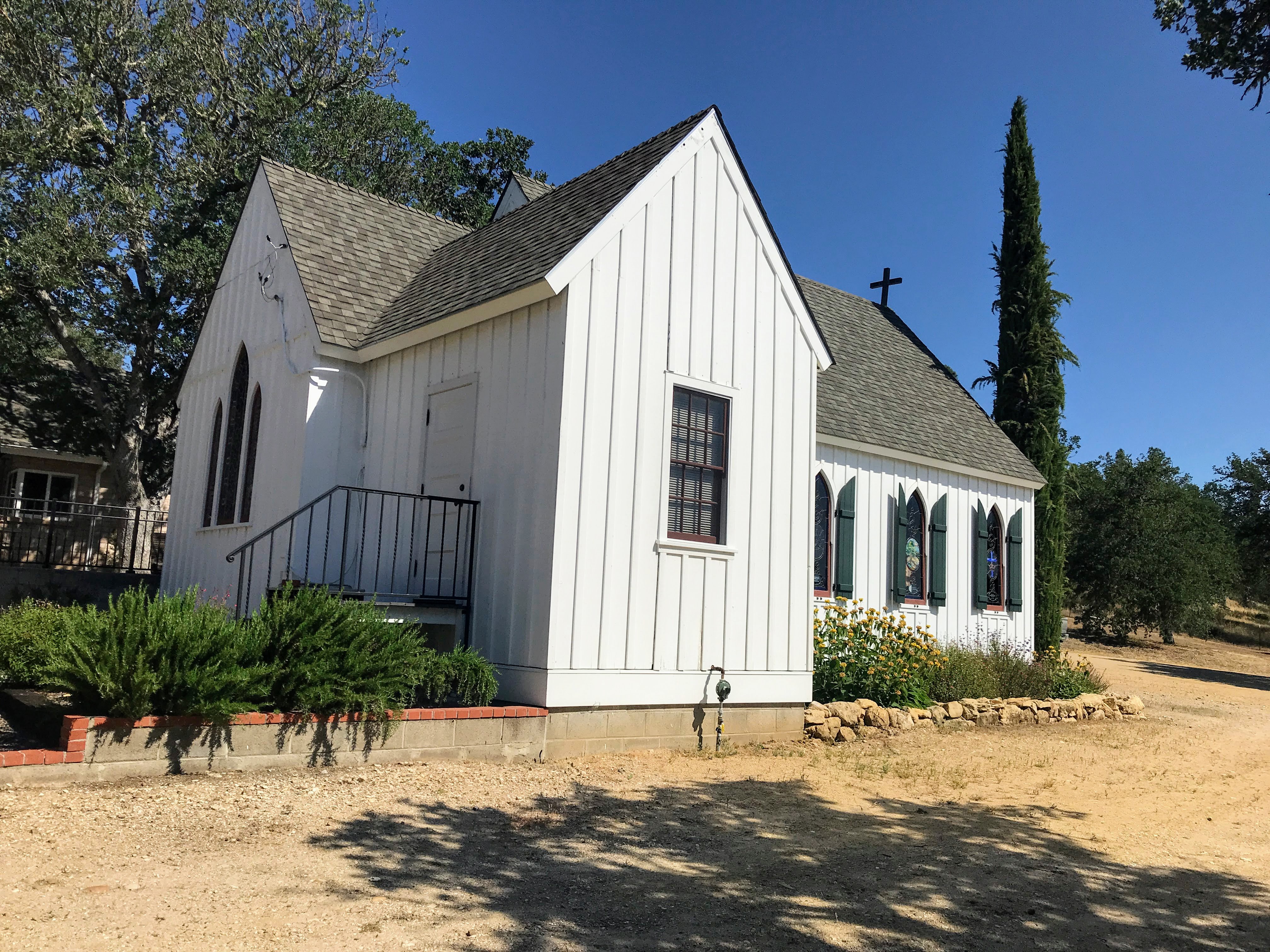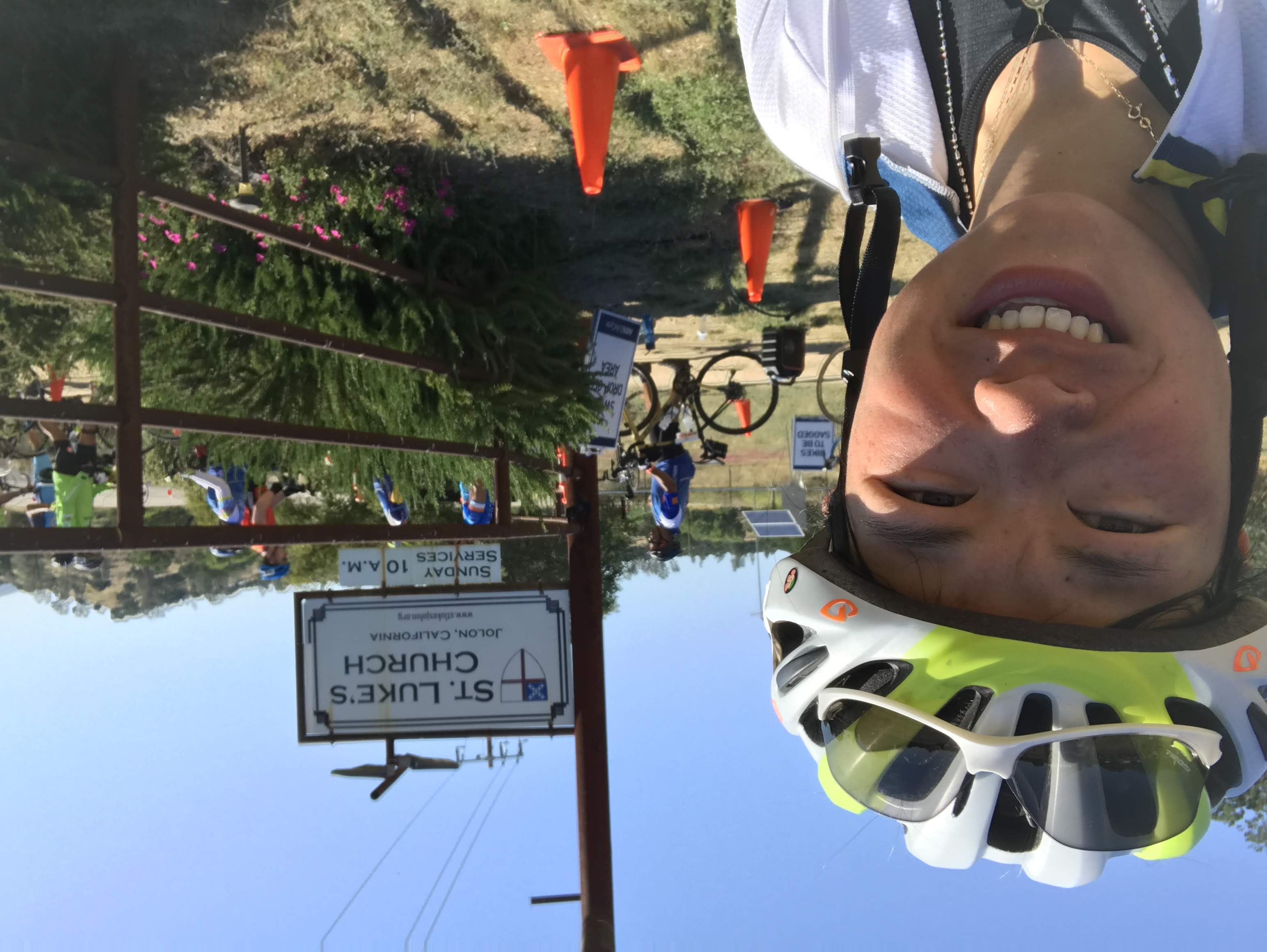 I got some snacks including a slice of refreshing orange and went to a picnic table under a tree by the church. It was hot and sunny and my face badly needed shade.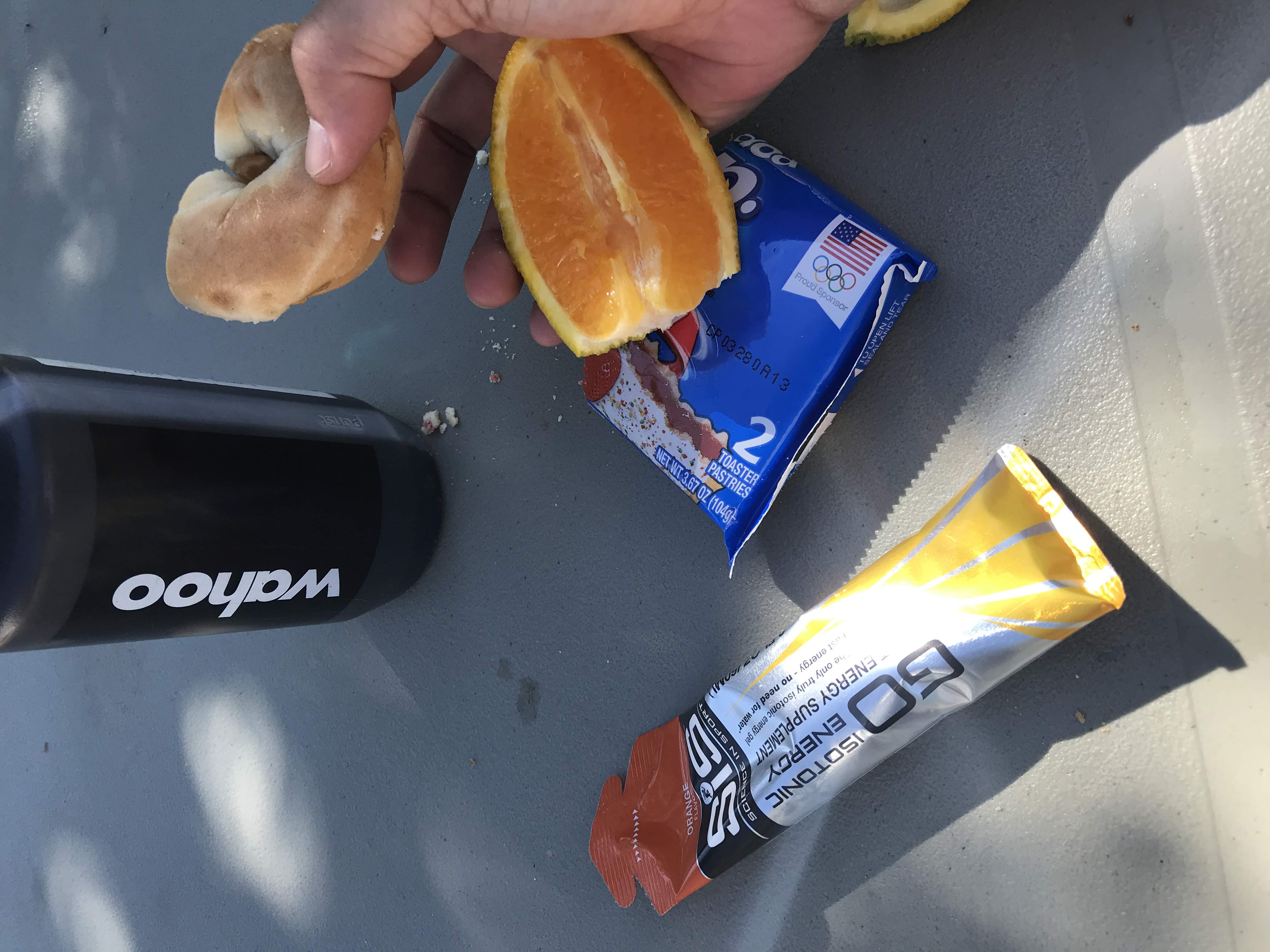 After the rest stop, I continued down Jolon Road and then onto the 101 S briefly towards Bradley. The inland reached over 100 degrees Fahrenheit that day. My face hurt and I didn't know how I would survive the next 4 days. I thought about getting onto the SAG bus so I could rest and ride the remaining 4 days, but I was determined to complete the entire 545 miles. I kept thinking about how my supports donated to the cause and allowed me to participate in ALC. I wasn't going to let them down. I stayed in the shade as much as I could at rest stops and iced my face. Icing my face worked very well and I felt better long enough to make it to the next rest stop where I refilled my bottles with cold water and iced again.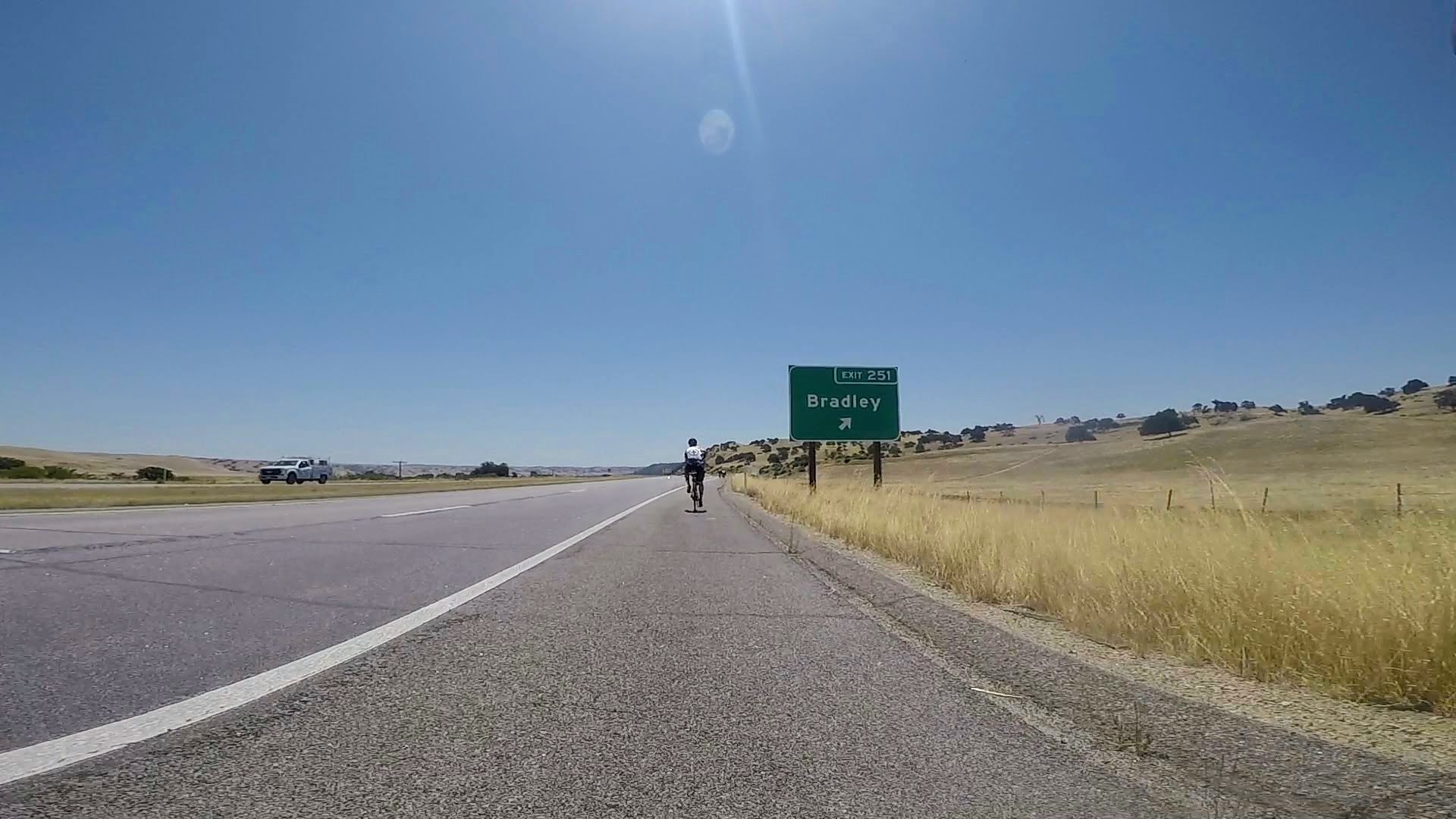 The lunch stop was at a school in the town of Bradley. In addition to the lunch that ALC provided, we also had the option of purchasing BBQ burgers to support the school. There were two burger pricing options. A $100 one where you could eat the burger in an air-conditioned room and use a real bathroom or the $10 option where you eat outside with everyone else.
I love seeing all the people and signs that welcomed us into their communities during ALC. Some drivers even rolled down their windows to cheer and thank us for riding. It was a really nice change from the treatments I usually got from drivers when I rode my bike. In the past, I've been hit by an SUV, yelled at by drivers to get off the road, drivers had purposely swerved into the bike lane in front of me, one driver threw a cup at me once… I almost got right-hooked many times… but none of that happened, I loved all the support we got for being on a bike. I wish every day was like that.
Here's a school bus with a huge Bradley banner that welcomed us: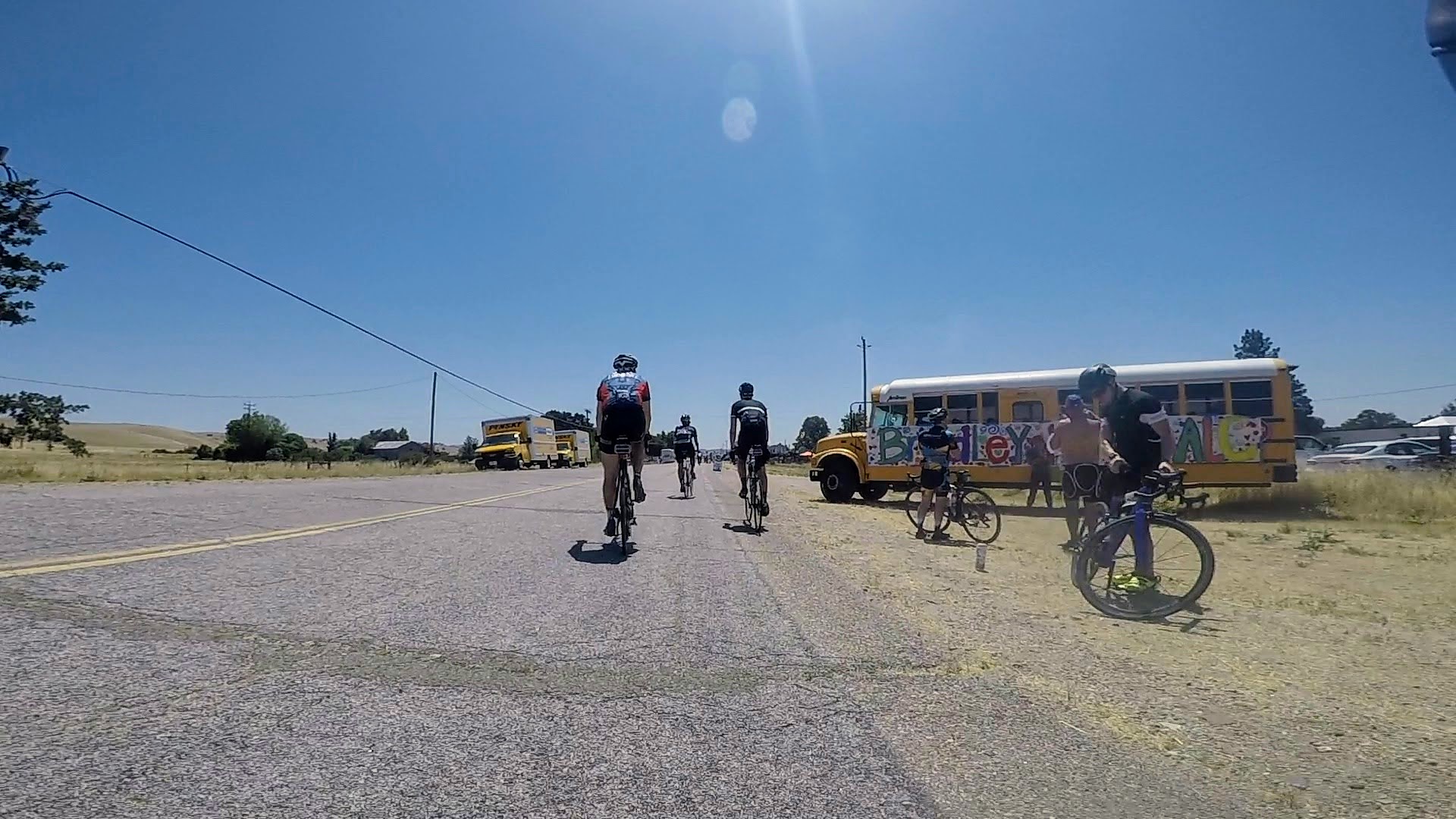 This is all I can say about the afternoon including at camp: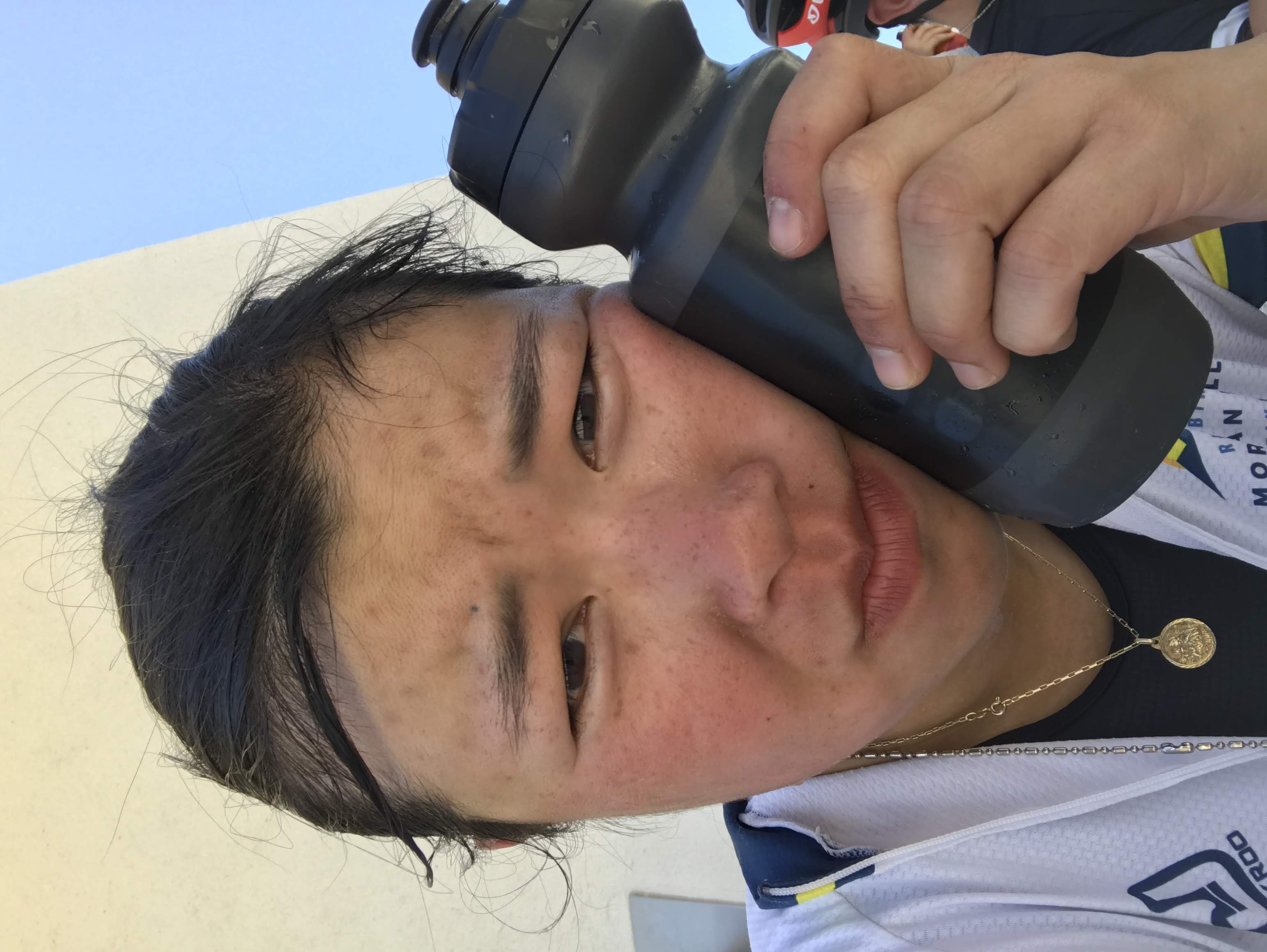 I rode with a friend after lunch. The route was mostly flat after the Quadbuster that morning, which was nice. I wasn't up for riding up any hills in this heat.
We entered Camp Roberts, a California National Guard training post, less than 10 miles after lunch. There were a couple tanks on display by the museum annex and we pulled over for photos and water. My face was already red again from the sun!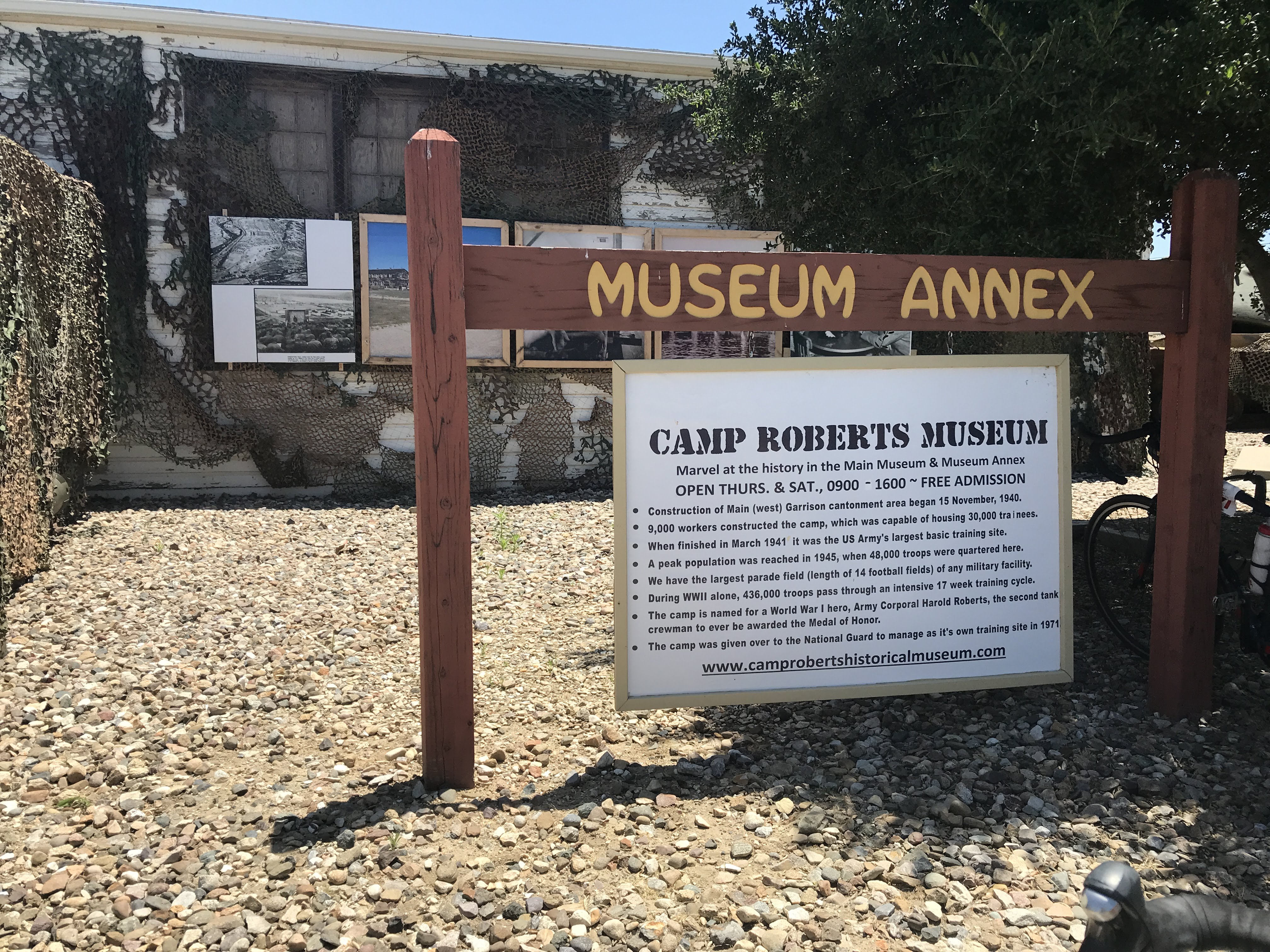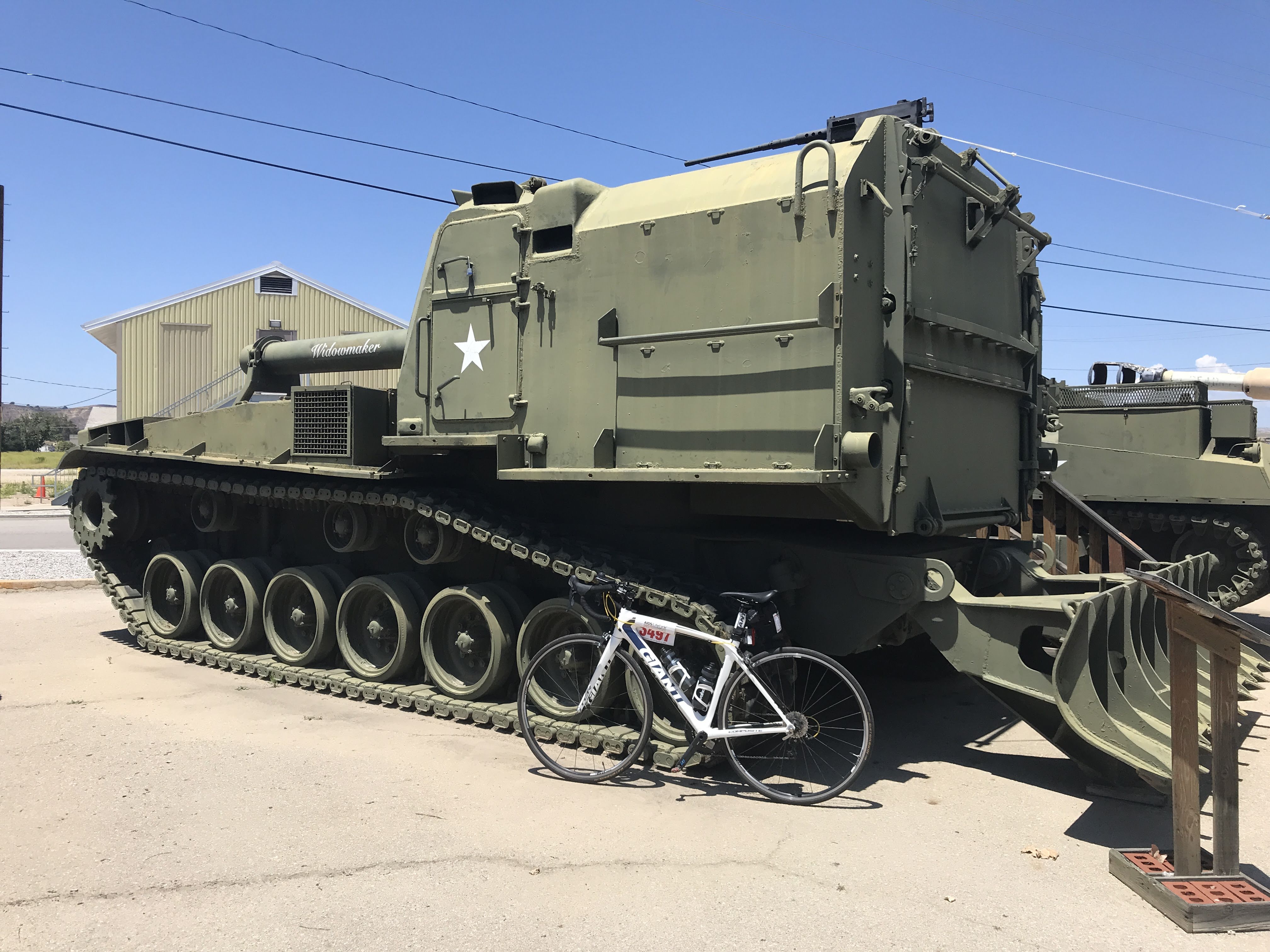 We didn't stay long. I just needed to get to camp and out of the sun and heat!
The last rest stop on the route was Kinky Boots themed. We caught the end of a performance and spent some time cooling off in the shade before riding towards the camp.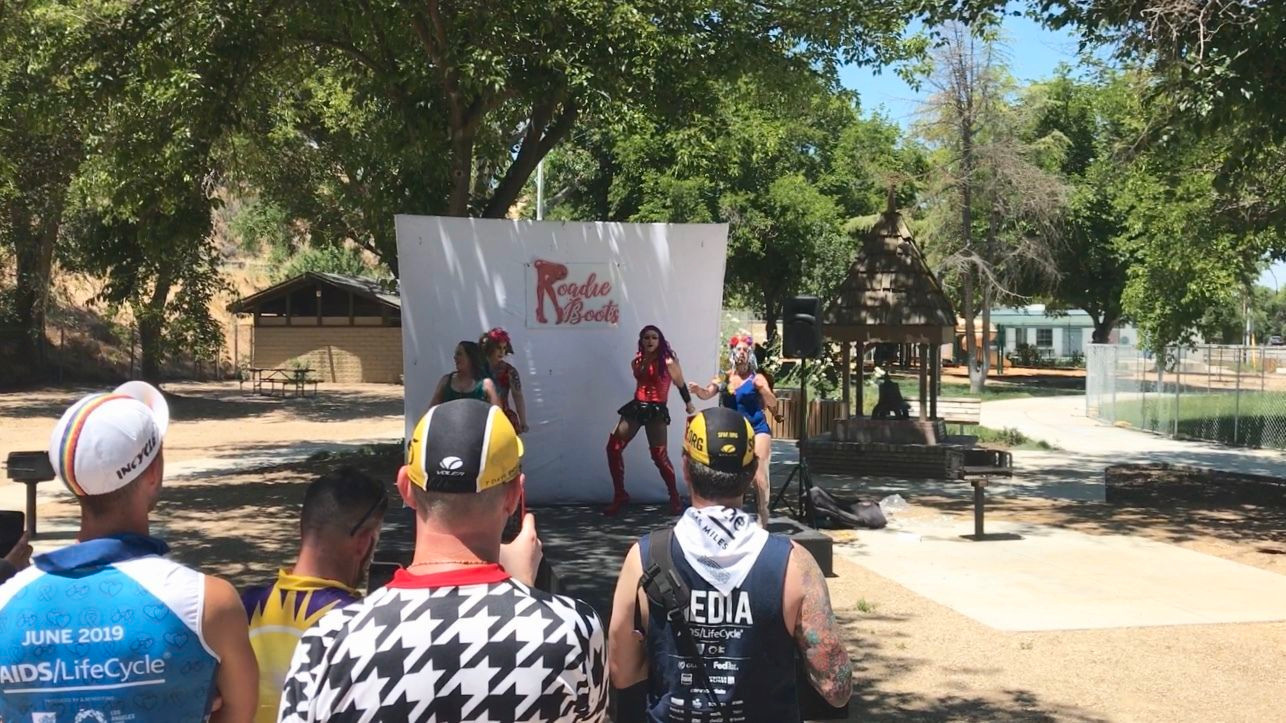 We made an additional stop for water 4 miles before the finish. A nice lady had set up a table with lemonade and iced water for us. I drank most of the bottle and poured some on my head and down my back to cool off. After thanking her and giving a small donation for the refreshments, we sprinted off to the finish line.
Camp 3
Camp 3 was my favorite camp. It was on a fairground in Paso Robles. I felt like I was walking around Disneyland, except with a lot more porta-potties.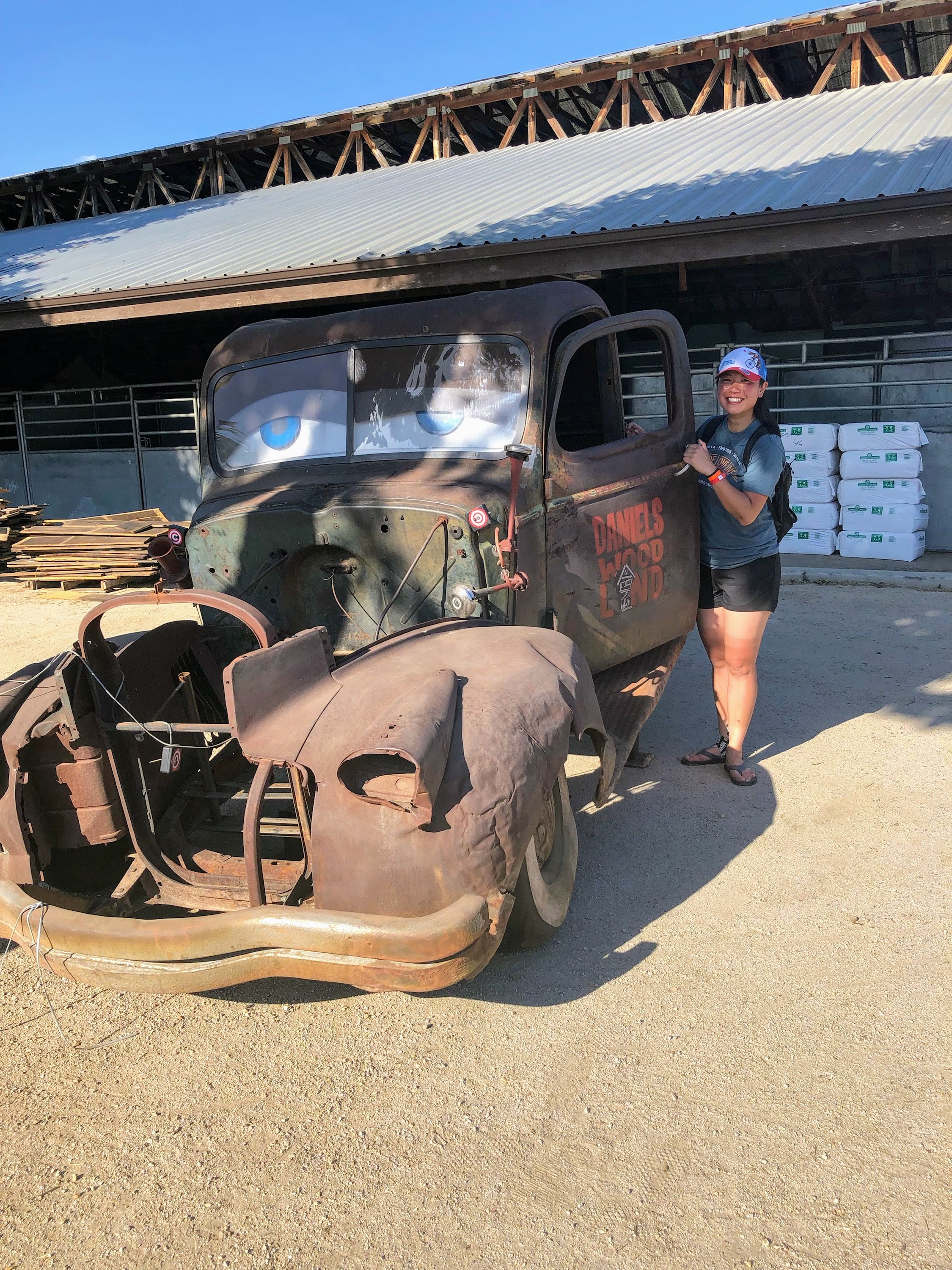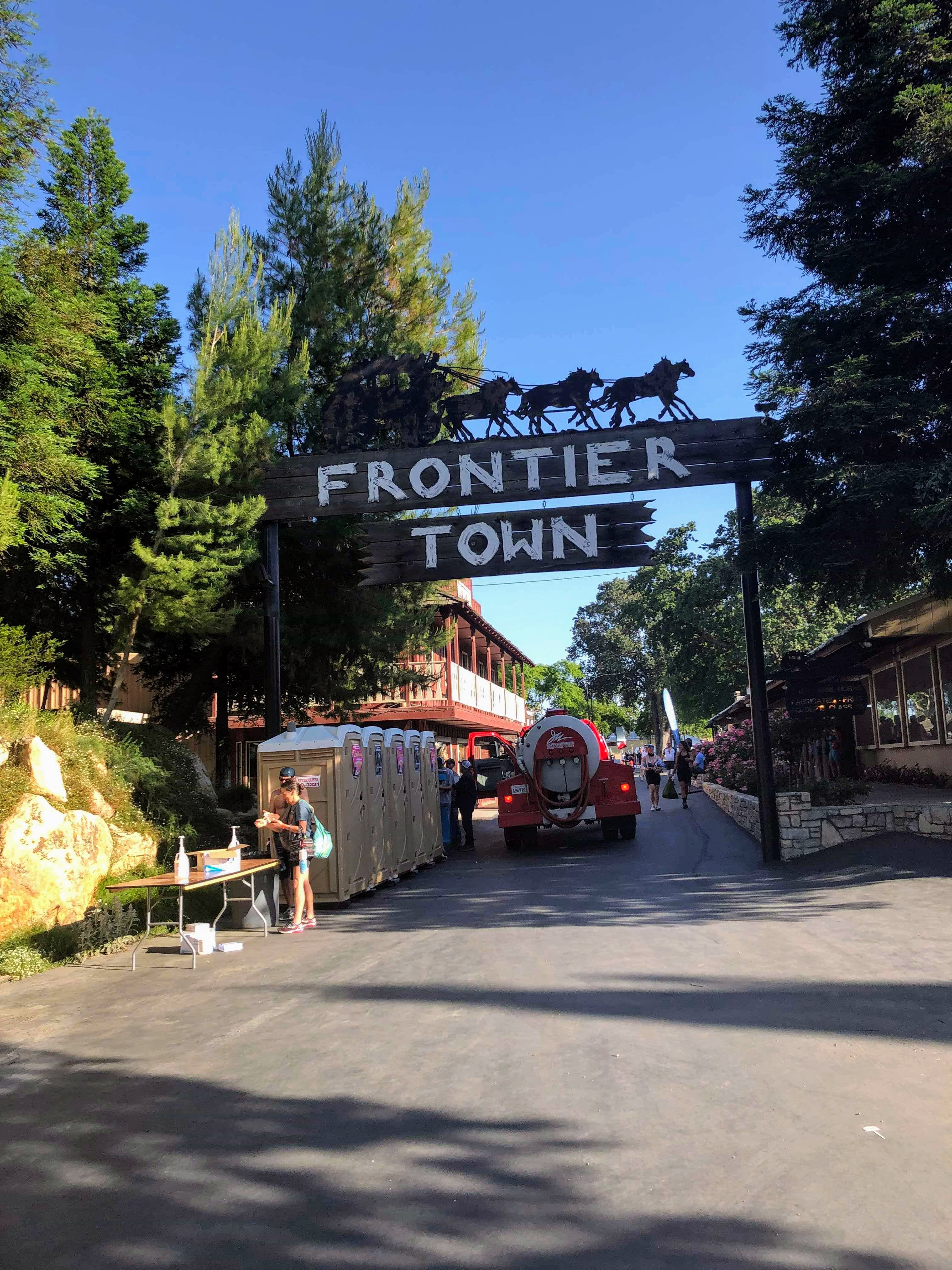 I parked my bike and followed the signs to the luggage truck. The walk felt really long because I was still wearing my cycling shoes. I was also concerned I would have to carry my luggage very far to the tent grid. Turns out no, the tent grid was right by the luggage trucks and it was covered! I was excited since it was so hot! It was in the livestock pavilion and thankfully didn't smell like livestock.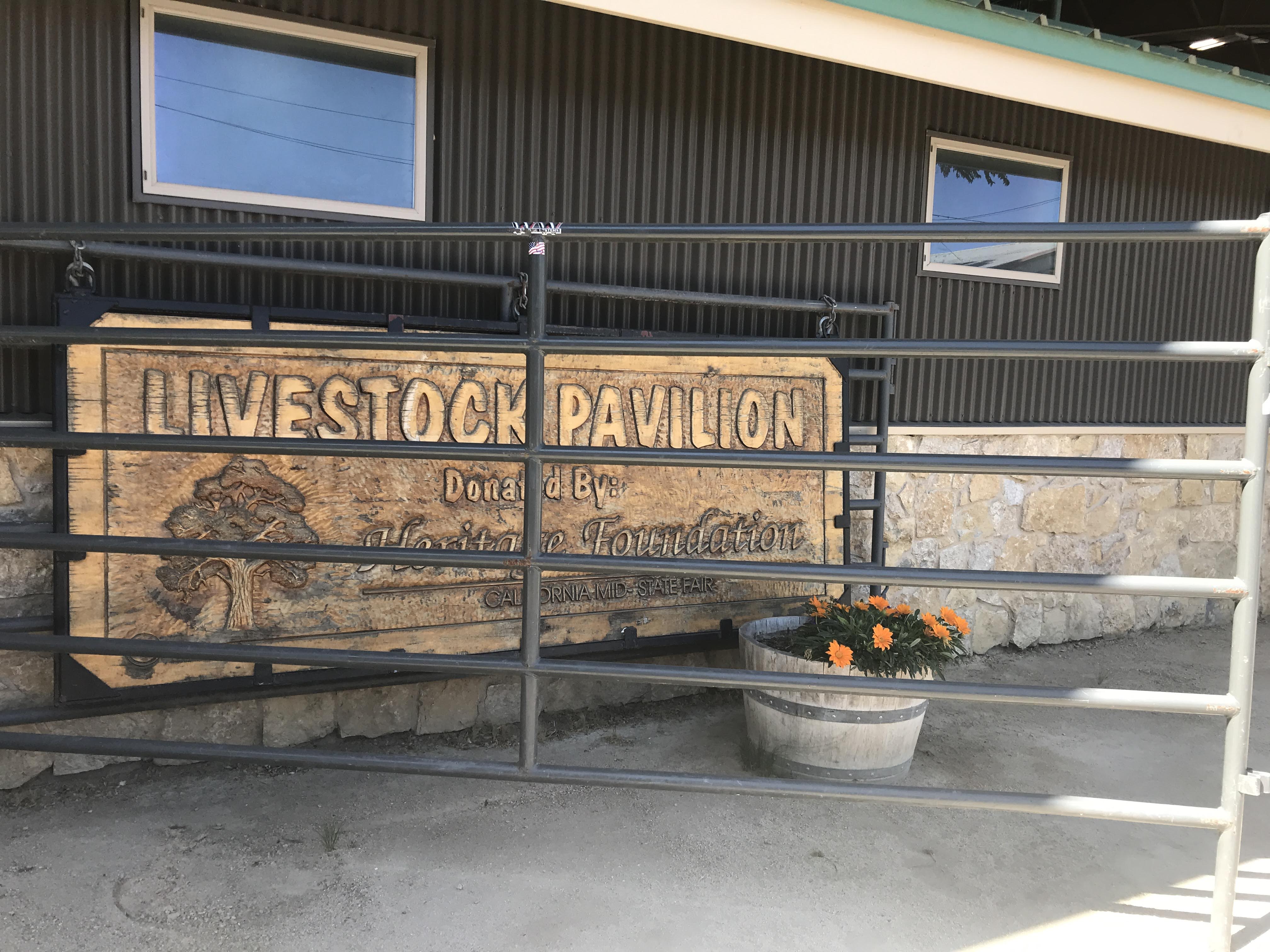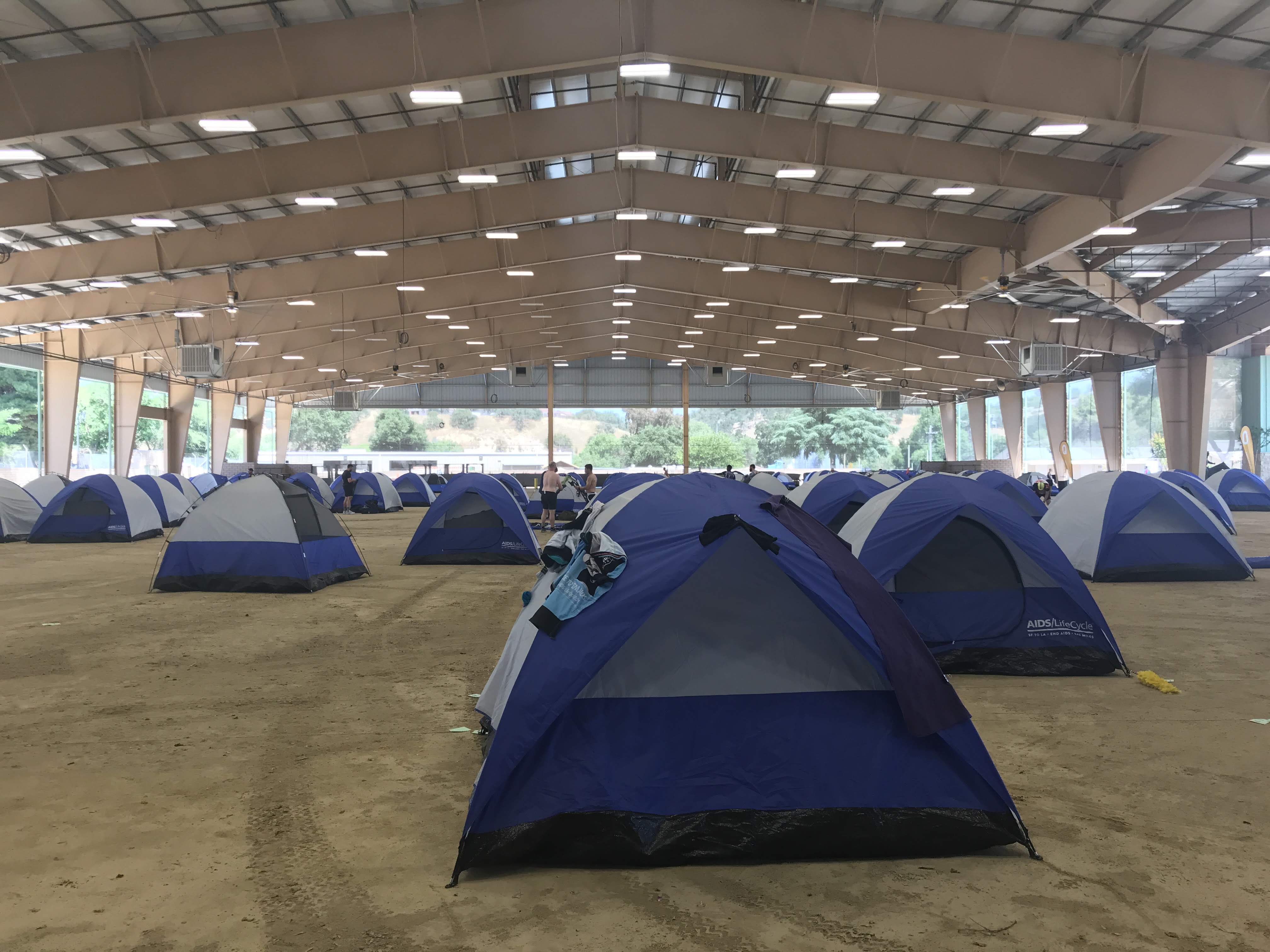 I pitched the tent, packed my clothes for the shower, and put on a hat. Wearing the hat helped and my face felt better as I walked to the shower trucks to take a cold shower. Unfortunately, I started sweating again as soon as I got out of the shower.
I tried getting a massage after the shower, but there were no more appointments available for the next hour, and was told to come back in an hour. So, I went to get dinner. Dinner was beef bourguignon and roasted ono, but the fish was tough. I only had a couple bites of it.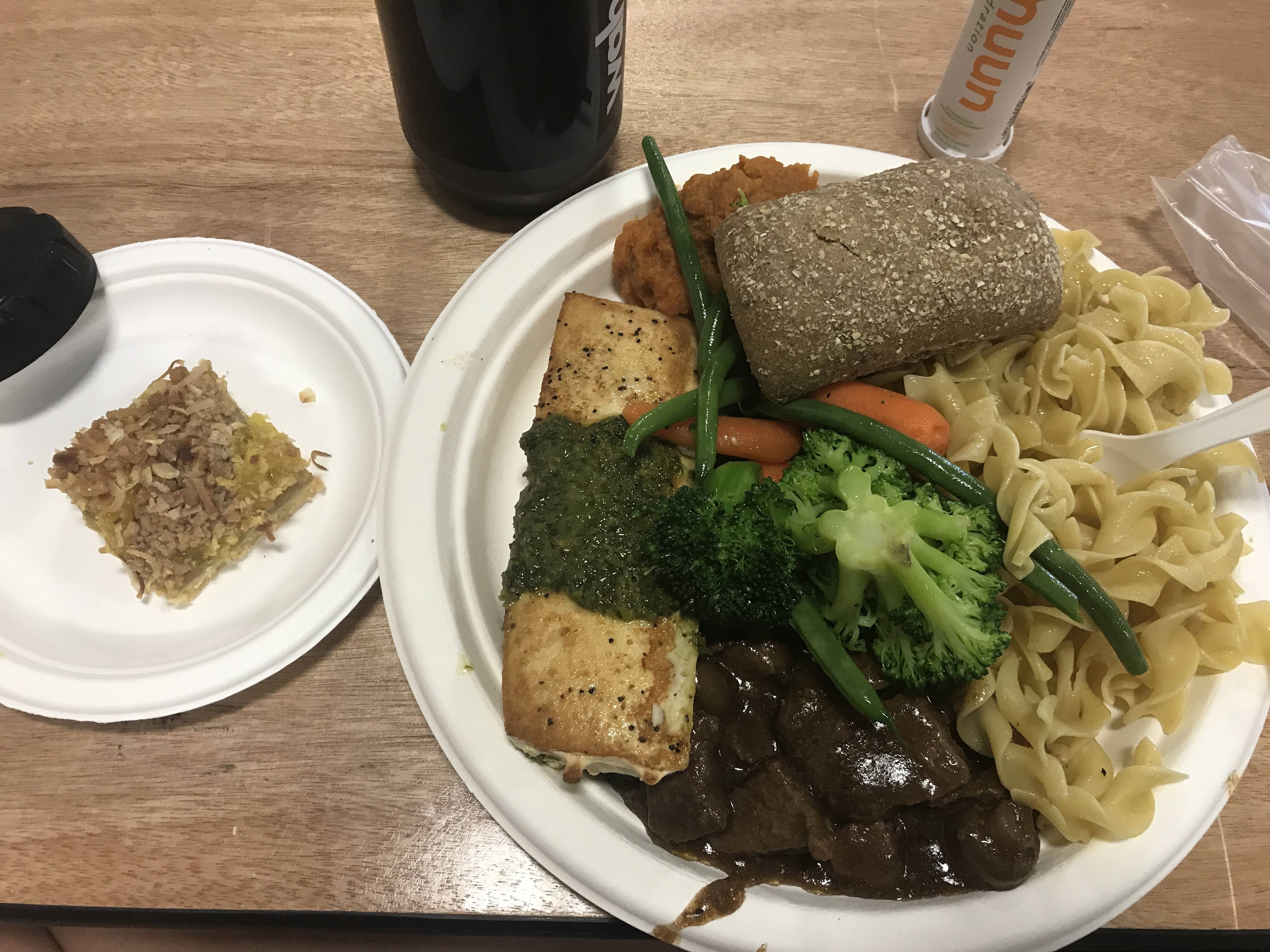 After dinner, I tried to get another massage appointment again but was told to come back in an hour. I gave up at that point. I was still really hot from the sun and needed to stop walking around back and forth just to try to get a 15-minute massage appointment. So I went back to my tent to rest until my tent mate was ready for dinner. I went with him to get a cold drink and sit inside the dining area. Afterward, we wandered around the fairgrounds a bit, spent some time foam rolling while I waited for a sports med appointment.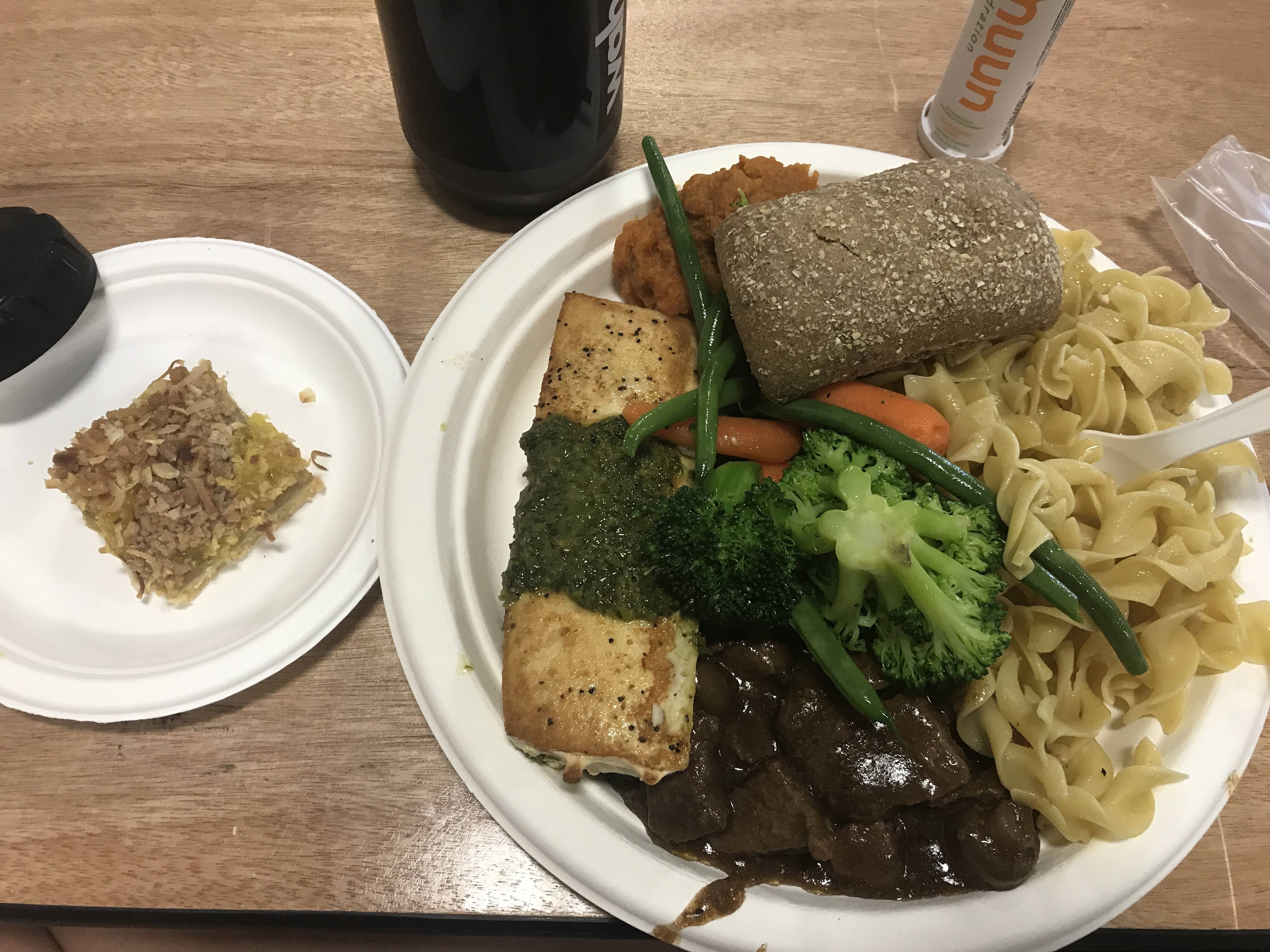 I went to bed early that night, but the sound of the fans in the pavilion made it harder to fall asleep. At least there were fans! Also, I drank so much water from the heat that day I had to make trips to the porta-potty during the night. At least they were just right outside of the pavilion so it wasn't a long walk in the dark! Day 3 was relatively shorter, 65 miles, and the next day was going to be a long day again. I was excited to ride back towards the coast! We beat the heat for the ALC journey already.