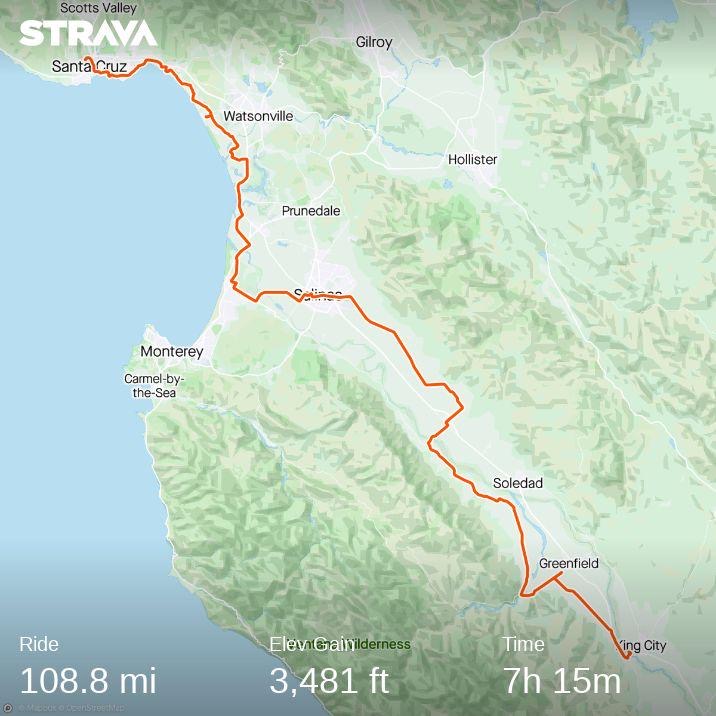 Morning at Camp 1
My alarm went off at 4 am and I got dressed in the tent while my tent-mate went to brush his teeth. I already took the Ziploc bag containing my Day 2 clothes out of my duffel the previous night already so I was able to get dressed pretty quickly. Day 2 is Safety Day, so I wore my jersey with orange sleeves and an orange cap with safety cones printed out it as a reminder to Ride Safe and Be Safe. I deflated my pillow and sleeping pad and started packing until my tent-mate came back. Then, it was my turn to trek to the sinks to brush my teeth and line up for the porta-potties. By the time I came back from brushing my teeth, packed up my stuff, and returned my luggage to the truck, I already had 19 exercise minutes: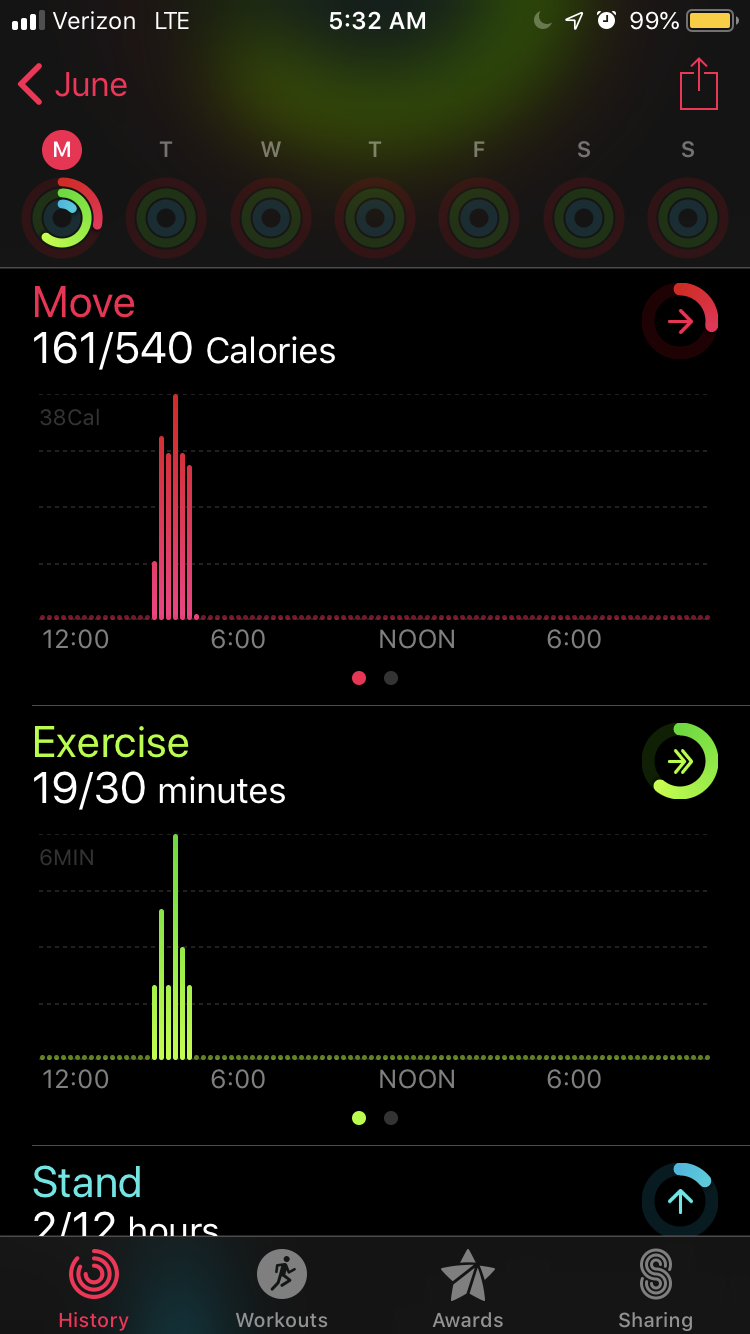 After the tent was packed and returned to the truck, we lined up for breakfast. The line was long, and we, unfortunately, picked the slow line. We eventually got our breakfast of scrambled eggs, potatoes, bacon, and pastries and read the "morning paper" called Daily Spin while eating.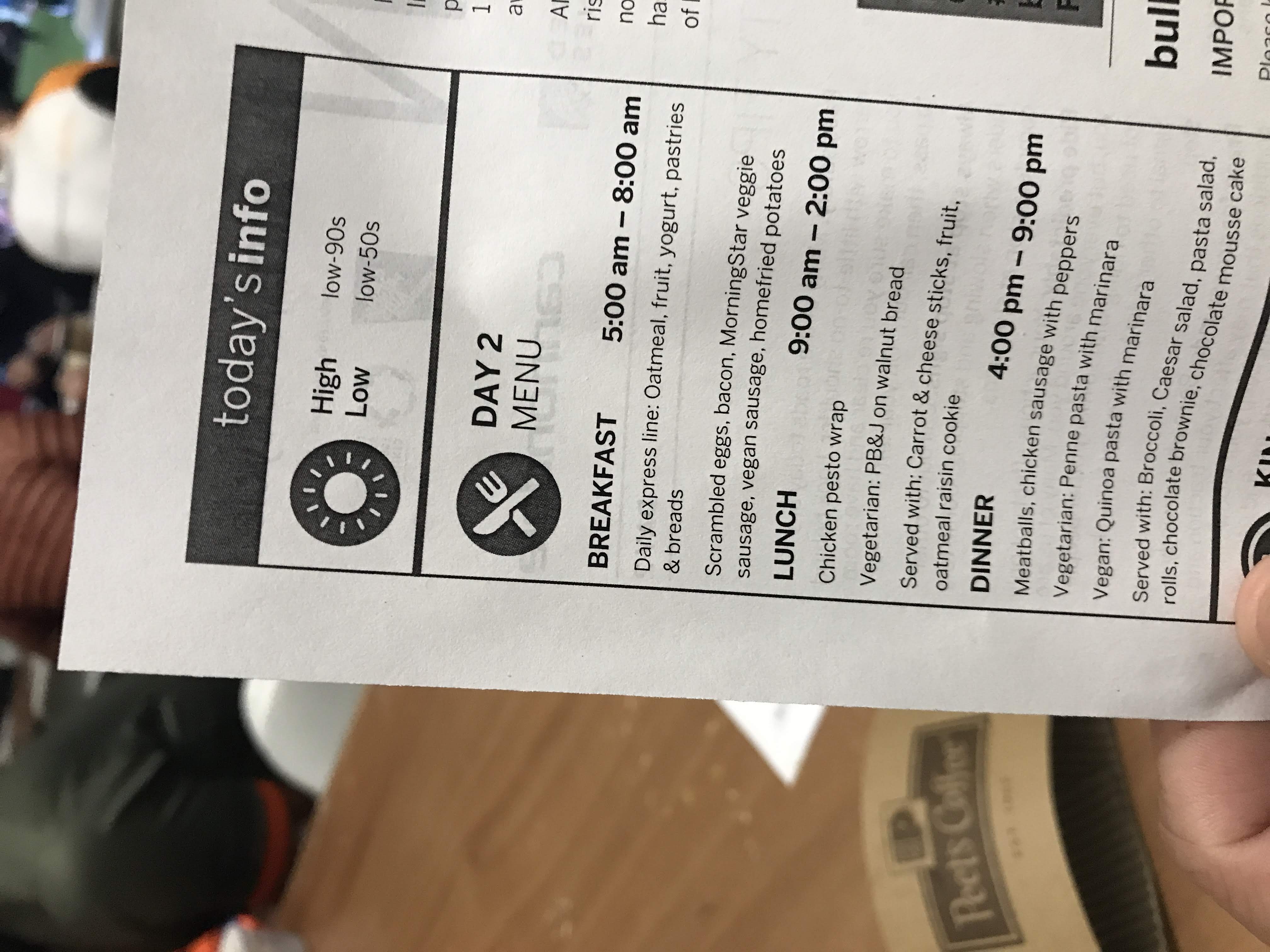 Next, I went to the sports med tent to get my ankle taped (my ankle dislikes high cadence and high mileage after a bad injury from a trail race). I couldn't go earlier, because they didn't open until 6 am.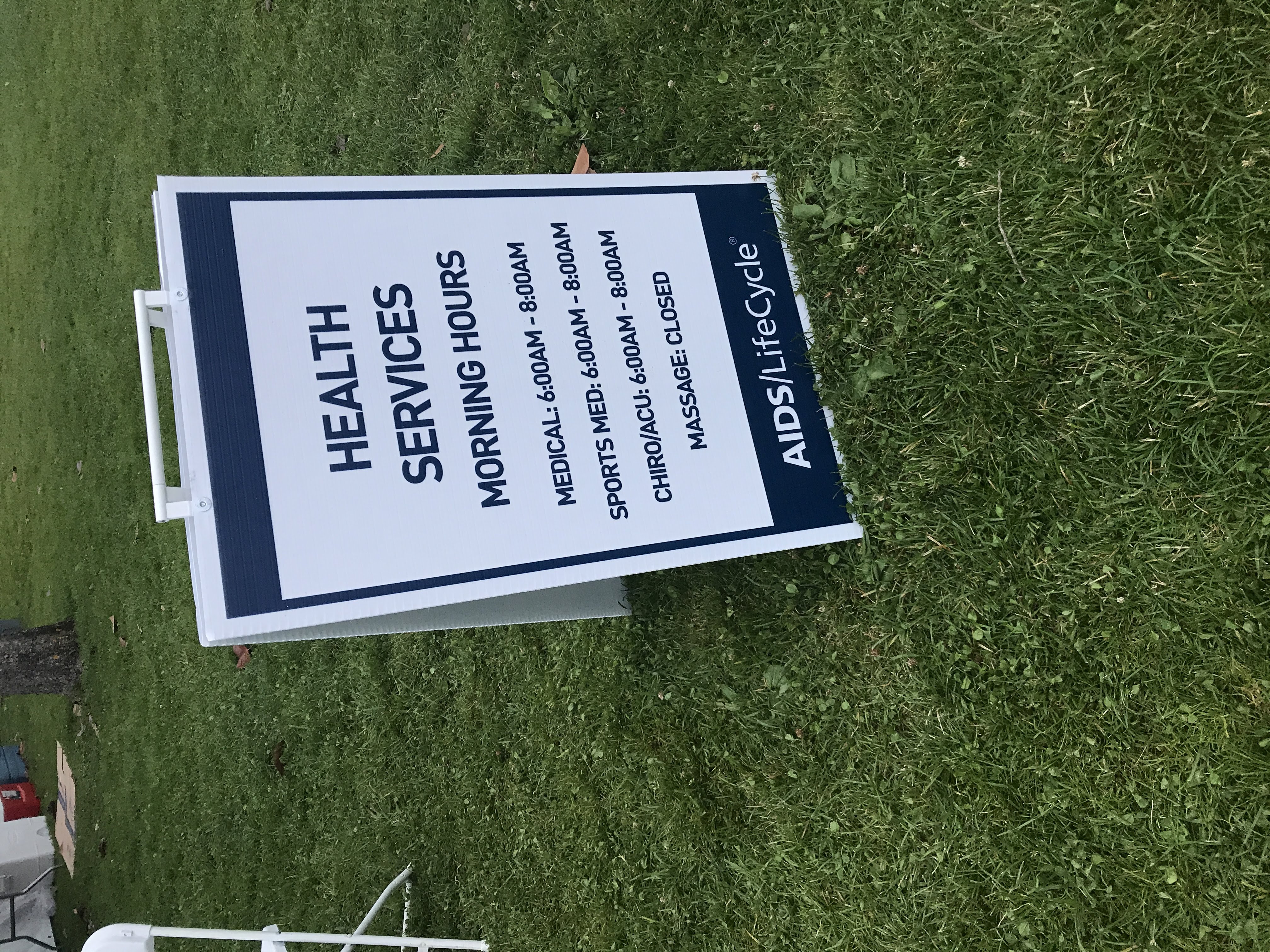 After that, I foam rolled and went to the bike parking to get my bike. I had trouble finding my bike and took a couple of minutes to locate it. I noticed the rear wheel was completely flat. My rear wheel was always a little flat the weeks before ALC. I had swapped out the tube before the ride a week earlier but couldn't find the cause of the leak. I thought about going to bike tech before riding out, but I felt like I was already running late since I went to sports med and did some foam rolling. The rest of my team had already started riding for the day. So, I pumped up the tire quickly and decided I would check on it at the first rest stop 18 miles away instead.
The ride
The route on Day 2 was relatively flat and started on a bike path. I felt very relaxed riding on so far. As soon as we got off the path and took a right turn up an incline, my rear tire went flat. This was mile 3 out of 110. I pulled over to change out the flat and a bunch of riders who passed me asked if I was ok or needed help. I told them I was fine. When I saw one of my friends riding passed me, I called out to him to let him know I stopped to change a flat. He finished riding up the hill and came back down to hold a thumbs up out to let other riders and the sweep cars know that we were ok. I had trouble pulling my rear tire off and I was getting stressed by the moment. After I pulled the tire off, I couldn't find the cause of the flat and was worried that if I just put a new tube in, it would flat again before I reached bike tech at the first rest stop. Another rider also pulled over near me, because he had dropped his chain and needed help. We helped him with the chain and he gave me one of his spare tubes in case I needed an extra one. Everyone on the ride was very willing to help each other out from pitching a tent to bike problems.
I had just put the tire back onto the wheel when another friend spotted me on the side of the road and pulled over. I'm glad she saw me because she spotted a wire in my tire right away and pulled it out. The wire was probably causing the slow leaks on my rear tire the past couple of weeks. With the flat solved, I put CO2 in my tube. And of course, I had difficulty using my CO2 inflator even though I've used it before… it was just a bad start to the day. At least I didn't accidentally release all the CO2 out into the air. I eventually filled up the tube, put the wheel back on the bike, got my chain unstuck, because of course that also happened while I was fidgeting with the wheel, and finally got rolling again. I don't know how long that took, it was more than the 5 minutes I usually allow myself to change a flat. My friends and I rode at our paces and soon I hit Soquel Cove. I stopped to take some photos and rode a little quicker to make up some lost time from the flat.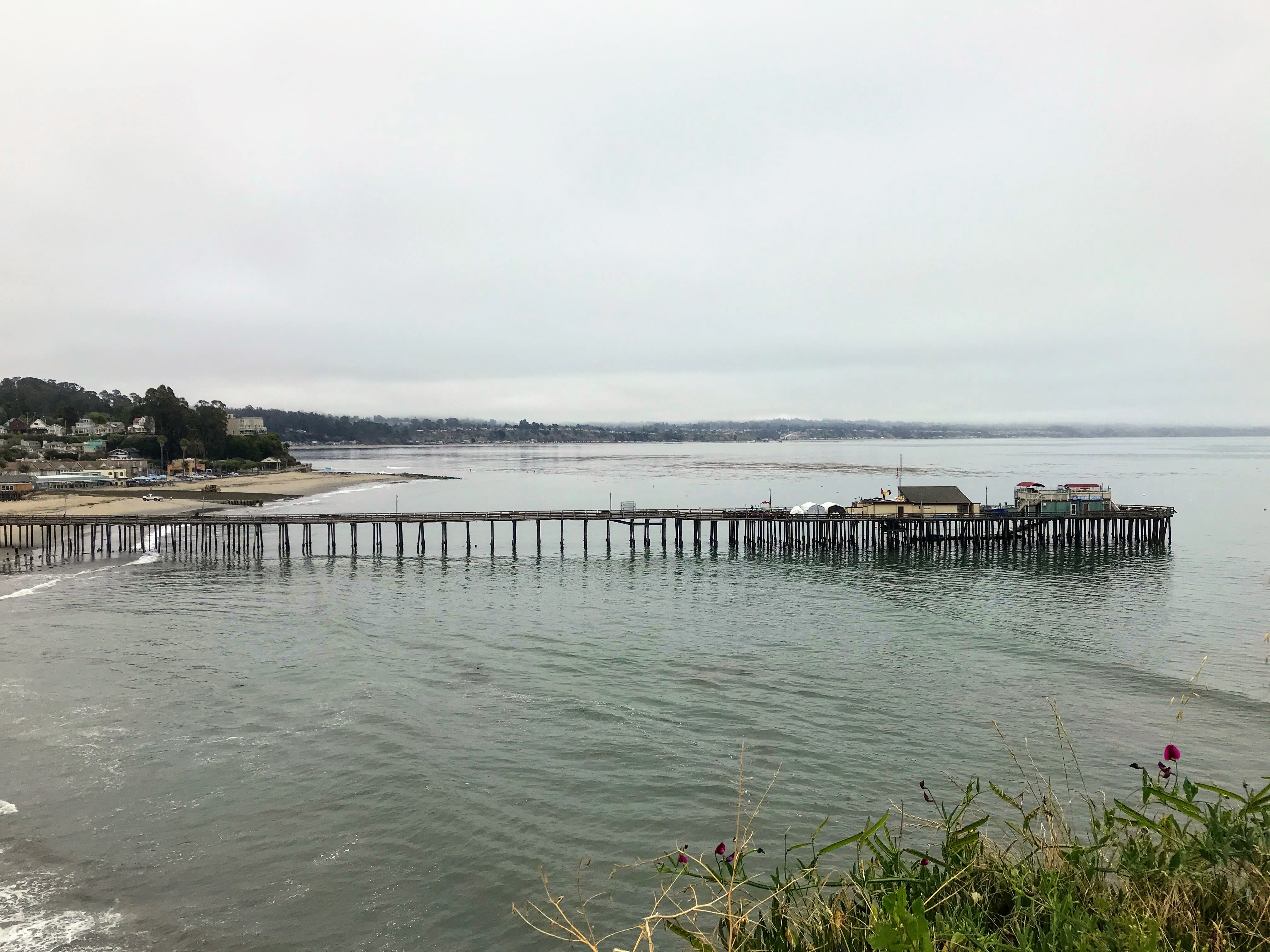 As I was about to roll into the first rest stop, I heard one of the riders yell something like "check your tire!" and I thought my tire was flat again. I checked my rear tire when I stopped and it was a little bit low, but I didn't think it was so low that it was noticeable. He was probably talking to someone else. I pumped my tire up and laid my bike down on the lawn because I couldn't easily find an empty spot on the bike racks.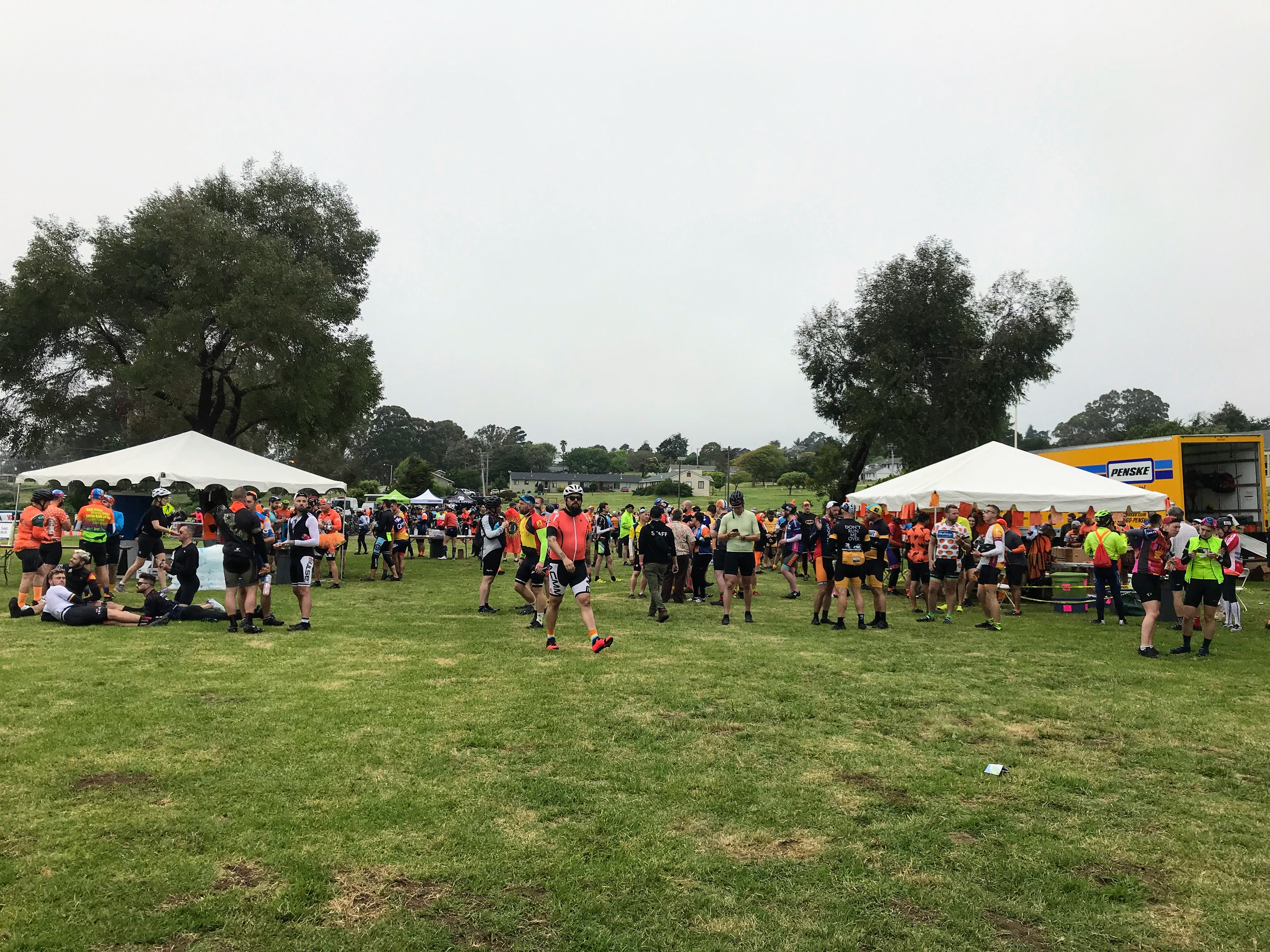 I kept checking the time as I was riding. It was Monday and I promised to send a selfie as my stand-up update at work. At stand up time, I got to a Welcome to Moss Landing. Perfect! I pulled over to take a picture of the sign with my bike and attempted to take a selfie with the sign as well. I couldn't figure out how to fit both me and this huge sign in because I never take selfies and suck at them. Luckily, another rider saw me struggling and volunteered to help me take a photo. Yay, thanks! We took turns taking each others' photos. Photo taken, sent, stand up update done, and I was back on the road.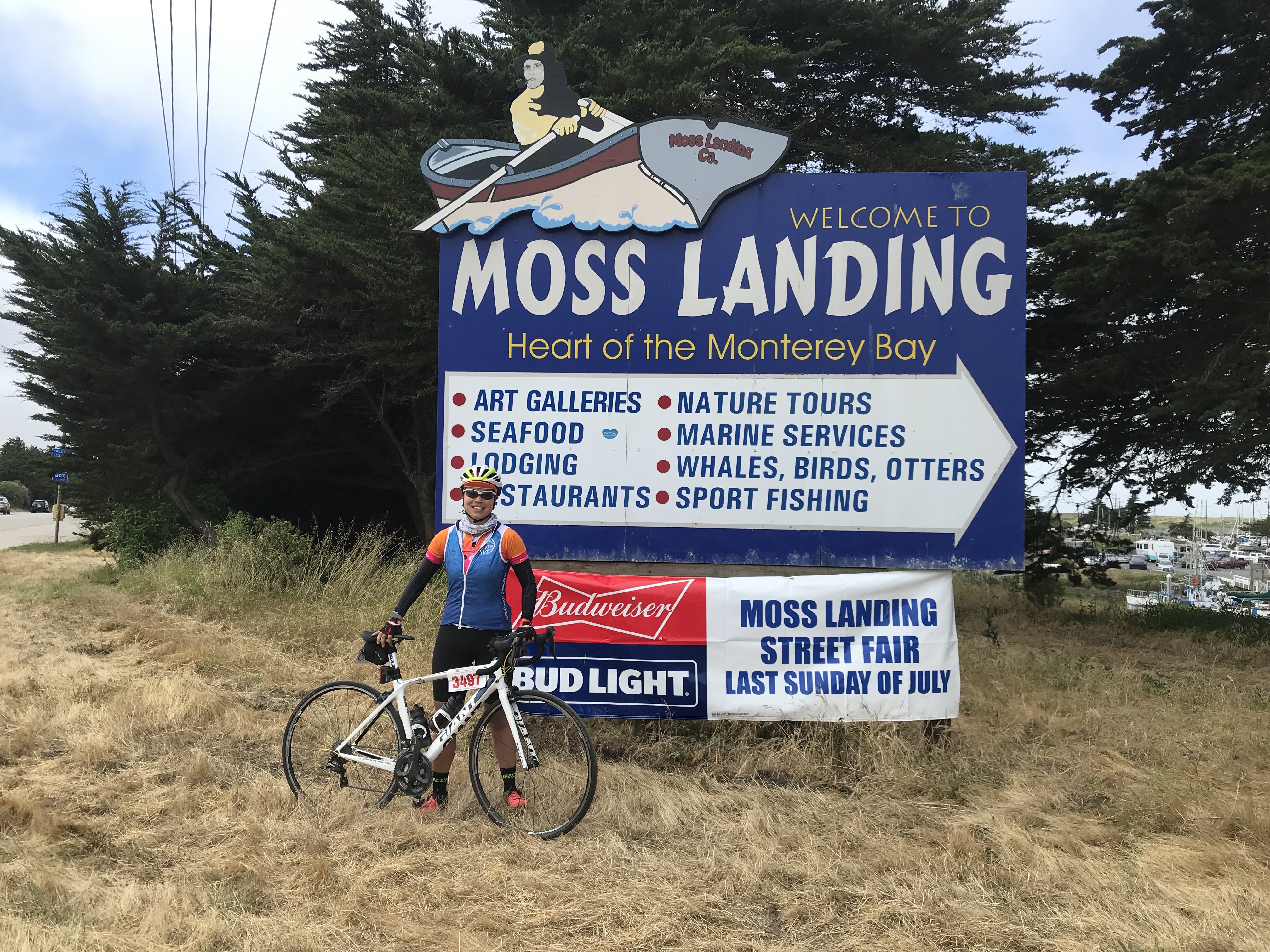 I stopped briefly at the second rest stop to fill up my water bottles and stretch my legs out, it only was less than 10 miles to lunch. I also bumped into another friend who was leaving the rest stop and we rode into lunch together just before the 50-mile mark at a park in Salinas. There was still a metric century to go and I felt overwhelmed by the distance we still had to cover. Lunch was a wrap, oatmeal raisin cookie, carrots, and a nectarine. We used the porta-potties, filled up water bottles, spent a long time foam rolling, went to the cars on the playground, and took photos in them… we thought we would get to King City faster on one of those playground cars than riding our bikes. Turns out not, since the two of us barely fit in.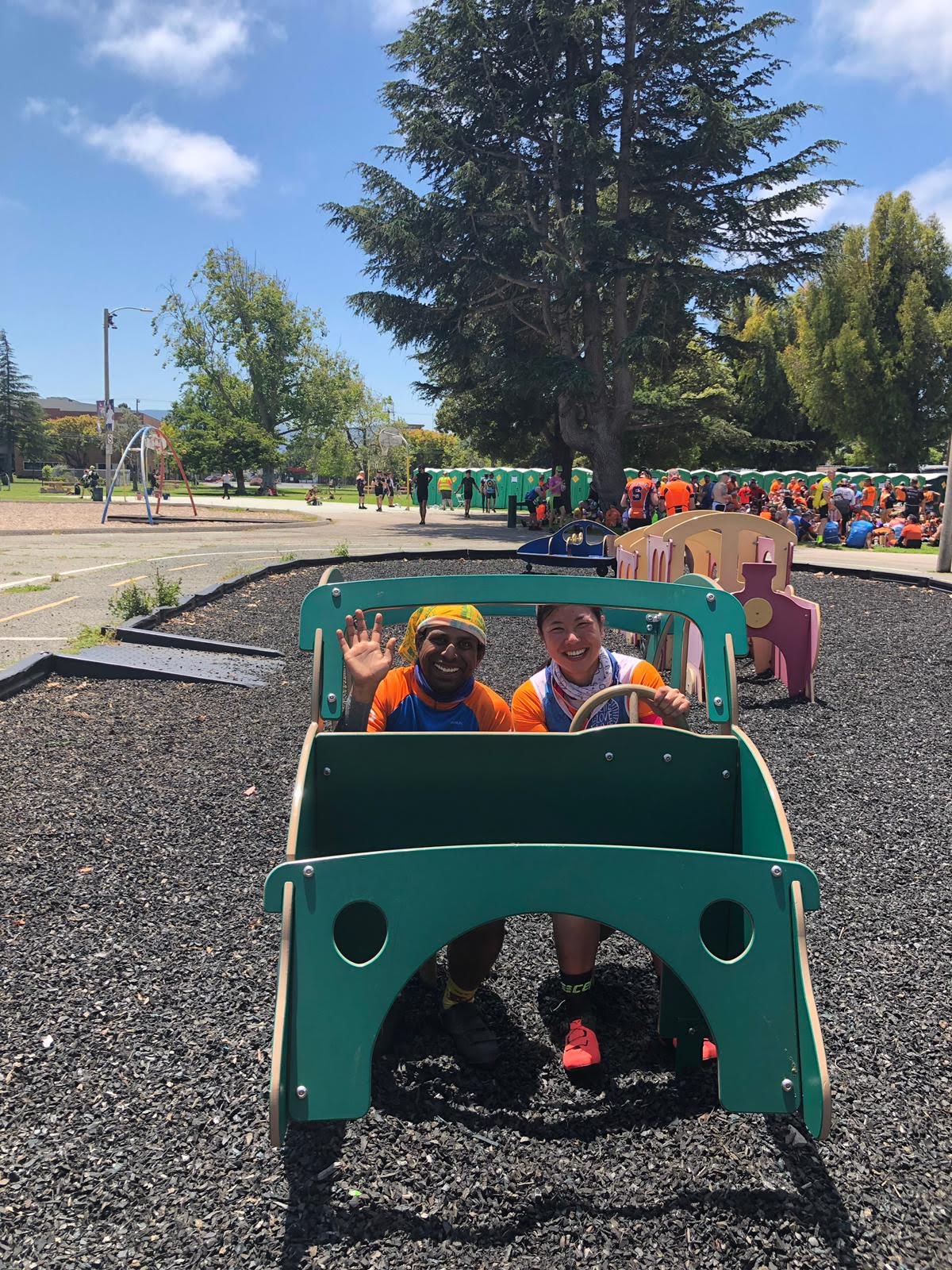 Another friend joined us after lunch. The 20 miles after lunch was tough again, not because of the headwind this time. It was bumpy, really bumpy since we were riding through agricultural areas. So bumpy I got a headache. At least there was a tailwind and we rode at a fast pace. I wasn't sure how long I could keep up at a faster pace, because I don't do very well on flats. But I kept up and soon we were at the next rest stop, 70 miles into the ride. I was no longer feeling overwhelmed by 110 miles since I had company and we took it one rest stop at a time.
We kept riding after a quick snack, bathroom break, and reapplied sunblock at the rest stop. The route was straight most of the time and one of my friends got bored with it and kept asking the classic "are we there yet". When we turned, we hit a crosswind that kept pushing me to the middle of the road. Other than the occasional crosswind, I enjoyed riding on the flats more than expected. I went into my drops, rode fast, and accidentally dropped my friends until the next rest stop.
The next stop was the OtterPop stop!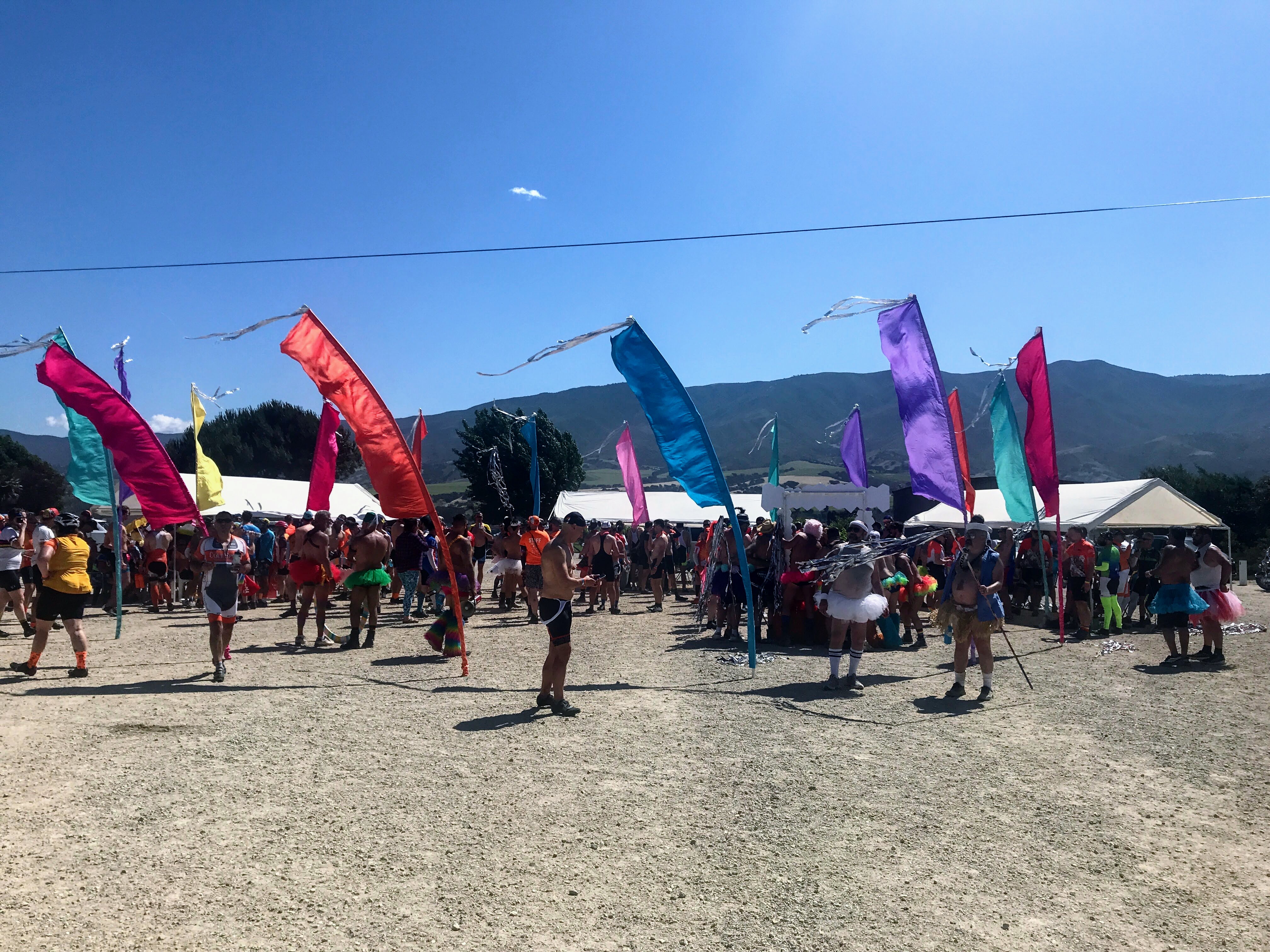 If I haven't mentioned before, this was the week to eat all the foods from your childhood. The Otter Pop stop had cookies and of course Otter Pops. I had an oatmeal raisin and chocolate chip cookie and two Otter Pops because I haven't had an Otter Pop in a long time and it was hot since we were riding inland now.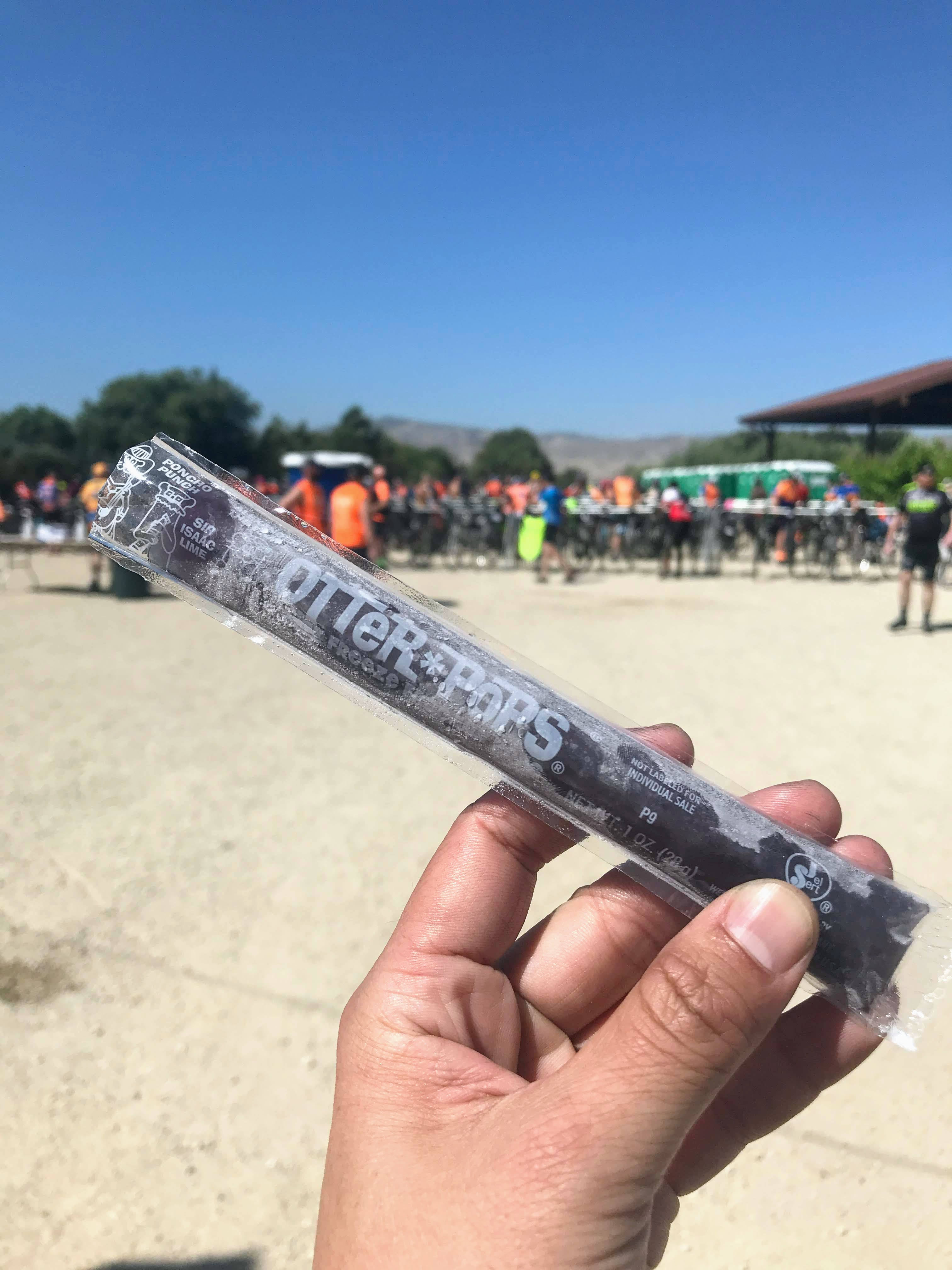 After riding on flats for so many miles, we crossed a bridge where a lot of riders had stopped to skinny dip. There was a small climb after that. Yay, I love climbing!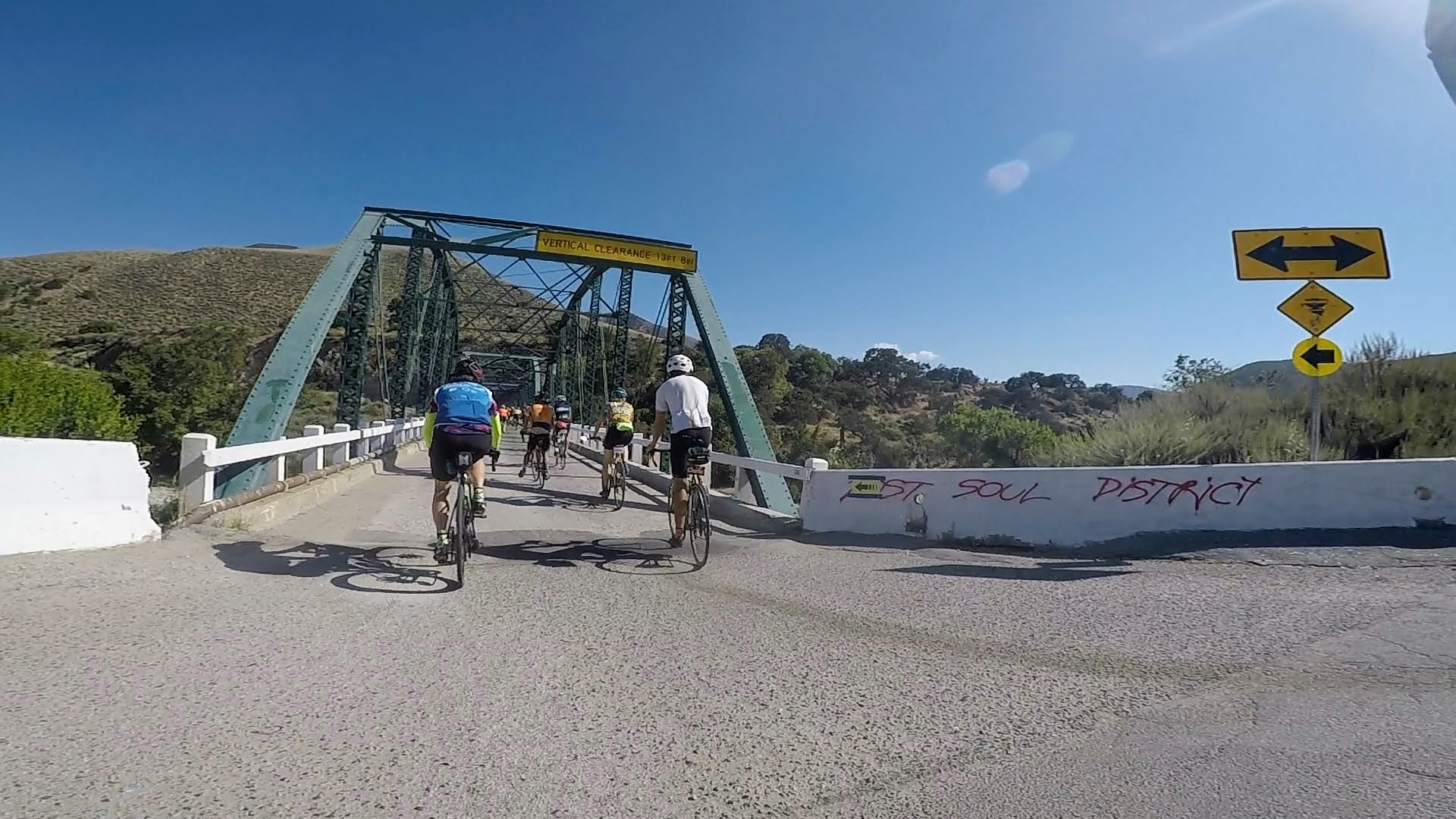 The last rest stop of the day was out of the way. I wanted to take a right turn and ride towards camp instead, but the two friends I was riding with since lunch were a bit behind me. I went to the rest stop since we agreed to meet there. Each rest stop had a theme and this one was the Addams family. I drank about a bottle of Powerade with ice at the rest stop and ate a snack before speeding towards the finish at King City. The last 12 miles were bumpy, with the last mile on a mostly unpaved bike path. At one point we were told to get off our bikes and roll or carry our bikes over the sand. At the end of the bike path, I got onto a paved road again and rolled into Camp 2! I've completed my first century!
Camp 2
I didn't like the layout of Camp 2. It wasn't very obvious where food and the gear trucks were at first, and I felt like I had to walk through everyone's tents to get anywhere. The camp reminded me of where I lived the first two years of college though since there was a canyon in the middle of it. I found the gear truck, picked up my bag and tent, did the same thing as yesterday… set up the tent, showered, iced… then met up with a friend for dinner. It was Italian with a brownie for dessert. The meatballs were pretty good, but I only ate about half the brownie. The chocolate mousse dessert from the vegetarian line was much better.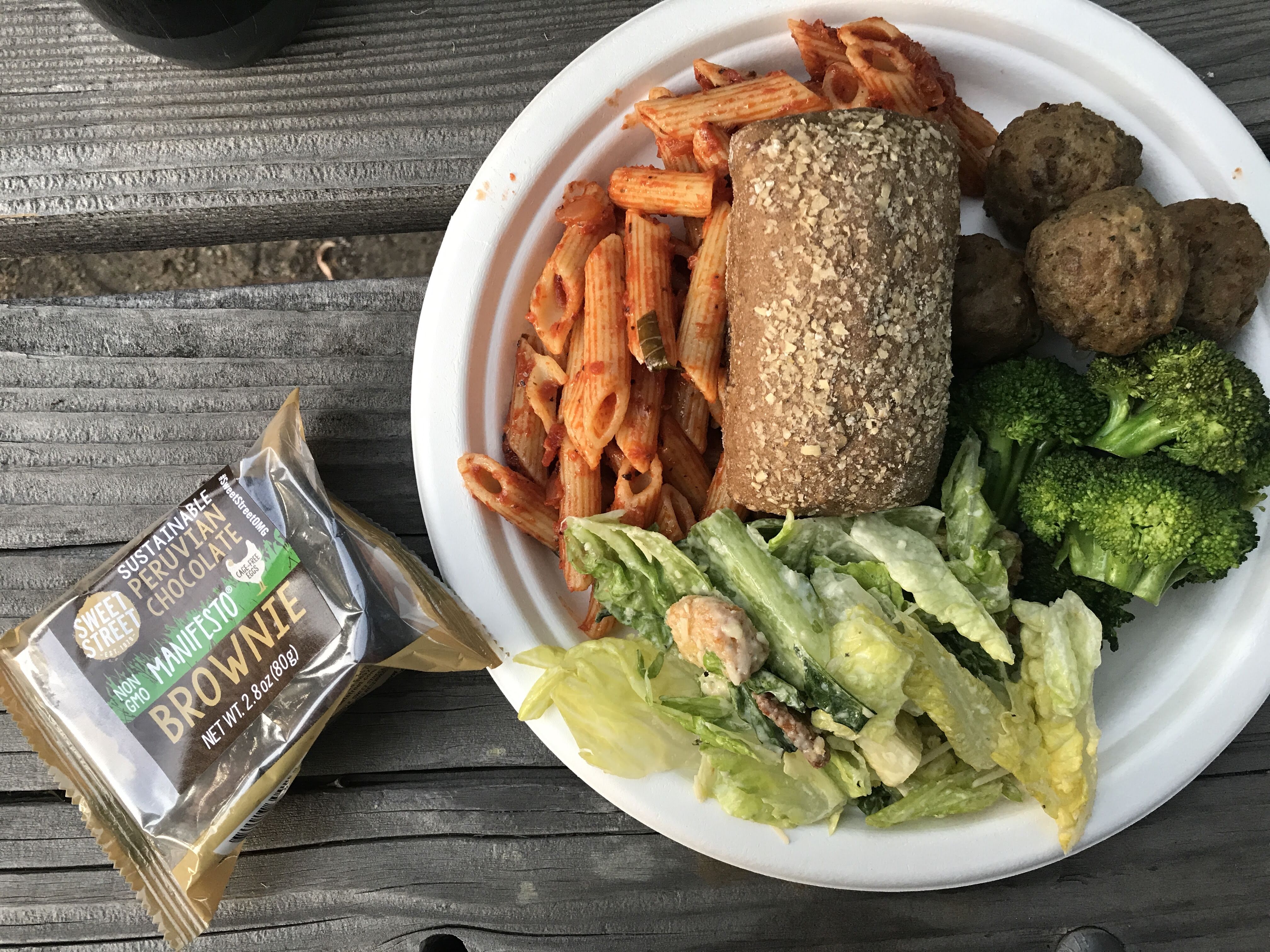 After dinner, I tried to catch up on some emails and texts, but nothing was downloaded. There were 2,000 other people in the camp trying to do the same thing. So, it was more foam rolling and stretching… then brushing my teeth, porta-potty break, and bed since we would do the same thing again the next morning… 4 am wake up, take down tent… My tent was on a bit of a slope, so every time I turned over at night, I had to grab the edge of the sleeping pad and pull myself back. I half expected myself to wake up at the very edge of the tent, but luckily it didn't happen.
Oh, part of my legs got very tanned after riding over 100 miles in the sun. My quads were feeling a bit sore… not sure how my legs were going to last 5 more days at this point.