What is AIDS/LifeCycle?
AIDS/LifeCycle (ALC) is a fully-supported 545-mile bike ride from San Francisco to Los Angeles to raise funds for the life-saving services offered by San Francisco AIDS Foundation and the Los Angeles LGBT Center. It passes through 58 towns, 8 counties in 7 days. To participate in the ride, each cyclist fundraises a minimum of $3,000. I am very grateful for everyone who has donated and brought me well over this $3,000 goal. The funds raised will go to the San Francisco AIDS Foundation since I am signed up in San Francisco Bay Area. Here's the website to learn more about ALC: https://www.aidslifecycle.org
I signed up for my first ALC at the end of last year as a personal challenge. I've never done a multi-day ride before and I was concerned about riding consecutive seven days, but I've been on the bike almost every week since and rode over 1,000 miles and with more than 57,000 ft of elevation gain. I'm currently not looking forward to sleeping in a tent and using porta-potties the entire week.
I feel like I've been counting down to the event for so long now and it's finally here this weekend. It starts with orientation at the Cow Palace in Daly City where we also drop off our bikes and pick up our packets.
Orientation at Cow Palace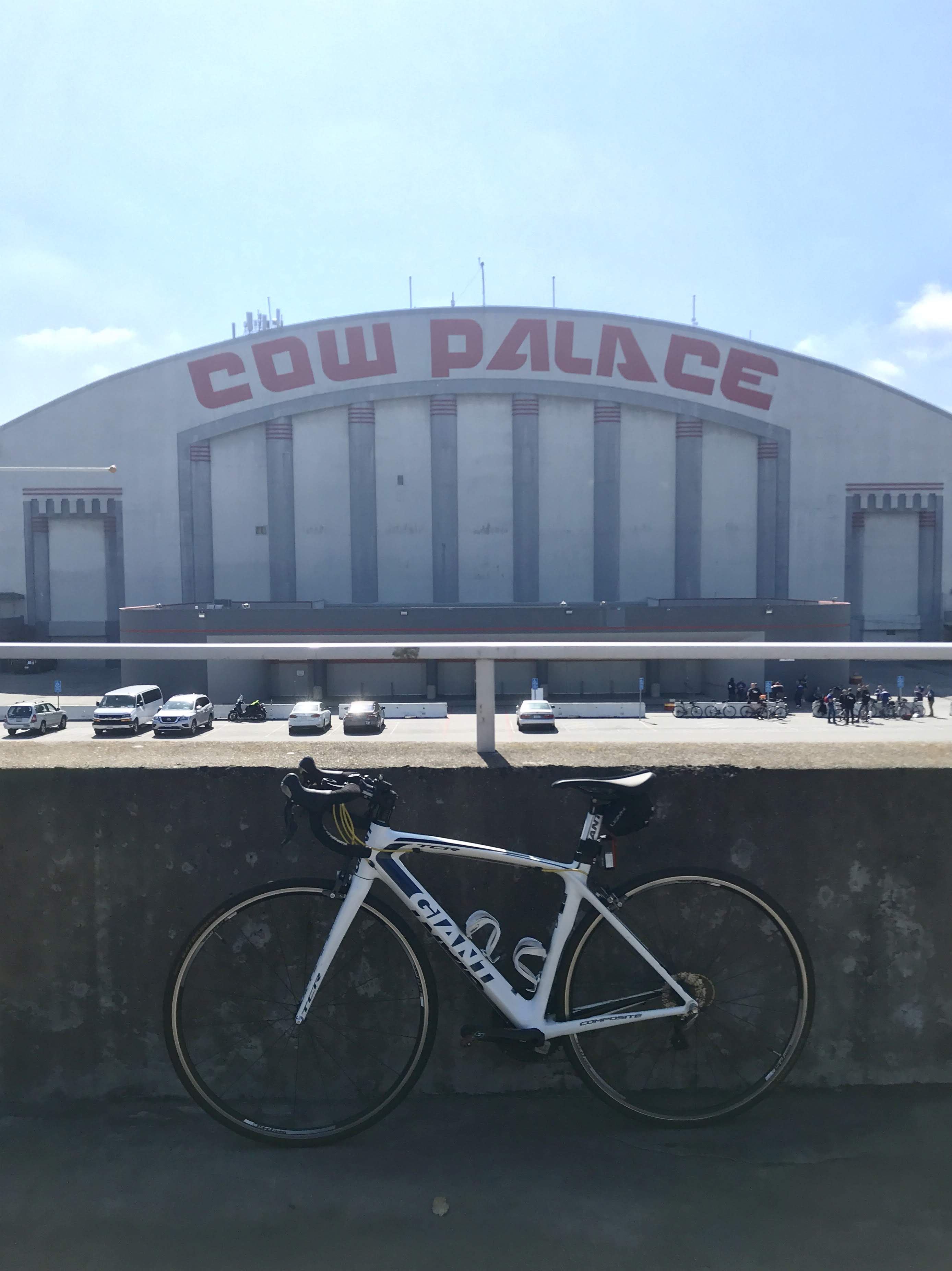 The first stop at the orientation was dropping off our bikes. One of my teammates and I handed our bikes off to the volunteers and they parked them for us. I was a little sad I didn't get to say bye to Phenix (yes, the bike has a name). I thought I would be able to park it myself. I was told I would get to see it again later when I put my number on the bike after I pick up my packet.
The next stop was waiting in line for orientation. We were very early for the 11 am orientation and stood outside in line for a good 40 minutes. Good thing I remembered a hat and sunscreen! It was a surprisingly sunny day in Daly City.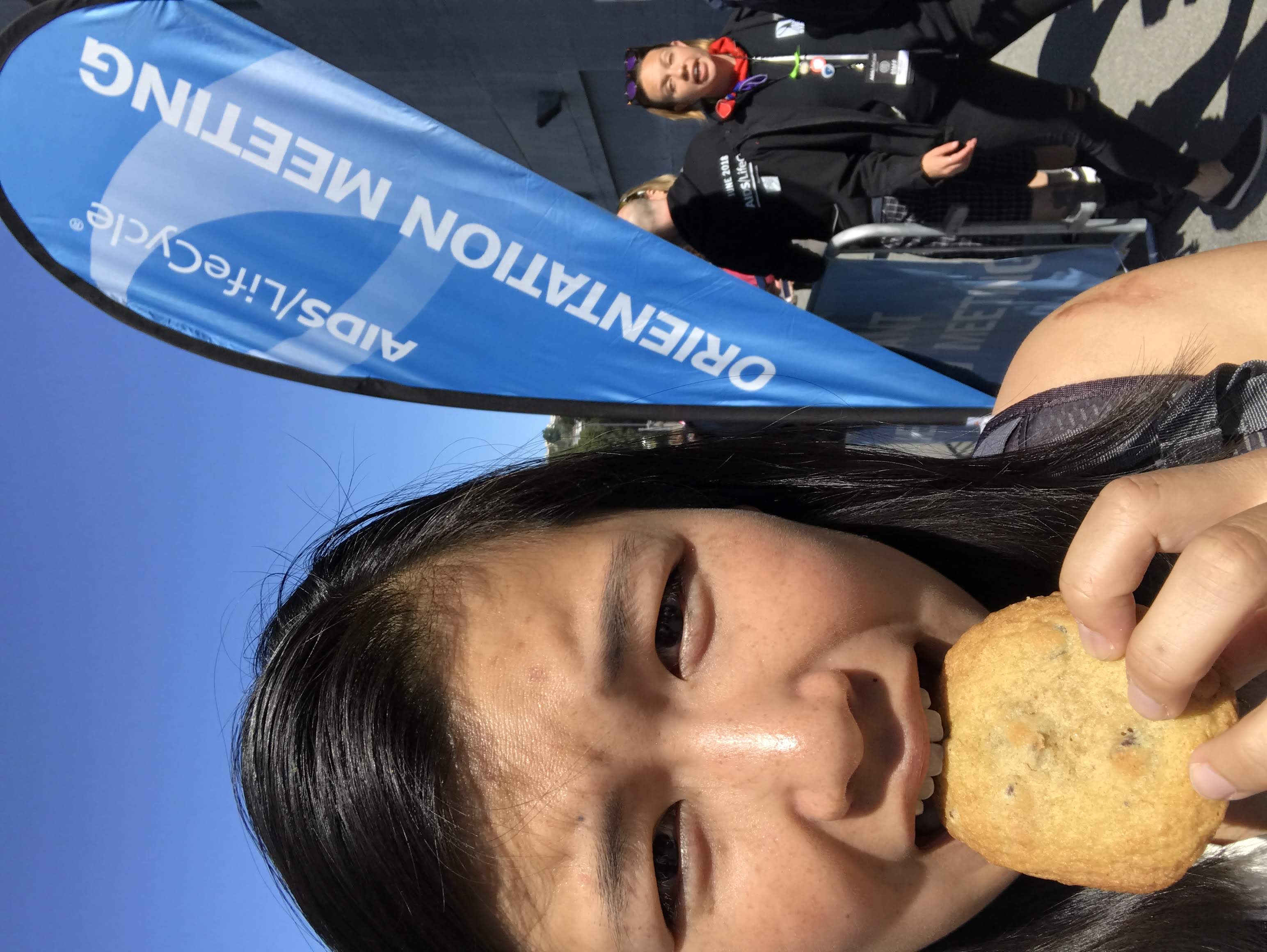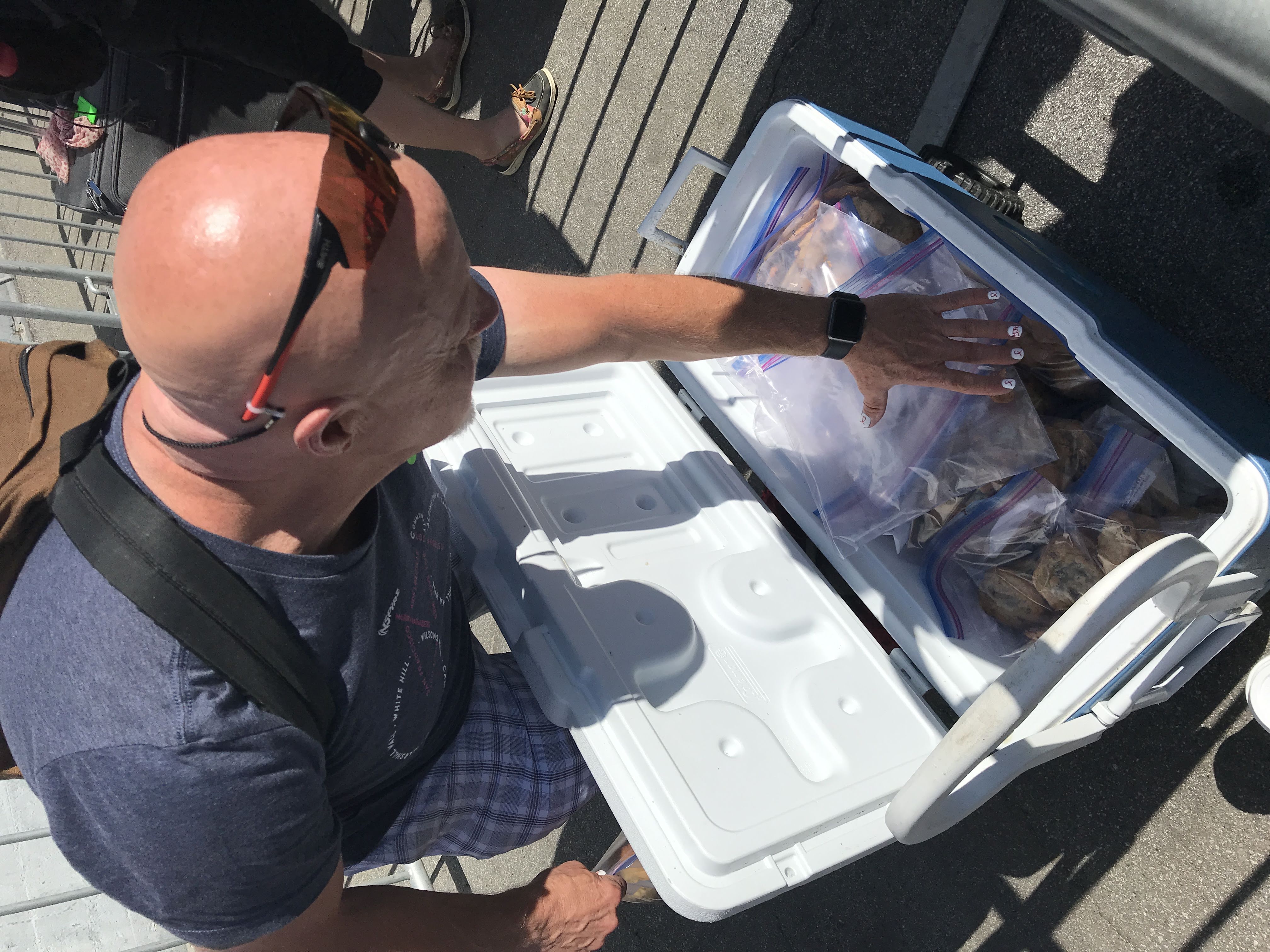 One of the riders, Ken, baked over 500 cookies for us! He was 25 cookies short of 545 cookies (the number of miles we ride to LA in the next 7 days). I'm sure he's very tired from baking 520 cookies already. Thank you, Ken, for the cookie!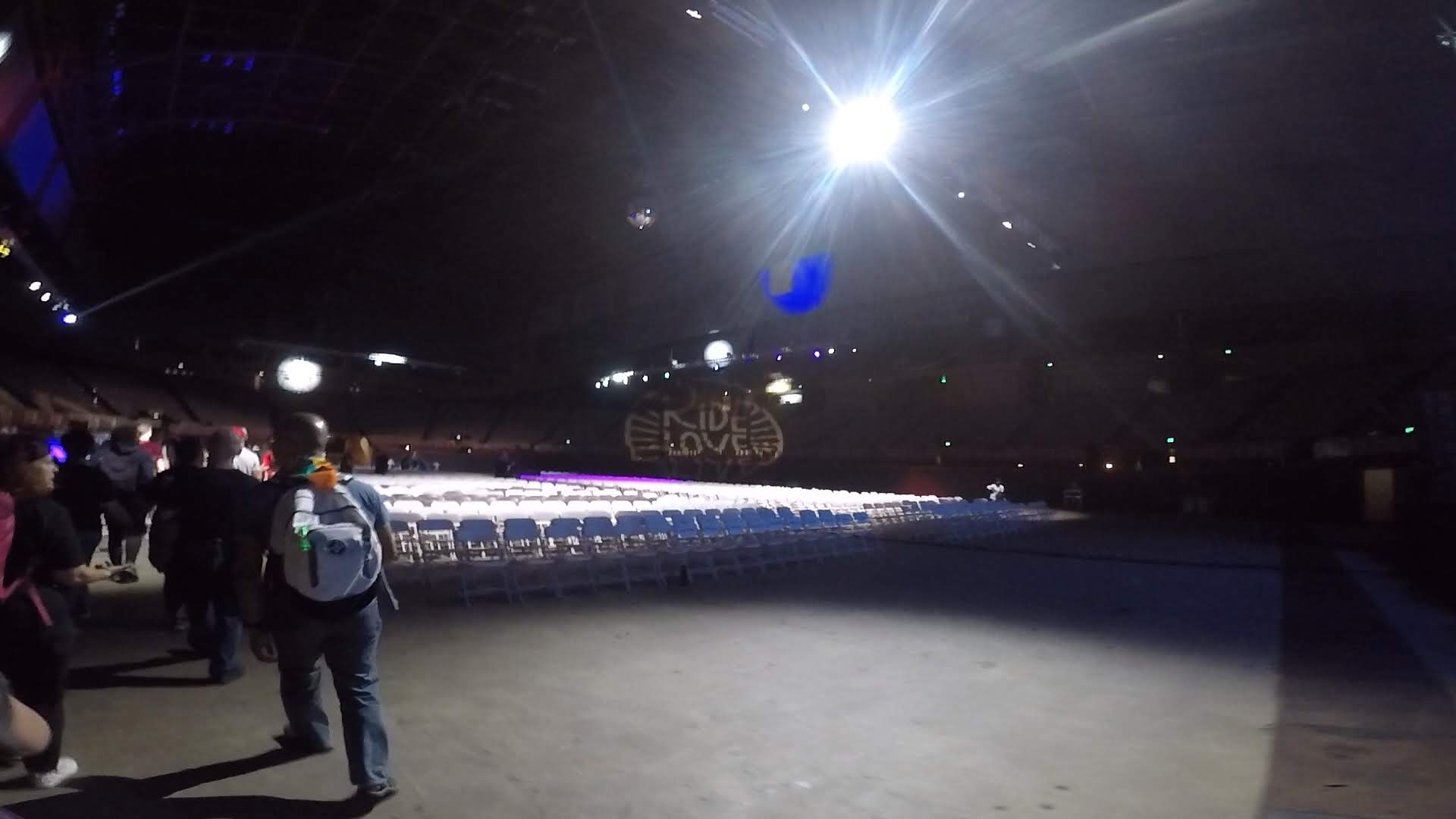 The doors to the orientation opened a bit before 11 am and we walked into an auditorium filled with lights that projected "Ride Love Live". It was pretty cool. The orientation was great. Funny videos, lots of information on the schedules, amenities at camp, and riding safely with thousands of other riders on the road. Coney came on stage and reviewed hand signals with us. I'm going to have to remember not to ride too close to the rider in front of me.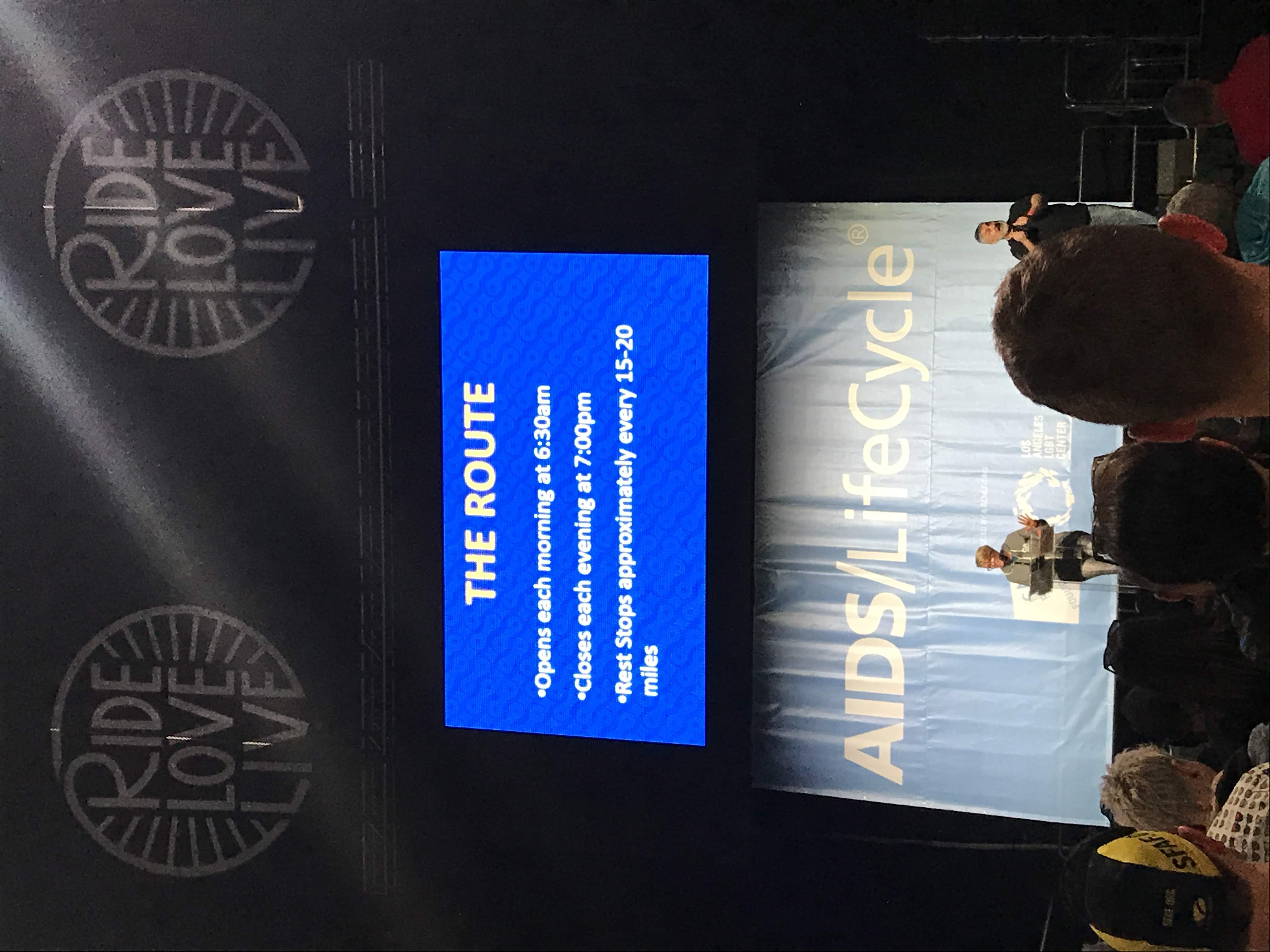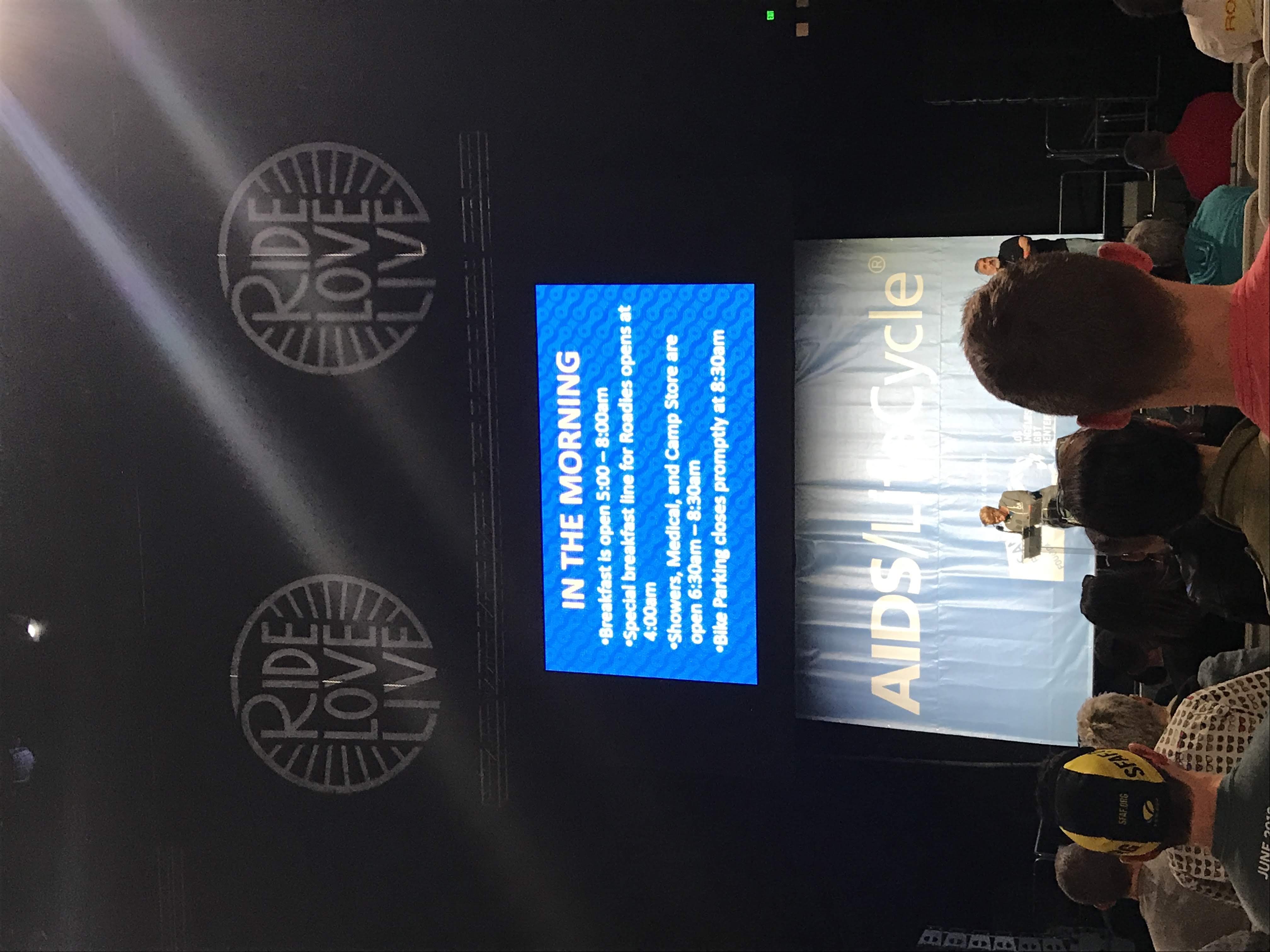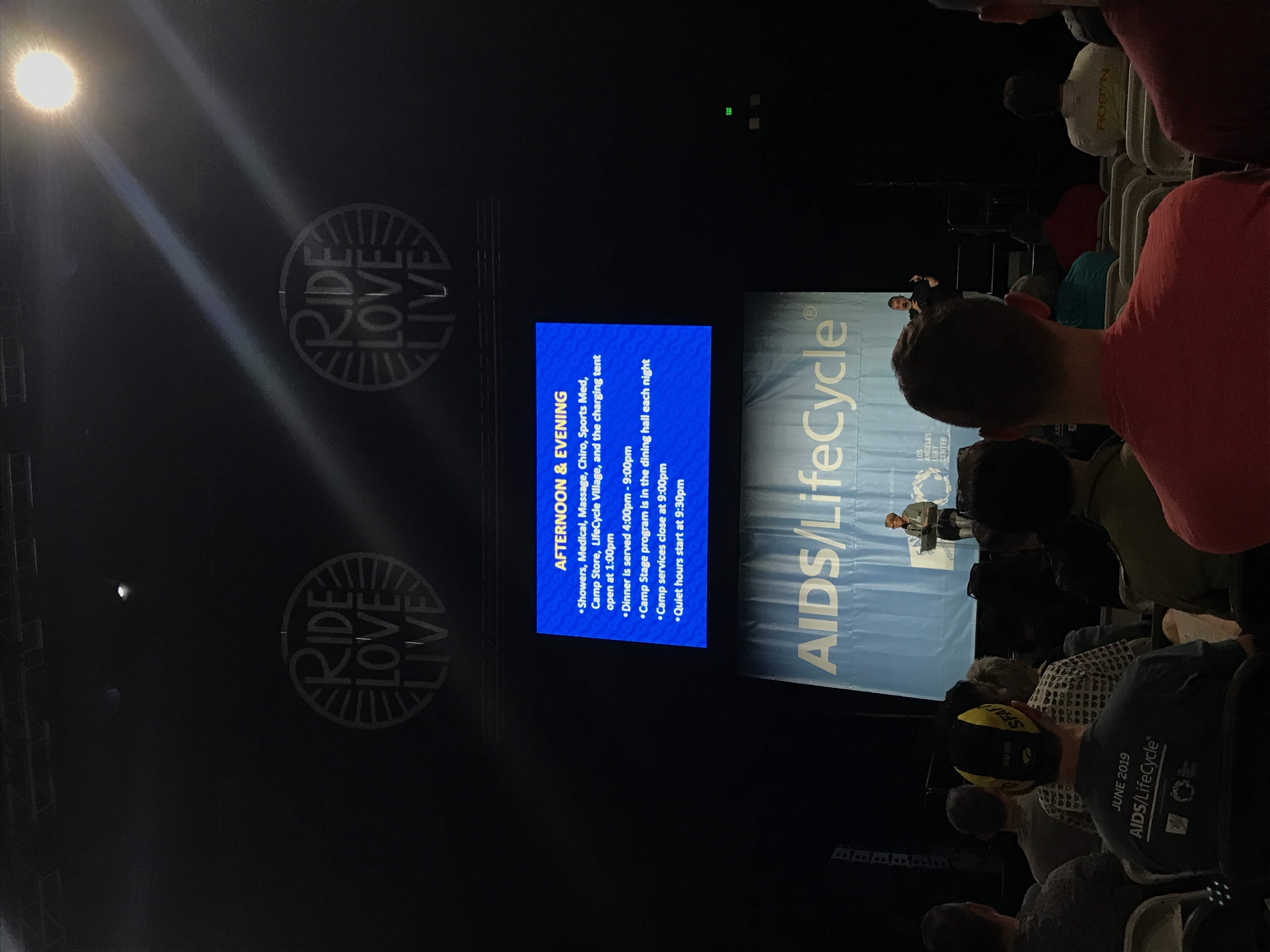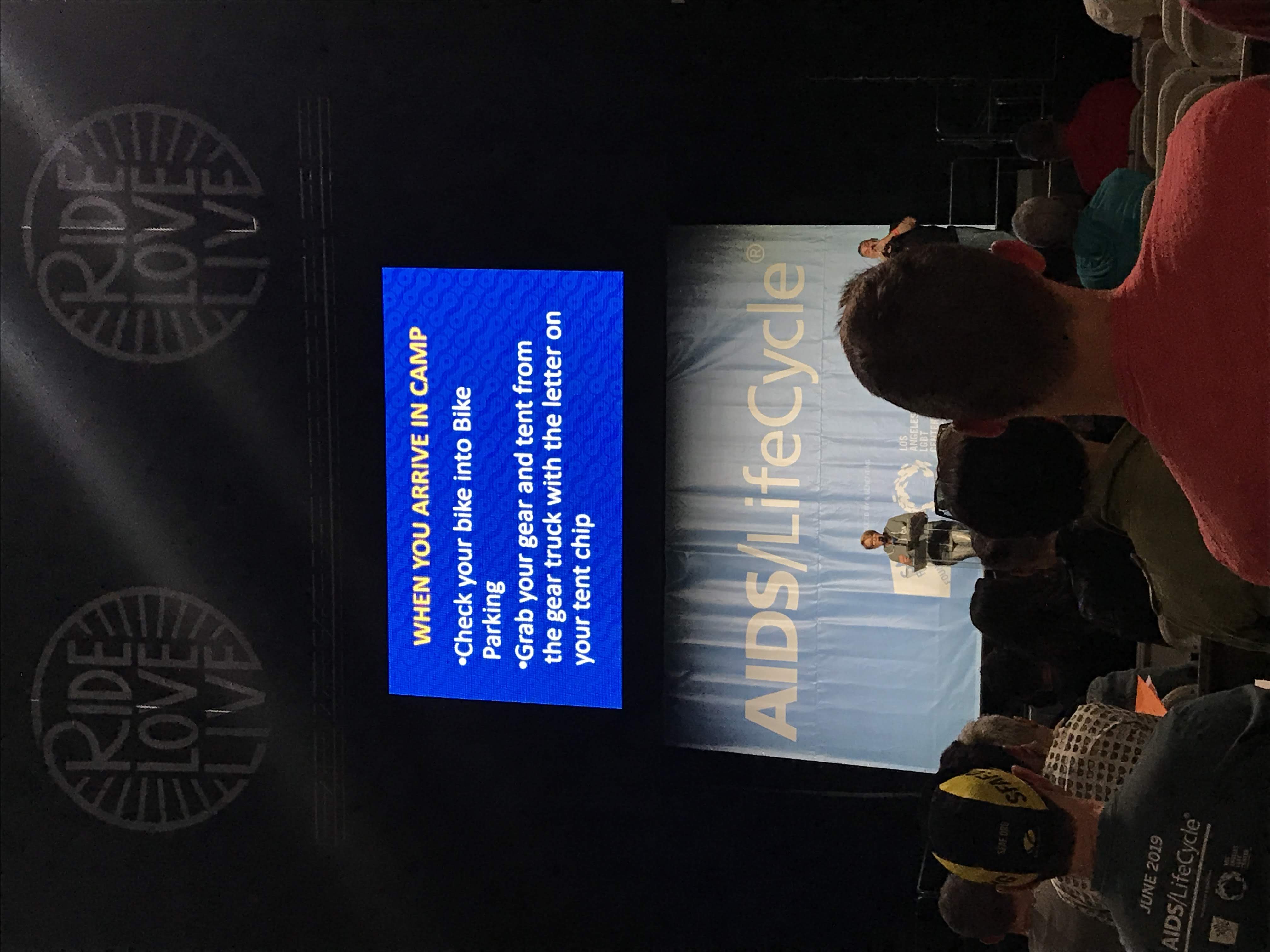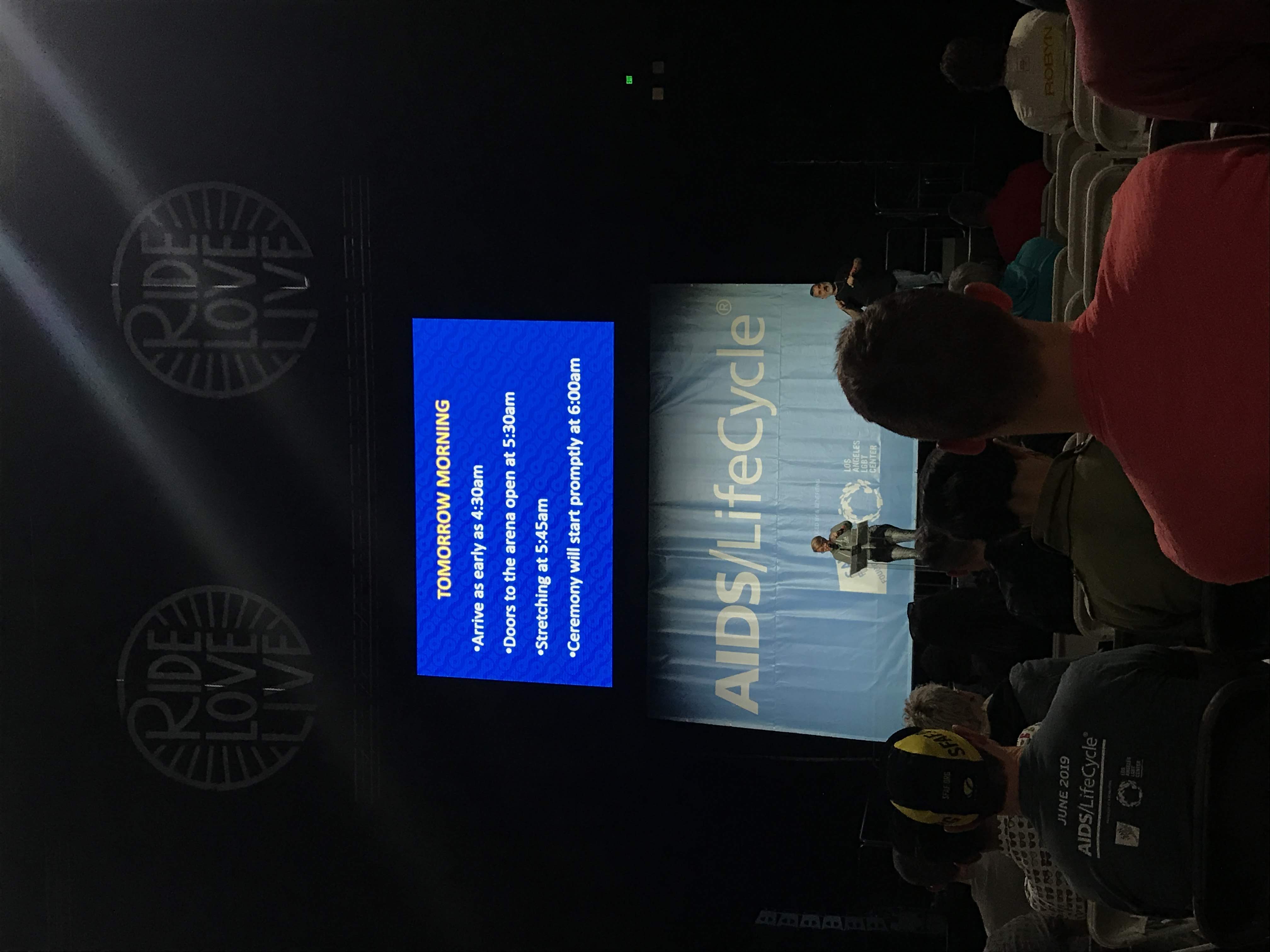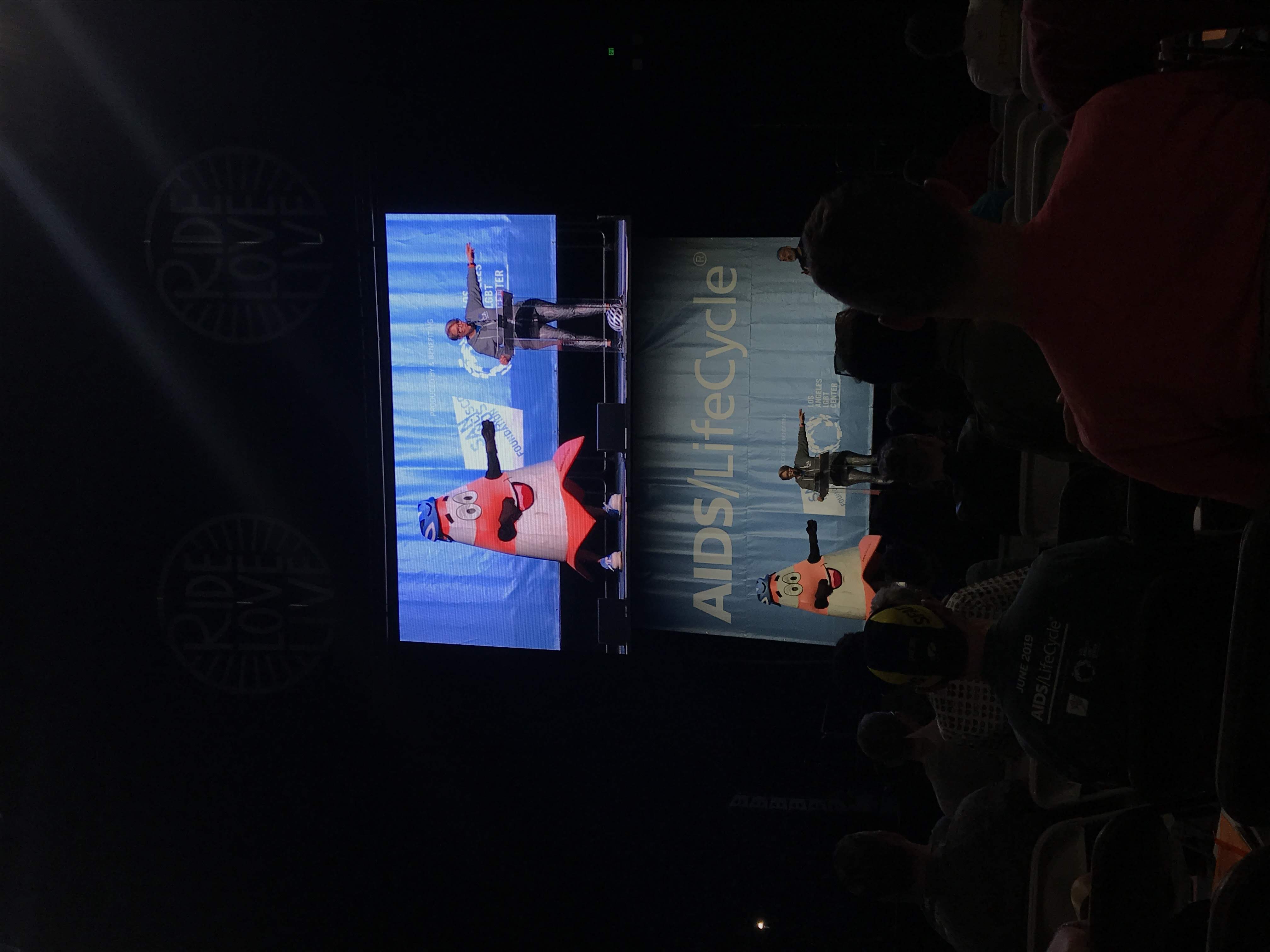 So much information and a visit from Coney
The orientation meeting lasted roughly 45 minutes. Then, we went to check-in and pick up our packets. I also bought some stuff from the camp store and took photos at the photo booth.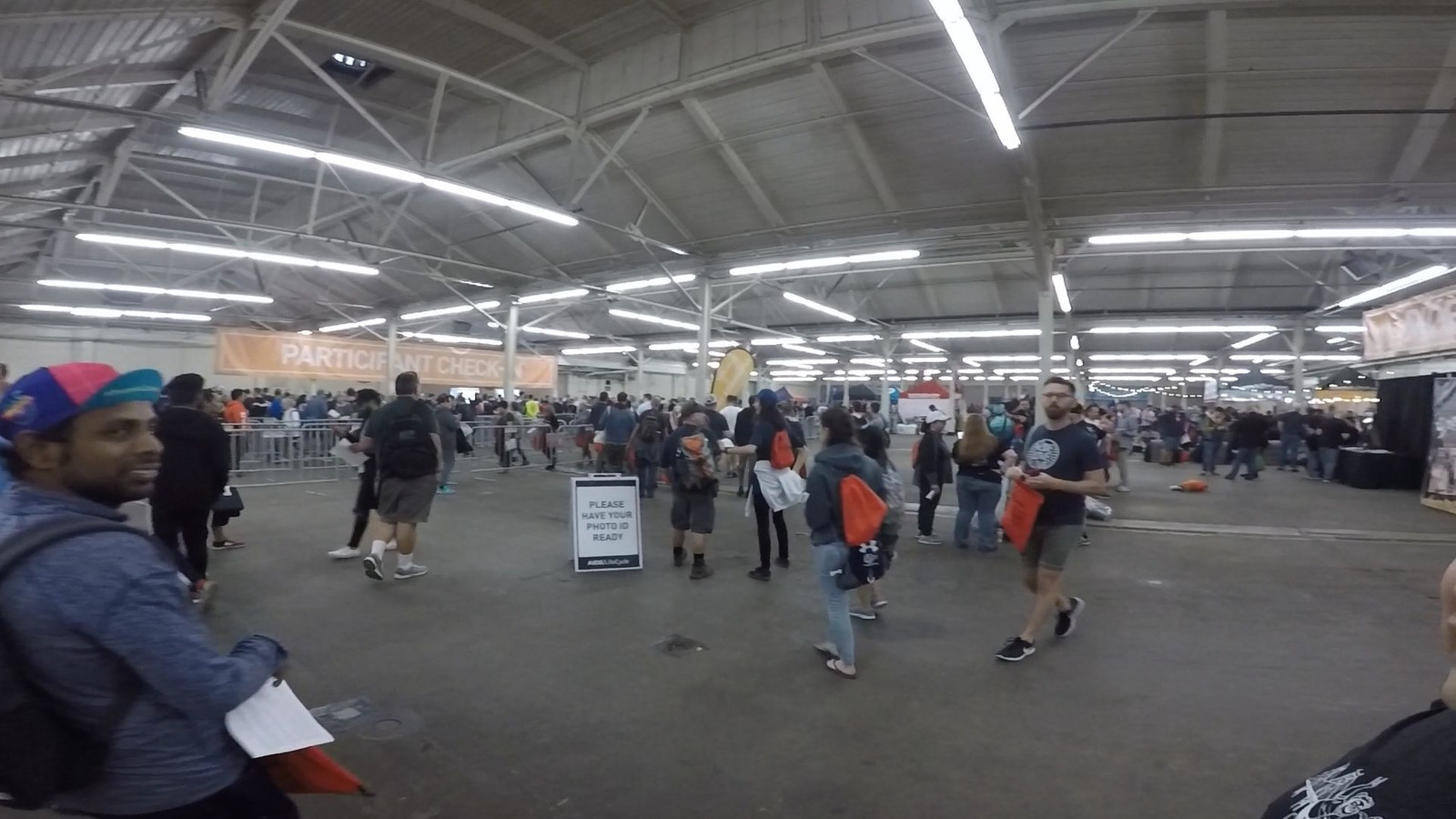 The check-in lines were long since there were 1,000 participants in this orientation meeting.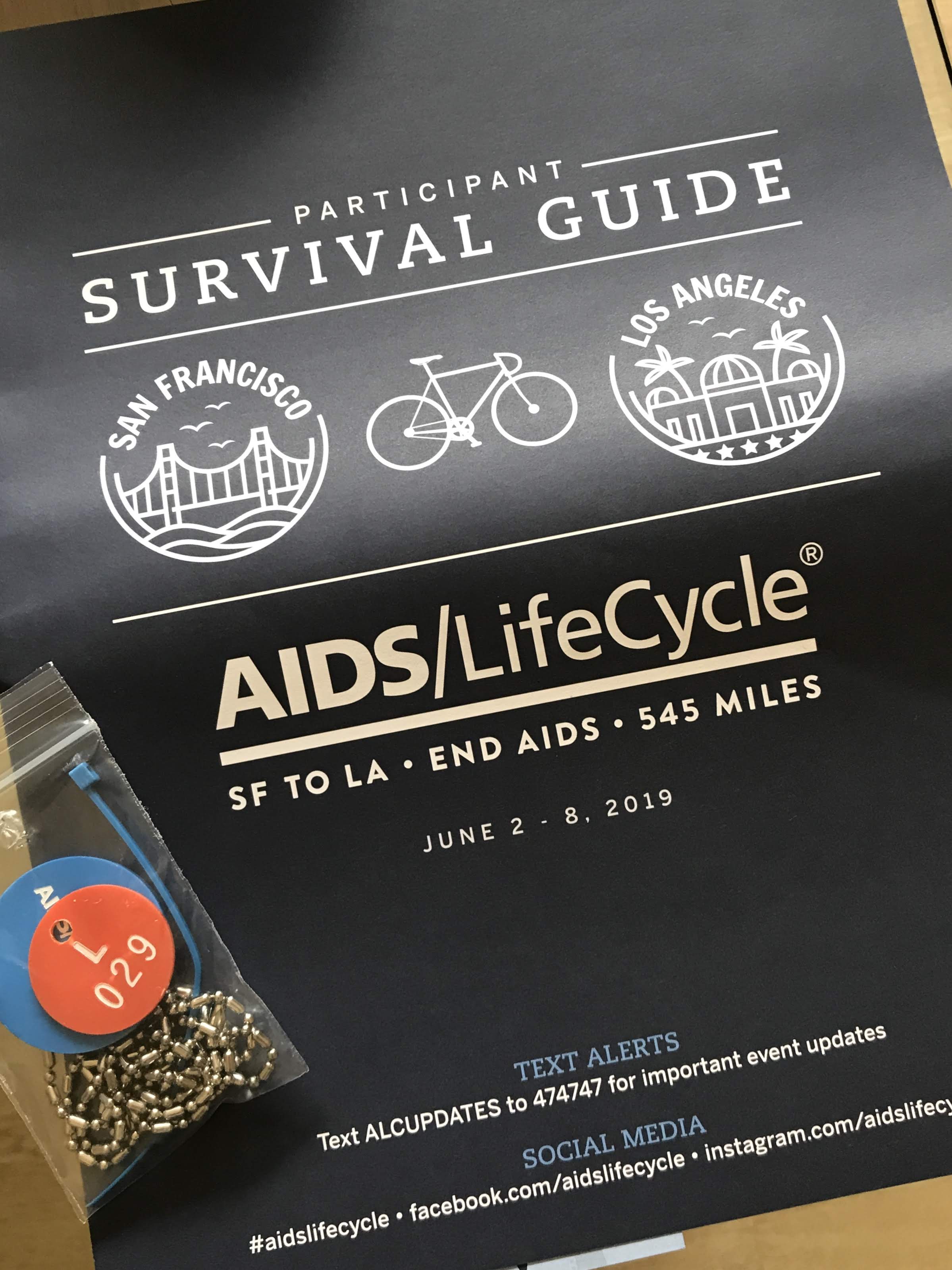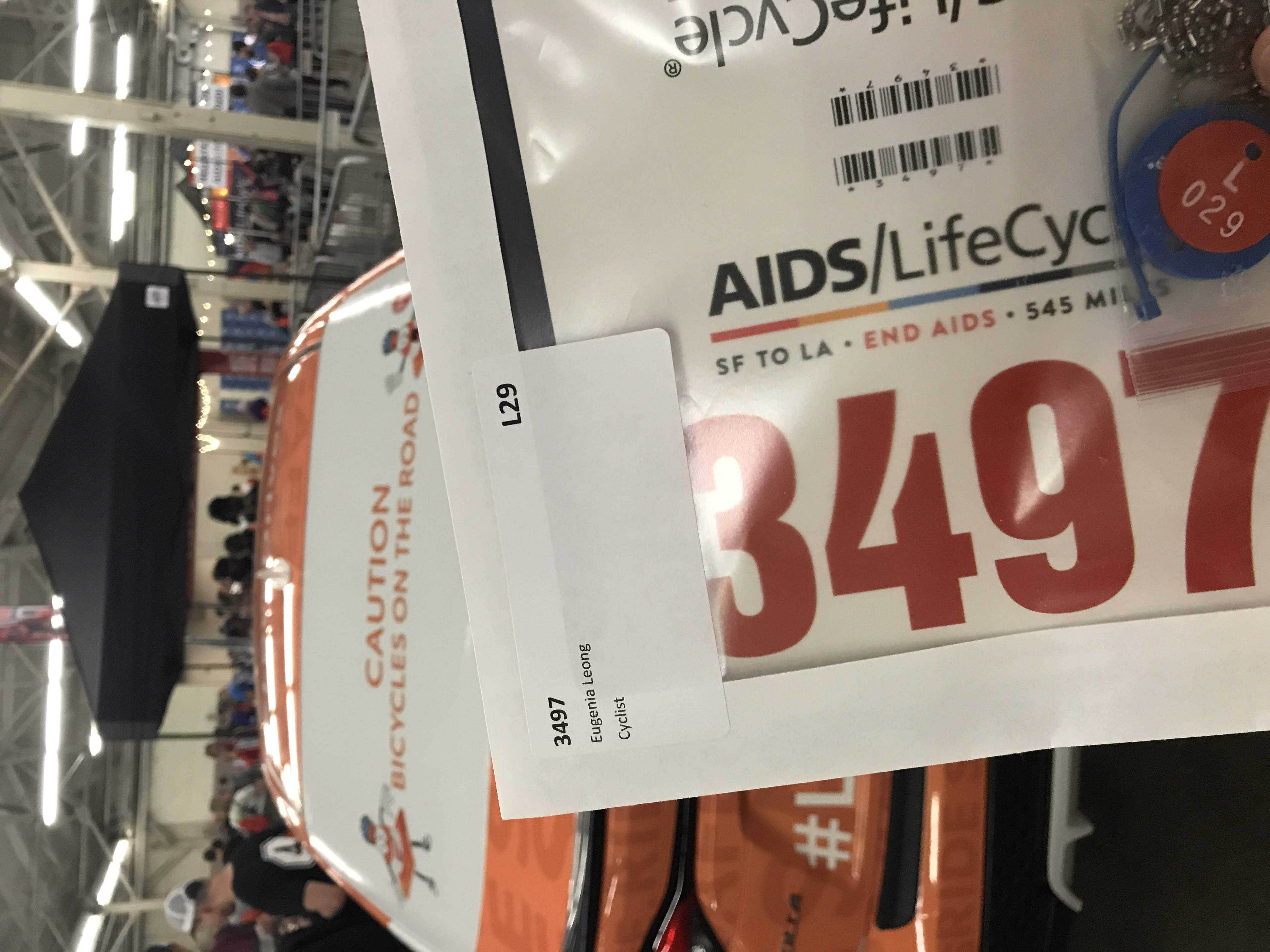 The packet included stickers for the bike and helmet, a survival guide, and tags with my address for the week.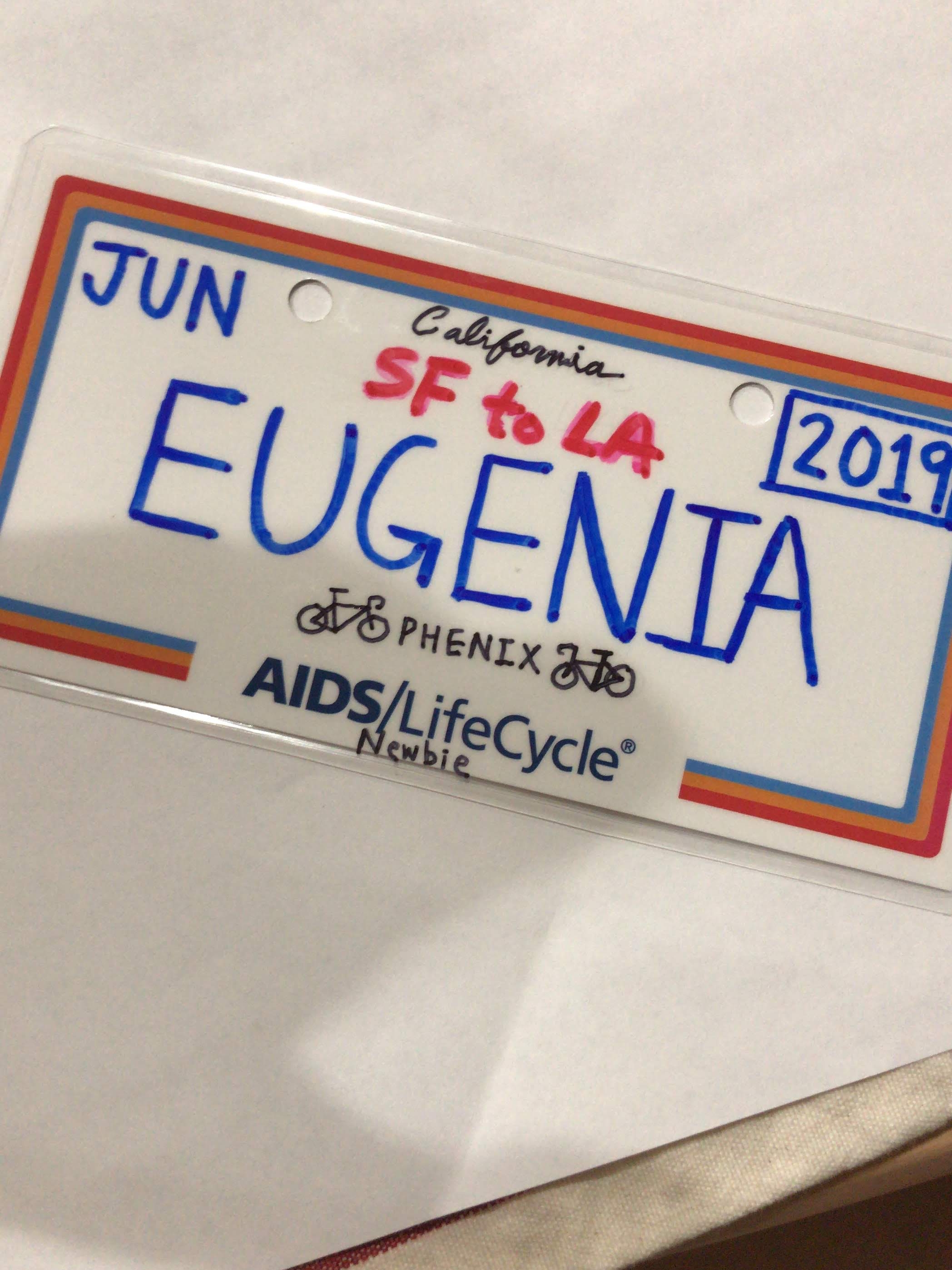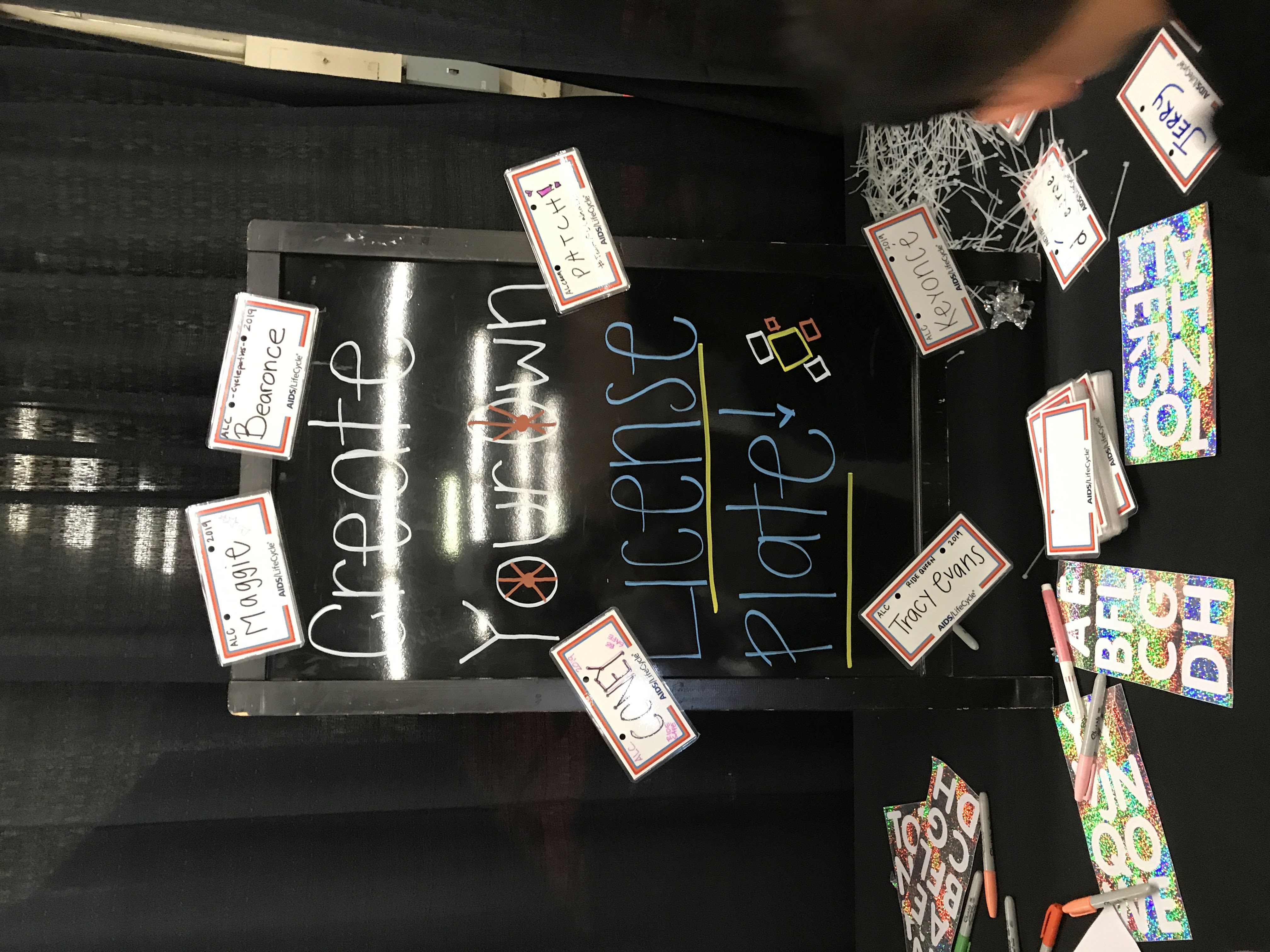 I picked up a license plate for my bike and made a visit to the photo booth.
We stopped by the Riderless Bike before leaving the check-in hall. This red bike honors the people who lost the fight against AIDS. The flags below will enter the opening ceremony tomorrow morning and then will be on display each night at camp.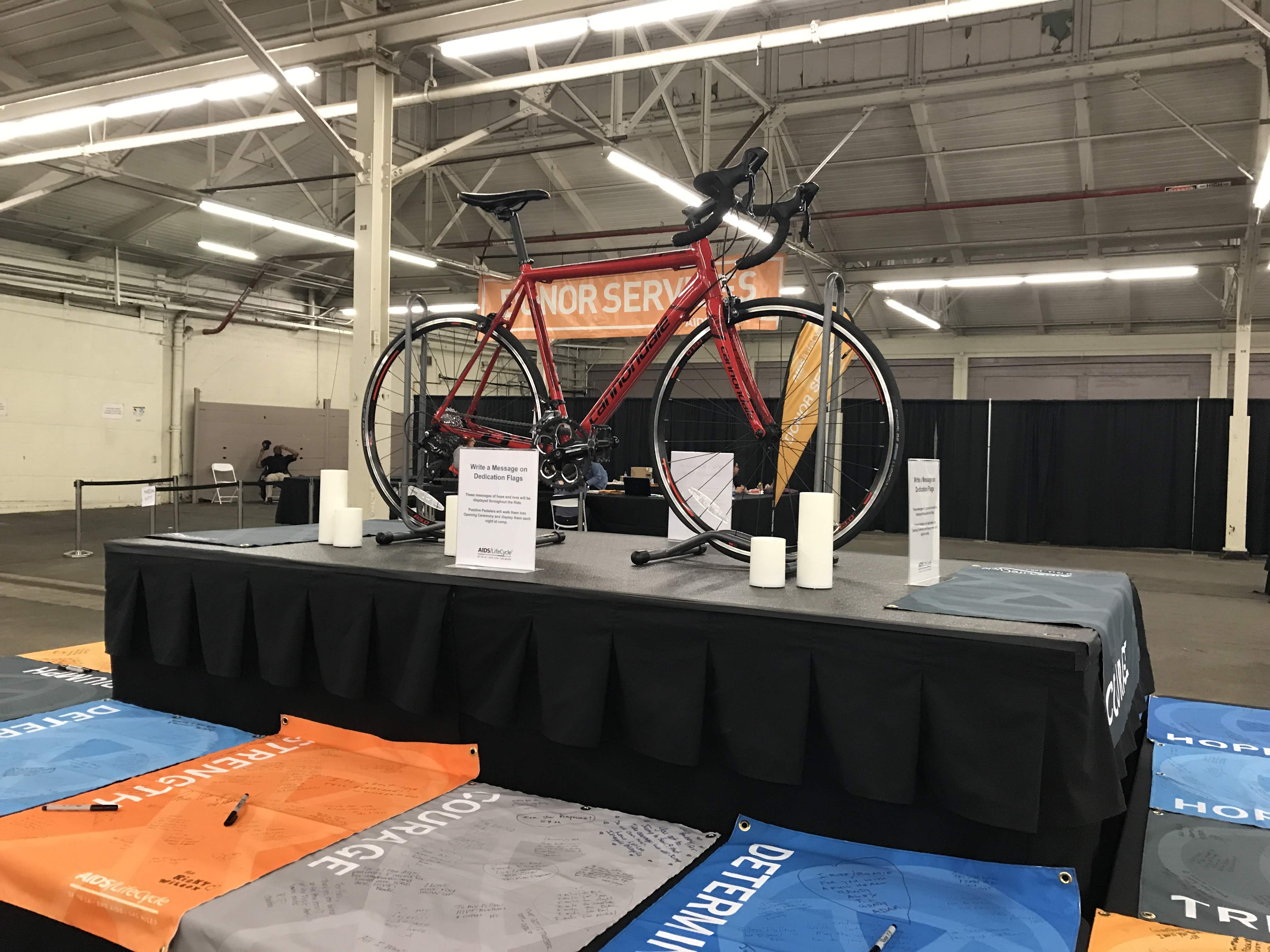 Before leaving orientation, we visited our bikes to put our participant id numbers on them. Also, it was a chance for me to say goodbye to my bike for now before we embark on this 545-mile journey tomorrow morning. I spent a long time trying to put the number on my bike. The top tube of my bike is tapered, so it's always hard to wrap a piece of paper neatly around it. Maybe if I participate in more events, I'll eventually get the hang of this.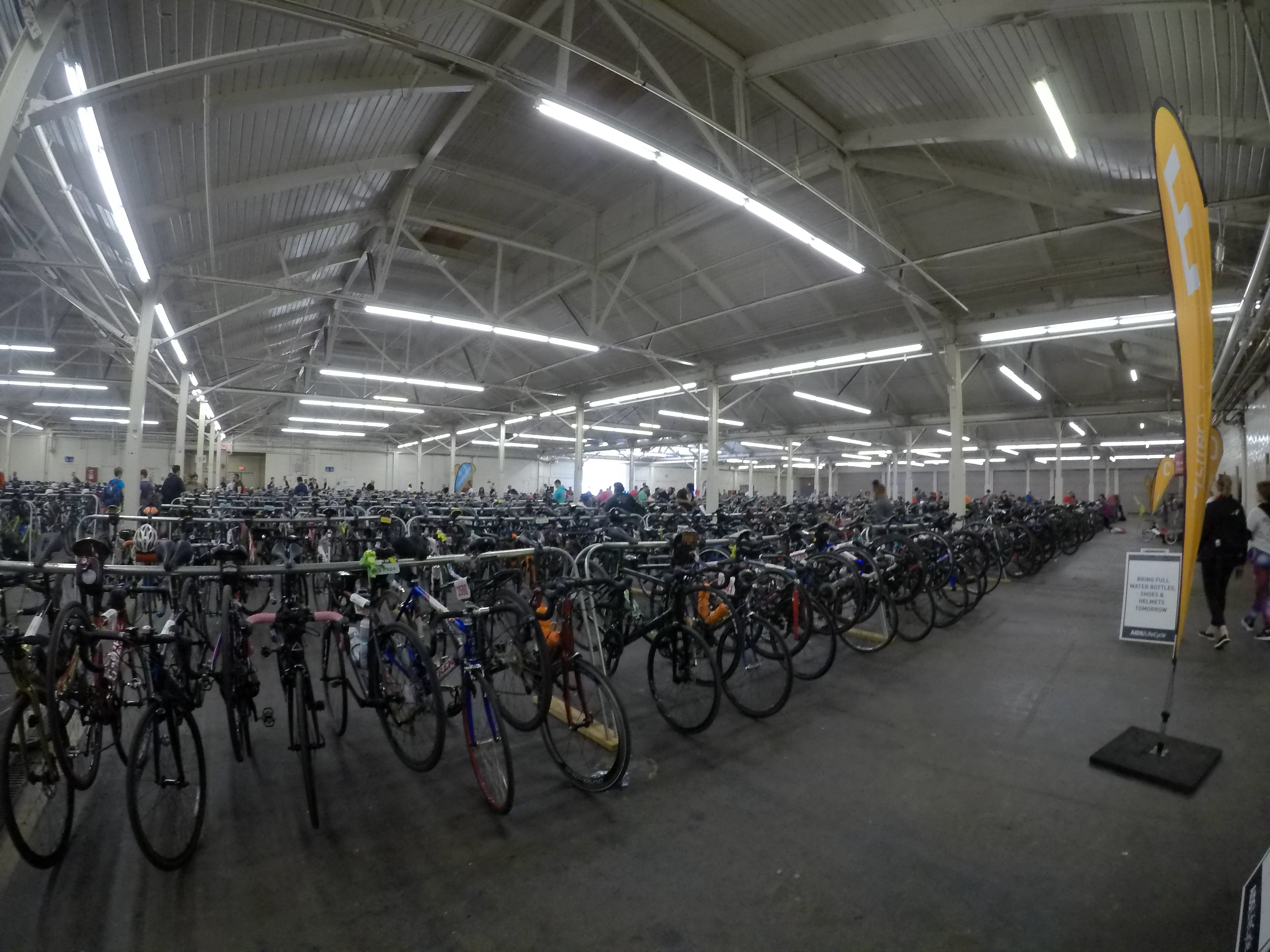 After I put my number on my bike, I left orientation to run my million other errands before riding out early tomorrow! We return to Cow Palace by 5 am tomorrow morning to drop off our luggage and then attend the opening ceremony followed by the ride out to Santa Cruz at 6 am. Oh, I actually had one less errand to run. I didn't realize one of my cleat covers had fallen off (again) until late last night when I was about to finish packing. There were some bike accessories for sale at orientation in case you need to pick up any last-minute stuff, and I picked up the replacement cleat covers! Saved me a trip to the bike shop!
I set my alarms for tomorrow morning at 3:45am and 4:00am. I hope I don't oversleep!